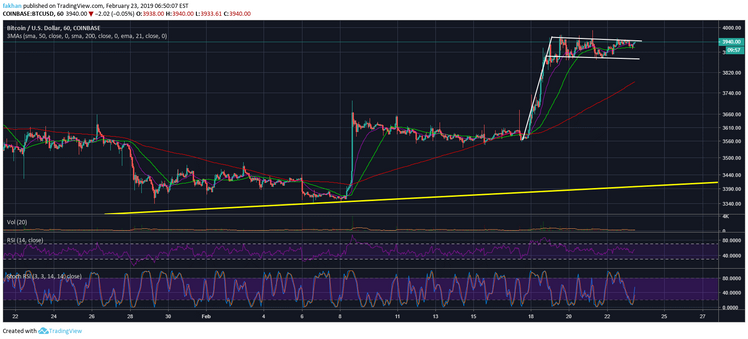 The consolidation seen in Bitcoin (BTC) over the past few days might be finally drawing to an end as the price paints a bull flag and prepares to shoot towards its next target before the fifth corrective wave to the downside can begin. It is pertinent to note at this point that chasing this rally might prove to be extremely risky as the price may face a strong rejection in $4,500 area. The 1H chart for BTC/USD shows the price trading above the 50 MA which means the break out to the upside is quite close. Just before the last rally, we saw the 50 MA cross below the 200 MA and then finally break above it to trigger the rally. We expect the same to happen this time. That would mean that we can expect the breakout in the first few days of next week.
This is the last move to the upside before the fifth wave of the Elliot wave corrective cycle. We have seen this happen in the past but we expect this correction which would result in BTC/USD finally finding its true bottom would be deadlier this time. This is because if the price were to drop below $3,000 to complete wave five, it would have to break and close below the 200 Week MA. This would be something that has not happened before in Bitcoin (BTC)'s entire trading history and things could get really bad from there. All those price targets around $1000 might begin to look very reasonable if that happens. We do not know yet what the trigger for that fall may be but we do know that the fall is inevitable. Fortunately for Bitcoin (BTC) investors, we have plenty of options available now to hedge our bets.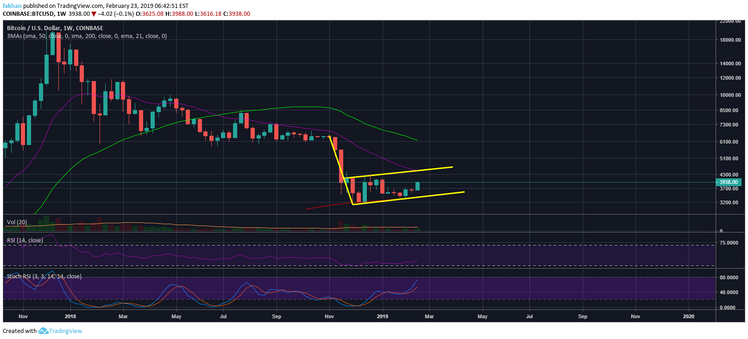 Investors who do not want to sell their investments in altcoins might want to use Bitmex or Deribit to hedge. We have a lot of exchanges that offer forward contracts and even some that offer Options. In other words, this market is not what it used to be and professional traders have all the tools available at their disposal to make use of. One thing that all professional investors agree on is that despite all the research and due diligence, nobody really knows where the price is headed. It does not even matter where the price is going; what matters is what you are doing to respond to different possibilities.
If we look at the weekly chart for BTC/USD, it is not hard to tell what is expected to happen in the weeks ahead. The price has clearly formed a major bear flag, the likes of which we have not seen before throughout this correction. We did see a bear flag in Q4 of 2018 which translated into a major drop to the downside, but that bear flag is nothing compared to the one we see right now. It is becoming increasingly clear that the price may not be able to climb past the 21 Week EMA and face a strong rejection. After that rejection, things could go south pretty fast as the whales prey on unsuspecting retail bulls expecting that fake out to turn into a bull run.