Table of Contents
New York, New York, September 14th, 2023, Chainwire
LBank has announced that MetaExpand will be the second project to issue a native token on its integrated Launchpad. The UMM token will be available to LBank users, who will have the first chance to claim an allocation and participate in the MetaExpand ecosystem.
Despite tough market conditions, LBank Launchpad has proven a success with its sophomore project PINS (Chat to Earn). Its token has increased 1,600% from launch. The second project on LBank Launchpad is another GameFi offering in the form of MetaExpand (UMM).
MetaExpand bridges the gap between public chains and metaverse applications. It offers storage, communication, privacy, cross-chain, and transaction plugins and development standards, making it easier for developers to create metaverse applications without worrying about underlying blockchain technology. Its game 'Jurassic Virus' allows players to explore and interact in a complex metaverse.
To qualify for the MetaExpand Launchpad event, LBank users will need to be eligible during the snapshot period that runs from 00:00 on September 1, 2023 - 00:00 on September 27 (UTC). The subscription period, to participate in the sale, then runs from 06:00 to 11:00 on September 28. LBank users can participate here:https://support.lbank.com/hc/en-gb/articles/22853229665305
Prominent Twitter KOLs like @Rocky_Bitcoin have predicted that GameFi will be one of the major directions for the next web3 cycle. Based on observations during a personal visit to Kuala Lumpur, @Rocky_Bitcoin asserted that Q4 could witness a significant boom in GameFi. GameFi tokens listed on exchanges recently have generally performed well. For instance, MetaMecha on KUCOIN surged by 20%, Typeit on Bitget and LBANK soared by 1,322%, and PINS on LBANK also saw a 1,600% increase.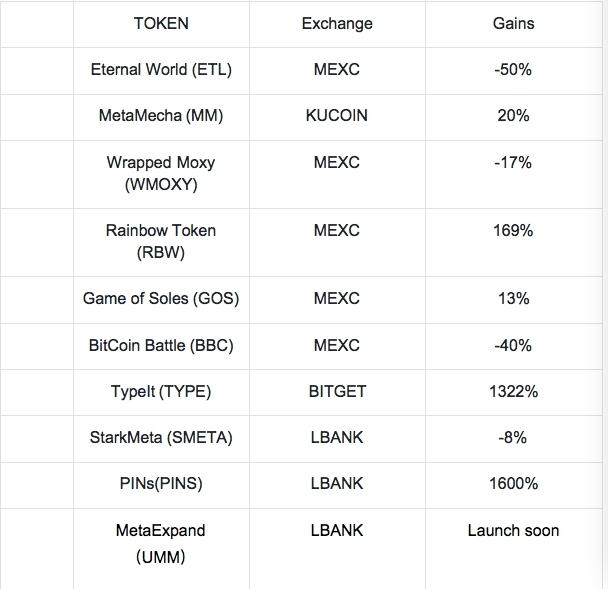 Buyers who participated in the Launchpad event for PINS Network have potentially earned up to $1,6000, based on the individual hard cap of $1,000. A social metaverse project (Chat to Earn), PINS enables users to nurture their NFT Noki pets by increasing their interactive behavior on Twitter. Currently, PINs has 14.1K followers, and each post in recent days has reached over 50K views, with an engagement rate close to 6K. This shows that aside from price speculation, such X to Earn projects have a large number of users willing to engage genuinely.
LBank's latest Launchpad offering, UMM, has similar features. Tokens used in the 'Jurassic Virus' game can only be obtained through $UMM. They can be used for various in-game activities but can only be converted back to $UMM after successful game interactions.
About LBank
LBank is one of the top crypto exchanges, established in 2015. It offers specialized financial derivatives, expert asset management services, and safe crypto trading to its users. The platform holds over 9 million users from more than 210 regions across the world. LBank is a cutting-edge growing platform that ensures the integrity of users' funds and aims to contribute to the global adoption of cryptocurrencies.
Contact