Table of Contents
As Borroe's stage 1 presale continues to skyrocket, depicting significant growth potential, Cardano and Chainlink are following suit based on high accumulation rates.
Through its governance token $ROE, Borroe intends to propel the Web3 wave so that content creators can be compensated accordingly because they are sometimes shortchanged.
Borroe is taking innovation in the Web3 space a notch higher by ensuring that creators can easily monetize their efforts through the sale of their future non-fungible tokens (NFTs).
Looking to Borroe
For
Big Gains
Investors are eyeing huge returns from the Borroe ecosystem based on its real-world utility of making the fundraising process smooth, given that this is a huge stumbling block in the Web3 sector.
By serving as the first-ever Web3 blockchain invoice discounting NFT marketplace globally, the stakes are high that Borroe will moon because of the solutions presented.
Furthermore, pundits speculate that Borroe will be a force to be reckoned with in the Web3 sector based on the deployment of cutting-edge technologies, such as automation, artificial intelligence (AI), and blockchain technology in the fundraising process.
$ROE tokens sold at stage 1 have surpassed the 37.5 million mark as more investors continue to jump on the Borroe bandwagon. $ROE is retailing at $0.0125 with the price hitting $0.015 at the next stage.
LINK whales have been on a buying
spree
With hodling being a favored strategy in the crypto space, Chainlink whales have been on an accumulation mode.
Market analyst Ali Martinez disclosed that approximately 14 million LINK, worth more than $100M were bought in a span of one week.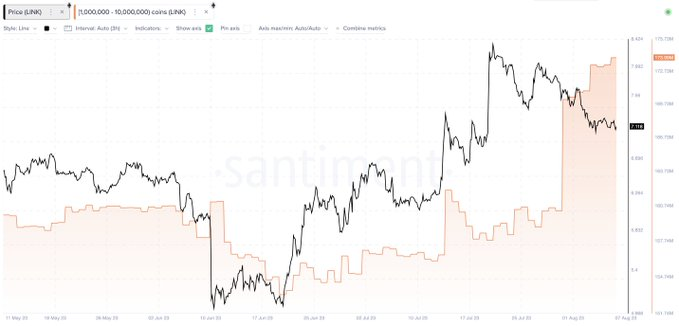 Source: Santiment
The analyst also stated that the accumulation trend had gained significant momentum in the Chainlink ecosystem, given that nearly 29,000 addresses had bought 295M LINK worth more than $2.2 billion.
He noted, "Chainlink established strong support between $6.63 and $6.88. Nearly 29,000 addresses acquired 295 million LINK within this range. As long as LINK maintains above this level, there's strong bullish sentiment since on-chain data shows no major resistance barriers ahead."
Based on this analysis, LINK's bullish outlook still stands as it eyes a 100x growth potential because the coin was trading at $7.50 at the time of writing, according to CoinGecko data.
This trend has been happening as development activity on the LINK network soars.
Leading market insight provider Santiment stated, "Chainlink's Github development activity has been notably higher this summer, leading to the asset cracking the top 5 most frequently developed assets. Additionally, whales & sharks with 100K-10M LINK now hold the most coins since December, 2022."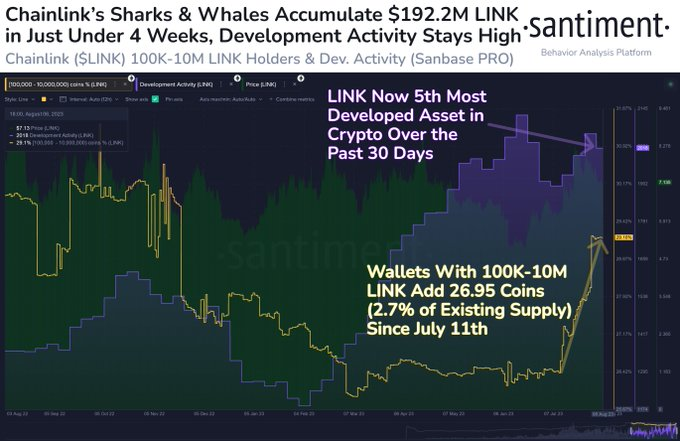 Source: Santiment
Cardano's transaction volume balloons
The ADA network enjoyed significant growth in the second quarter of this year based on a Messari report.
The transaction volume or blockchain load on the Cardano blockchain saw a growth rate of nearly 50% between the end of April and August, illustrating heightened activity as more users onboard the ecosystem.
Messari noted, "State of Cardano Q2 2023. With a dedicated community of users and developers, Cardano has demonstrated staying power. In Q2, average daily dapp transactions were up 49%, TVL up 10%, and 199% YTD."
The accumulation trend has also engulfed the ADA network as whales and sharks continue to accumulate.
Santiment disclosed, "As Cardano sits just above $0.29, whales and sharks holding between 100K-10M ADA have accumulated back to their highest level since September, 2022. Additionally, onchain transaction volume has been rising nearly every week for the past 6 months."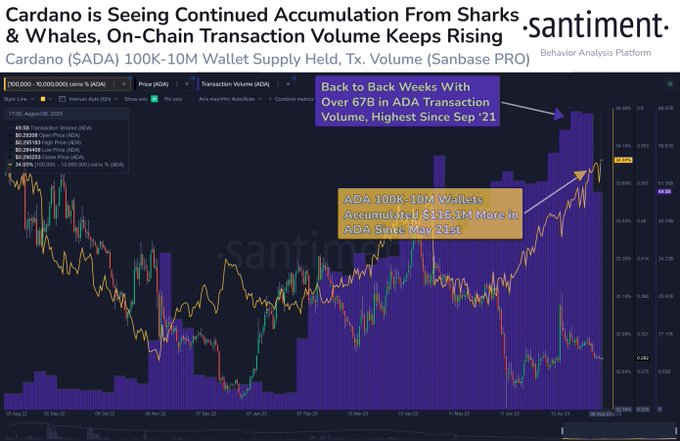 Source: Santiment
Therefore, Borroe, Chainlink, and Cardano are making a strong case for a 100x growth rate.
Learn more about Borroe ($ROE) here:
Visit Borroe Presale | Join The Telegram Group | Follow Borroe on Twitter
Disclaimer: This is a sponsored press release and is for informational purposes only. It does not reflect the views of Crypto Daily, nor is it intended to be used as legal, tax, investment, or financial advice.