Table of Contents
Bitcoin has pushed through the $25,000 major resistance level. However, the charts are suggesting that it could be at or near its top for now.
Bitcoin thrives as the banking system subsides
Bitcoin has made hay as the banking system has been showing its inherent weaknesses. BTC has put on 72% since the beginning of the year, and has risen more than 36% in just the last week, at the same time as the Fed has been obliged to restore quantitative easing (to some extent), and the Swiss central bank has had to provide liquidity to a badly fractured Credit Suisse.
The writing is on the wall for a fiat currency system, and it is testament to the opaque curtain that government and bankers have drawn across it, that it has managed to last thus far.
Holders of bitcoin don't have to worry about any governments intervening to prop the system up, and getting tax payers to shoulder the cost. It just runs on code, without any intermediaries, and does what it was programmed to do.
Bitcoin to retest the lows?
Bitcoin is still looking to go higher. It has reached $26,700 at time of going to press. This is a resistance area just before a stronger resistance at around $28,800. Many will be feeling that Bitcoin could go on to test even higher, and there certainly is a case for this.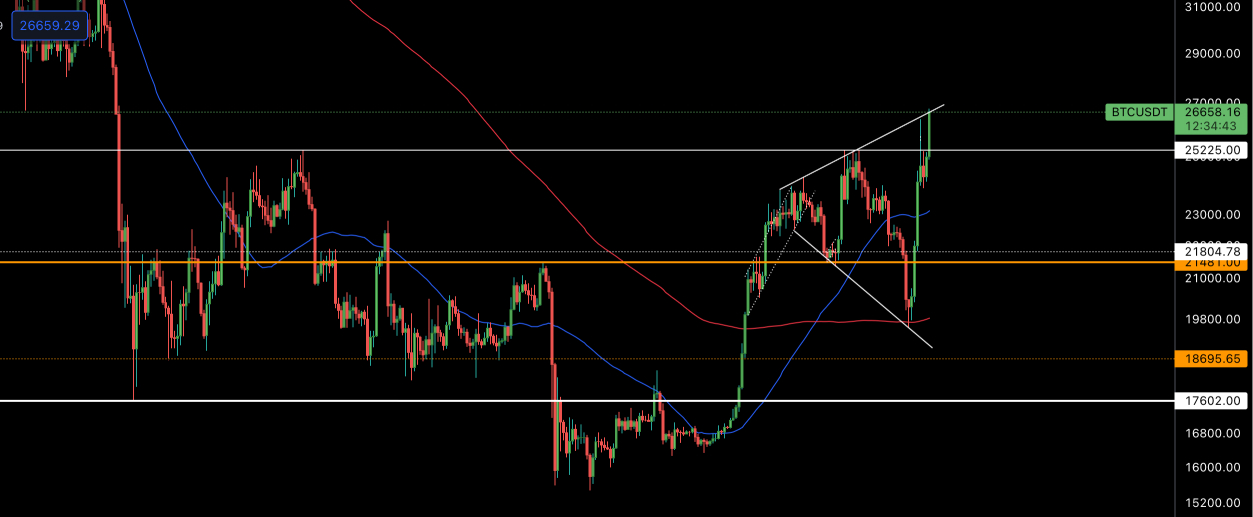 Source: TradingView
The price has reached the top of a megaphone pattern it has been in since January this year, and it could be expected to reverse here, given that it has had such a great surge over the previous week.
The technicals might have the price correct over the next few weeks, taking Bitcoin down to retest its lows. According to pro trader Gareth Soloway, the price could perhaps bounce at $18,000, but he expects it to then go lower and maybe even get down as low as $9,000 before entering its bull market in earnest.
Price doesn't just go up and up, or even down and down for that matter. There are always corrections or rallies on the way. For Bitcoin to go down and test the lows is a perfectly healthy thing to do, and the coming bull market will be that much better for it.
Disclaimer: This article is provided for informational purposes only. It is not offered or intended to be used as legal, tax, investment, financial, or other advice.