According to a report by eToro, retail investors are still positive on crypto and are finding renewed confidence as inflation softens.
Retail investors are shrugging off arguably the worst crypto bear market in the asset class' short history. Inflation figures are reducing month on month, inducing retail to return to the crypto market.
A survey for the report by eToro asked what impact the bear market had had on the minds of retail investors, and it was perhaps surprising to learn that around two thirds are either positive or ambivalent, while the remaining third is wary of returning.
Younger investors are those with the least fear towards the crypto market, while older investors, who perhaps are looking at a looming retirement, are much more cautious.
Giving his view on this trend, Ben Laidler, Global Markets Strategist at eToro said:
"The fact that two thirds of retail investors feel indifferent, or even more positive, after the worst year for markets in a generation might seem odd. But the majority of this cohort think in years and decades. For those with longer time horizons, the back end of 2022 has offered a chance to buy companies at lower valuations, improving the outlook for long term returns."
One of the biggest reasons given by the report for the renewed optimism is that inflation, considered the biggest threat in six of the last seven reports, appears to be coming down.
The inflation worry has now dropped to 19% of those asked, while global recession was now cited as the main threat going forward into 2023, with a total of 22%.
Women ownership of crypto is on the rise, with an increase from 29% in Q3 to 34% in Q4. In fact, for young women (aged 18-34), crypto is now the second most widely owned asset after cash.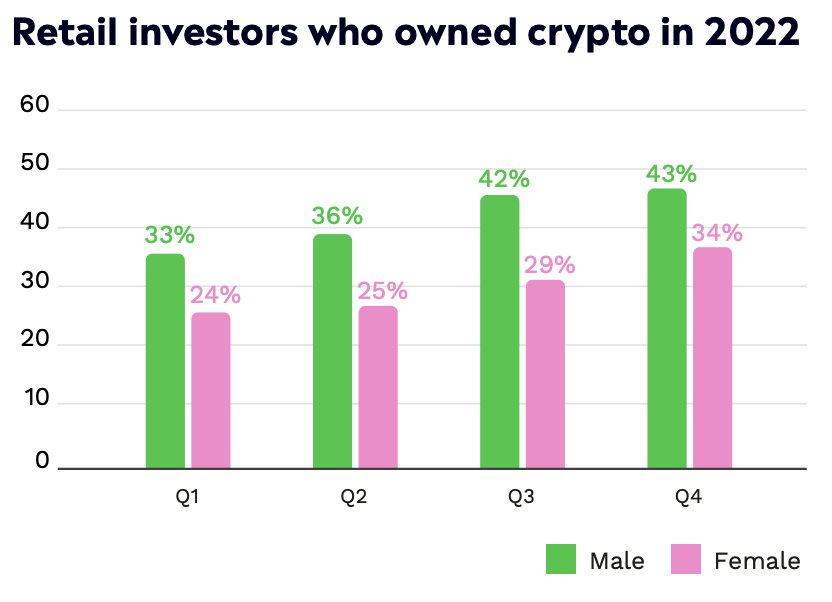 Retail investors give the main reason for investing in crypto as being able to make high returns, although others believe that crypto is a transformative technology and so invest in this idea. Most investors who avoid crypto do so because of the perceived risk.
Disclaimer: This article is provided for informational purposes only. It is not offered or intended to be used as legal, tax, investment, financial, or other advice.