Being educated on Bitcoin is a concept more people may want to explore over the coming years. Thankfully, there are more resources than ever before to learn new things about the world's leading cryptocurrency. There is something for everyone, regardless of being tech-savvy or willing to dedicate a lot of time in one go.
Stacker Chats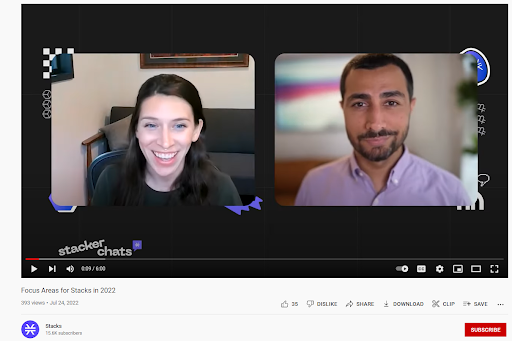 The Trust Machines team, CEO Muneeb Ali and Gina Abrams, have created a new initiative for people to learn more about the technical side and intricacies surrounding Bitcoin. Through Stacker Chats, people can learn more about the Stacks ecosystem - a layer designed to fuel the development of decentralized apps on the Bitcoin network - and how it affects the future of Bitcoin itself.
All Stacker Chats are accessible on YouTube and feature bite-sized episodes ranging from five to fifteen minutes each. The Stacker Chats touch upon various topics, including the difference between building on Bitcoin and Ethereum, how to survive bearish market conditions, and what the future may hold for Web3 on Bitcoin. There's a lot to check out, with more content regularly added.
Zero Authority DAO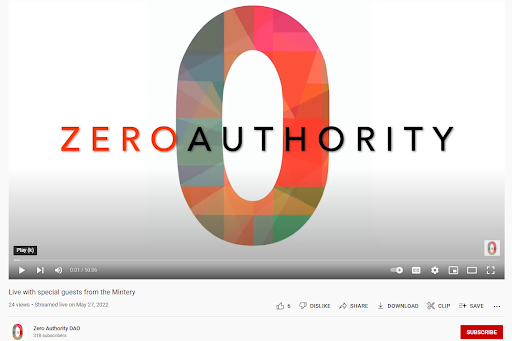 The YouTube videos created by the founders of the Zero Authority community are certainly interesting and intriguing for the Bitcoin-curious crowd. The team consists of diehard believers in open-source technology and permissionless systems. Moreover, Zero Authority is a big fan of the Bitcoin and Stacks ecosystem and how they will shape the future of permissionless systems.
Although the YouTube channel is still relatively unknown, there is a tremendous amount of content to check out. Users can engage in content ranging from mobile SDK for Bitcoin Dapp development to content creation tips, carbon-based initiatives, and various live chats conducted with other developer teams.
Jake Blockchain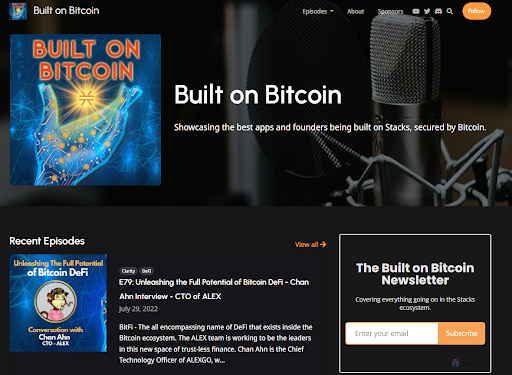 People who have familiarized themselves with the "Built on Bitcoin" initiative may know the name Jake Blockchain. He has a dedicated podcast, newsletter, and Youtube videos to help educate people on Bitcoin and everything the broader ecosystem entails. Moreover, Jake showcases the top-tier applications built on the Stacks ecosystem and secured by Bitcoin's network and consensus algorithm.
The Built on Bitcoin podcast is a weekly show and features various Stacks-based developments, updates, and interviews with the people building on this layer. There are over 75 episodes to catch up on, with most episodes taking up under half an hour. A good length to learn something about Bitcoin while going for a walk, jog, or workout!
The Advisor BTC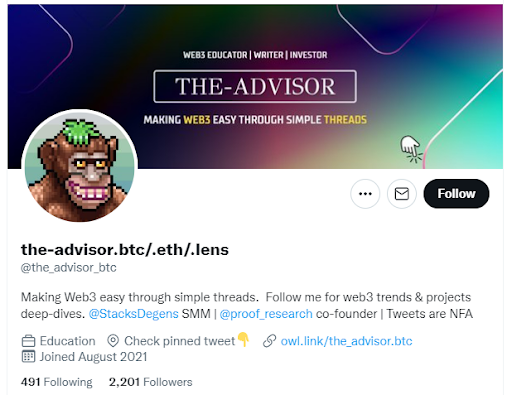 For those who prefer their content in written form, it is well worth checking out The Advisor BTC. Their top-tier quality Stacks ecosystem Twitter threads offer tremendous value and knowledge. Moreover, it is an excellent resource to look up information later on and learn new things about Bitcoin-related applications, products, and services made possible through the Stacks layer.
The Twitter threads are only the beginning, as the initiative recently received a dedicated YouTube channel and a new project is still in the works. Twitter is a viable platform for educating people on Bitcoin, even if it is not the primary use case for social media. Moreover, Twitter Threads often contain succinct information and details one might not come across elsewhere.

Disclaimer: This article is provided for informational purposes only. It is not offered or intended to be used as legal, tax, investment, financial, or other advice