The Luna Foundation Guard has announced the raise of $1 billion from an over-the-counter sale of LUNA, which is the native token of the Terra blockchain. The $1 billion fund will be used as an extra layer to protect the Terra UST stablecoin in case of a major market sell-off.
The sale was led by two prominent venture capital firms, Jump Crypto, and Three Arrows Capital, and other VCs participated, including Defiance Capital, Republic Capital, GSR, Tribe Capital, among others.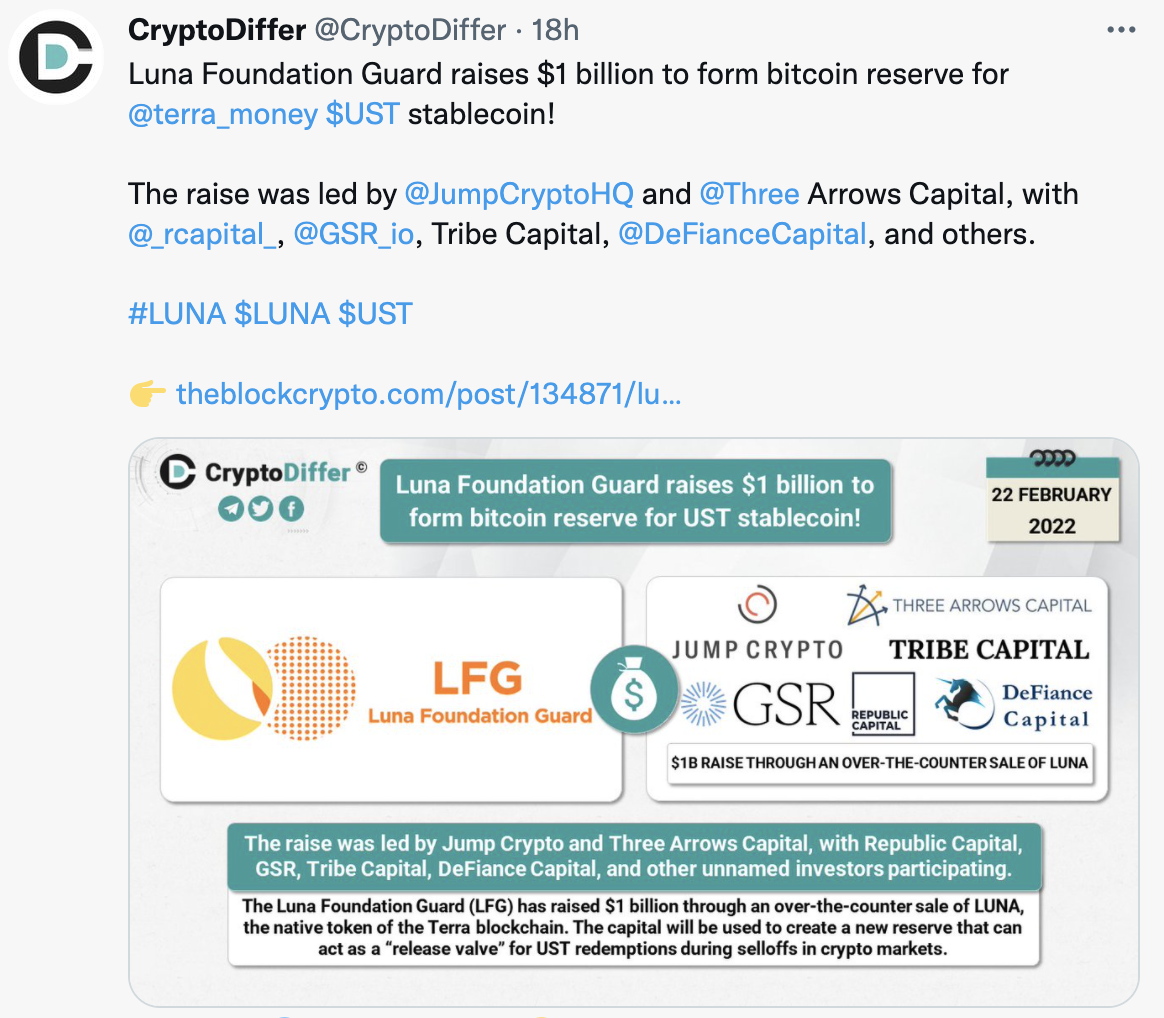 The raise is one of the largest ever in crypto, and should go a long way towards increasing confidence in the Terra Luna ecosystem, which was shaken recently when the Anchor Protocol reserve was days from completely depleting, before a $450 million injection saved the day.
The decentralised reserve was introduced as another mechanism to protect against sell-offs and the possible risk of a Hypothetical Luna bank-run.
Looking to the future, Do Kwon, the co-founder of Terraform Labs, has said that he is keen to scale the Luna Guard Foundation Fund even further, and is eyeing other non-correlated assets that would complement bitcoin in the reserve.

The Terra Luna ecosystem, with the algorithmic stablecoin UST as its centrepiece, is set to become a major lynchpin in the cryptocurrency sector. As more and more platforms launch on the ecosystem it will be interesting to see how this will affect the LUNA price and the strength of the system as a whole.
Disclaimer: This article is provided for informational purposes only. It is not offered or intended to be used as legal, tax, investment, financial, or other advice.