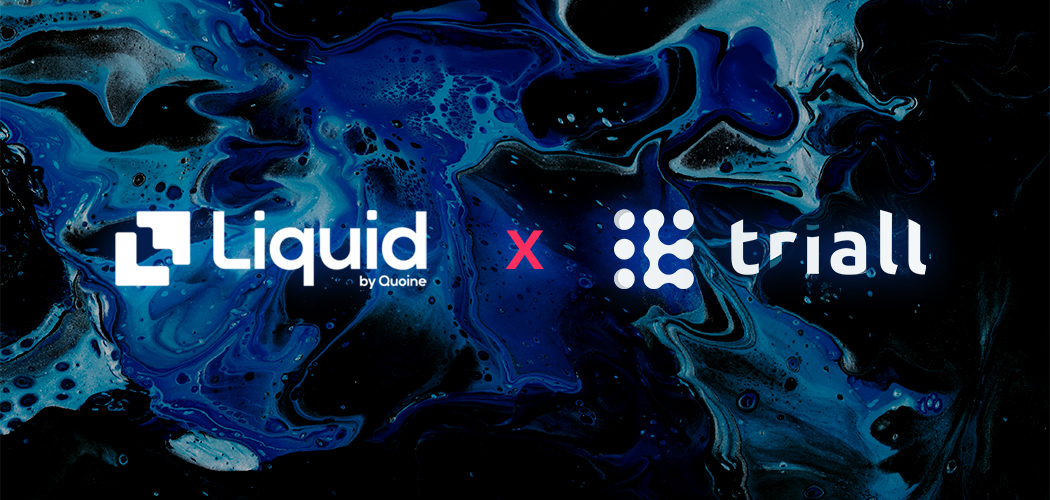 PRESS RELEASE. Triall has listed its main utility token TRL on Liquid, checking off a next major milestone in the build-out of its tokenized ecosystem to secure and streamline medical research processes.
AMSTERDAM, November 18, 2021 – Blockchain startup Triall officially listed its main utility token TRL on Liquid today. It represents the first CEX listing for the company, which listed TRL on Uniswap after a successful initial token launch on September 28, followed by a listing on PancakeSwap and bridge to Binance Smart Chain earlier this month.
The token listing is part of Triall's vision to bring blockchain-enabled Web 3.0 technologies to clinical trials; a 200-billion-dollar industry tasked with investigating the safety and efficacy of new medicines, so that these can be applied to prevent or treat diseases.
Clinical trials are notoriously costly and inefficient. They take many years and involve increasing amounts of data, often scattered across different systems and devices. This results in a lack of oversight for medical researchers and uncertainty about the integrity and authenticity of collected research data. These issues drive up the costs and reduce safety and reliability in the development of new medicines.
Triall was founded in 2018 by a team of medical research professionals to directly target these industry problems. The project provides an infrastructure of blockchain-integrated software solutions. These solutions enable medical researchers to anchor clinical trial data, and to integrate their systems, data, and workflows through a decentralized platform environment: the Triall ecosystem. As a result, clinical trial evidence cannot be manipulated, and systems and devices can exchange data in a secure and traceable way.
In three years time, Triall has grown into a global initiative that includes leading partners and key opinion leaders from across the clinical trial, enterprise software, and blockchain/crypto domains.
The company has developed and commercialized its first product Verial eTMF; a document management solution that enables users to establish verifiable proof of the integrity of clinical trial documents using blockchain technology—a world's first in the clinical trial industry. Verial eTMF is now being used across multiple commercial clinical trial projects, and will soon be onboarded in a COVID-19 vaccine clinical trial.
Speaking about Triall's ambitions, Hadil Es-Sbai, CEO of Triall said:
"We are very excited to now also be tradeable on Liquid. This will enable us to grow Triall even faster towards a digital ecosystem wherein we solve the day-2-day pain points of modern-day clinical trials while uniting the crypto- and life sciences communities."
The Triall project introduced its utility token TRL on September 28, after a successful pre-sale campaign that raised 2.4M USD. The TRL utility token functions as the ecosystem's primary means of payment, while also enabling P2P compensation, community engagement, governance, and token lock-up incentives such as memberships and staking rewards.
About Liquid
Founded in 2014, Liquid is one of the world's largest cryptocurrency-fiat exchange platforms serving millions of customers worldwide. Liquid is consistently ranked among the top 20 regulated cryptocurrency exchanges globally based on daily traded spot volume with deep BTC/JPY liquidity. The company focuses on providing a great user experience & world-class service levels. Liquid's mission is to build a secure and progressive cryptocurrency ecosystem that suits all market participants. At its core Liquid is an institutional-grade exchange that caters to the needs of blockchain projects and consumers alike with access to new markets and fiat gateways.
For more information, visit liquid.com
About Triall
Triall brings Web 3.0 to medical research by creating a digital ecosystem of blockchain-integrated software solutions that secure and streamline the development of new medicines during clinical trials. Triall's solutions make clinical trials tamper-resistant, and enable secure and efficient integrations between the many isolated systems and parties involved in clinical trial processes. Triall's software is created by clinical trial professionals to ensure optimal user experience, solving actual industry pain points.
Visit the website: triall.io
Twitter: twitter.com/triallofficial
Telegram: t.me/triallcommunity
Disclaimer: This is a sponsored press release, and is for informational purposes only. It does not reflect the views of Crypto Daily, nor is it intended to be used as legal, tax, investment, or financial advice