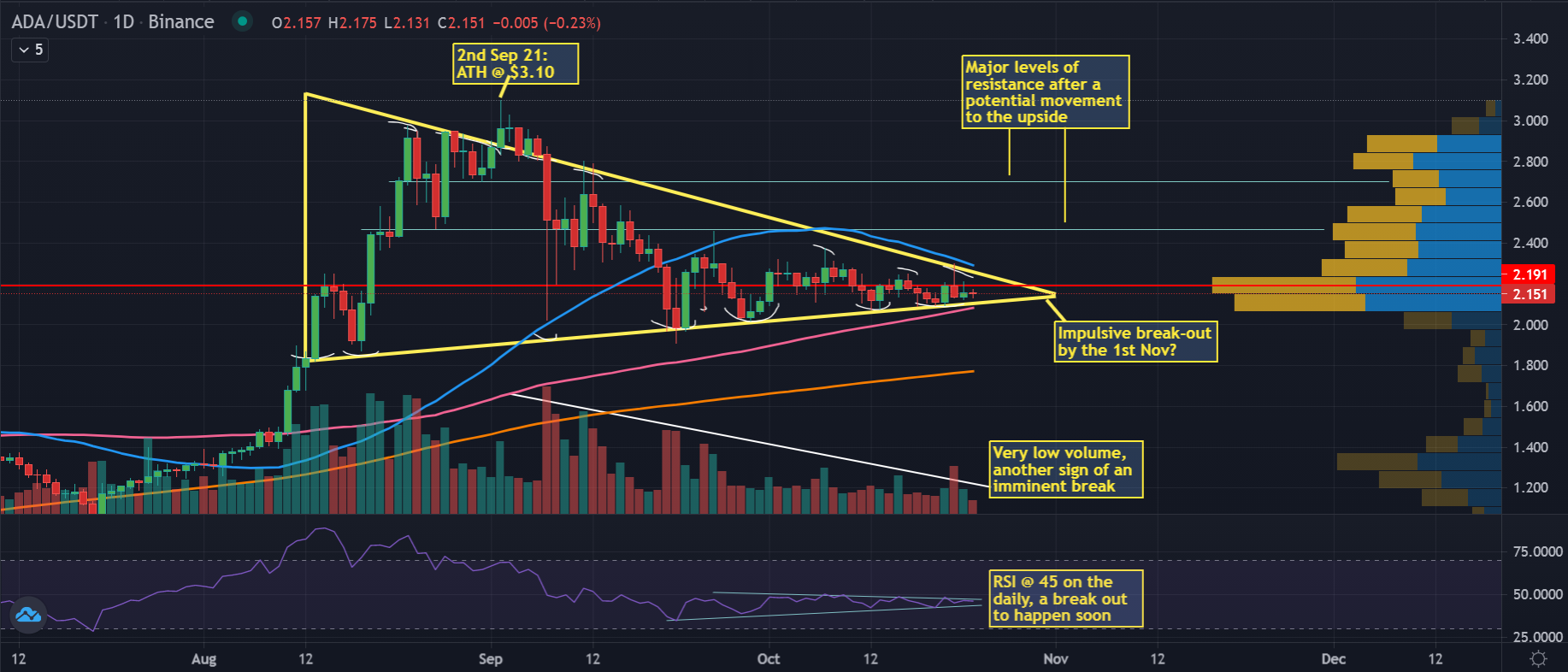 ADA TO END ITS PROLONGUED PRICE STAGNATION
As an editor for cryptodaily.co.uk, I have written my crypto insights on ADA (ADA/USDT) for roughly a month now. During this whole period of time up to now, the Cardano's native token has held its value nearly as solid as stablecoins have, instead of making anticipated and steady gains like Bitcoin (BTC/USDT) & Ethereum (ETH/USDT) and many other large cap altcoins such as Polkadot (DOT/USDT), Chainlink (LINK/USDT) or Solana (SOL/USDT) (+55%; +30%; +45% respectively). ADA's closest rival, SOL also recorded its ATH at the beginning of September, exactly a week later. From the all-time highs both assets saw their value slashed by approximately 50% but - out of the two – it was only the Solana Network's native token that has recovered the losses since their subsequent crashes while the 5th largest blockchain according to coingecko.com ($69.5B in market cap) pretty much traded sideways and currently is priced at $2.15.

The trading volume has also been getting lower and lower which is a typical occurence when a price action gets stuck in a triangle pattern. The formation I have been looking at all week has got six or seven touches on its lower trendline with five or six on the upper one. Depending on how you draw the lines, the bottom of the figure could arguably look like an ascending line with a series of higher lows while the roof is clearly showing a sequence of lower highs. That is obviously neutral. This triangle has got an expiry date on the last day of this month or the very next day, although usually these kind of patterns end up breaking a bit sooner than their deadline would suggest. In my opinion, there is no way of telling at this point what the next big movement will be from here solely by analizing the charts, althought we should definitely expect the next week to be critical. As far as support goes, the area between $2 and $2.10 has held the price extremely well so far.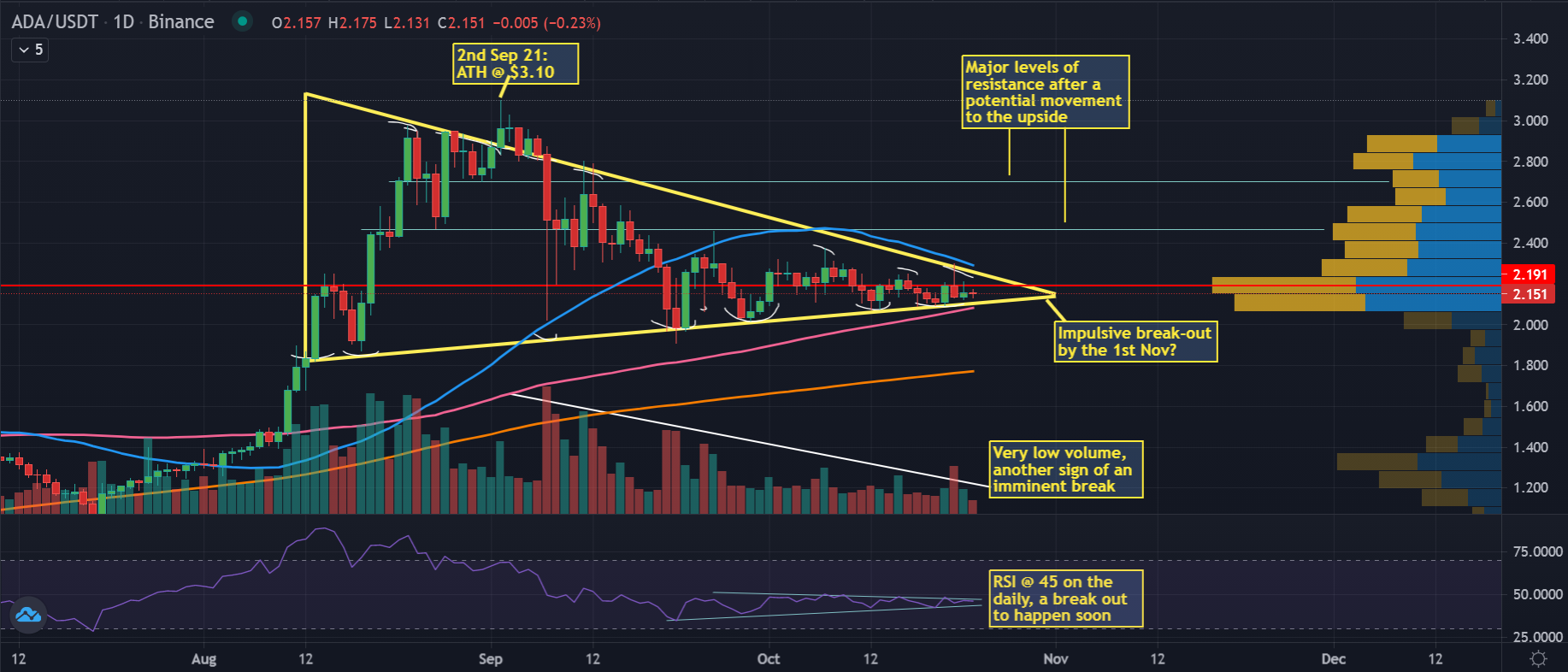 WHAT IS NEXT FOR THE PRICE OF CARDANO


Needless to say, Cardano investors will certainly hope for their chosen asset to finally start displaying some signals of strenght since this monotonous sideways action has been a major source of disappointment recently, especially considering the upward momentum in the cryptocurrency market as a whole. Being one of the poorest performers in October in terms of price cannot be beneficial for any asset's popularity, hype as well as the confidence level among the present ''hodlers''. Other cryptocurrencies such as BTC & ETH just hit ATH a few days ago so the expectations for Cardano's token immediate future must be rather steep right now, but what can we realistically await in the coming days that could potentially serve as a catalyst for the highly anticipated and 'slightly' delayed growth?

I guess all eyes on the CEO now as it's up to him to deliver a breakthrough announcement, some game-changing partnership or anything of that nature in order to put ADA in the spotlight for a bit. One of the reasons that could partly explain the stagnation in recent weeks was Charles Hoskinson's period of absence after The Cardano Summit concluded on Sunday the 26th of September (another reason, maybe more valid, could be that the selling pressure has been coming from a ''sell the news'' situation after the Alonzo hard fork was finally implemented). In respect of PR, the outspoken Cardano founder is undoubtedly a top asset to the blockchain due to the enormous level of popularity of his social media, particularly Charles' YouTube channel and his Twitter account (750k subscribers). Well, Hoskinson has been back from his ranch for nearly two weeks, so in case you have missed it, let me give you a little summary of what's happened recently outside of the very uninspiring price movement as well as what's ahead.

The Tour of Africa hasn't so far brought us a single concrete piece of news, much to the disappointment of the investors. The CEO of IOHK spent almost a week in the Republic Of South Africa and is scheduled to visit Egypt next. Let's see what happens and in the meantime the Cardano Network is getting ready for another update after the successful Alonzo hard fork which added smart contracts six weeks ago. We should expect a host of technical improvements but nothing really spectacular that could make the headlines. Growing number of smart contracts on ADA, while still a work in progress, should be a huge factor for the price long-term as the adoption rate of the blockchain seems destined only to grow. For the short-term, I will be closely watching the triangle for signs of a break-out (that should most likely mean breaking above the 50-MA as well) since ADA at these prices - that are 40% below the ATH - could easily turn out to be the most attractive crypto asset to invest into during the remaining part of the ongoing bull market. The stagnation/accumulation phase is about to finish any time soon.
Disclaimer: This trading analysis is provided by a third party, and for informational purposes only. It does not reflect the views of Crypto Daily, nor is it intended to be used as legal, tax, investment, or financial advice.