SnoopDog took to Twitter to reveal that he is the NFT booster CozomoMedico, the mysterious Twitter user who has amassed millions of dollars worth of NFTs and who has been teasing his identity for over a month.
The simple statement "I am @CozomoMedici." from the famous rapper sent the crypto world into a frenzy. While some Twitter users suggested that the statement was fake news, others noted that this meant that Snoop Dogg/ CozomoMedici "now owns 8 cryptopunks, 6 robot meebits, a skeleton meebit and a giant collection of artblocks".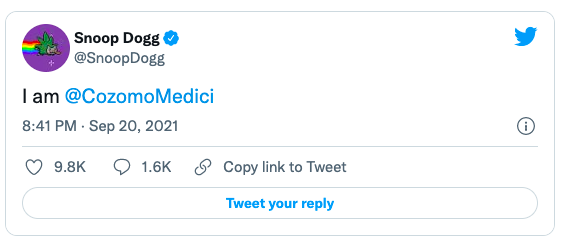 Until now the identity of CozomoMedici had been unknown, and many Twitter users have speculated as to his identity, further adding to the mystery of the NFT collector. On the 16th of September CozomoMedici tweeted that he would reveal his identity if his account reached 10,000 followers by September 20th:
"Dear frens, I have been thinking a lot about this, and have realized my real life celebrity status may bring many welcomed eyeballs to NFT. So if I reach 10,000 followers by weekend's end, come Monday, September 20th, I will dox myself and reveal my true identity"
With 30k followers on Twitter, CozomoMedici surpassed his goal of 10k followers, adding that he would give one ETH to one random person who finds the tweet revealing his identity, and shares it.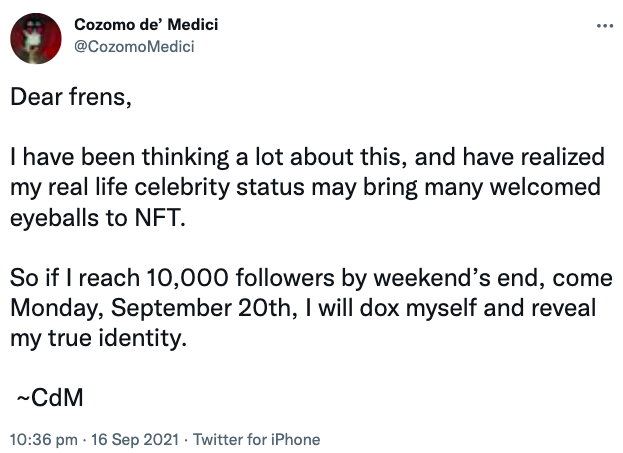 Apart from being an iconic rapper, SnoopDog (real name Calvin Cordozar Broadus Jr.) is also a savvy businessman and investor. He has invested significantly in cryptocurrency and NFTS, under his SnoopDog brand, debuting his first NFT collection "A Journey with the Dogg" in March on the Crypto.com platform. He announced his interest in NFTs back in March, stating at the time:
"I've seen the game change over the years from analog to digital and I'm always happier when the technology lets the fans get to connect with the artists. NFT's are an amazing innovation and it is an honor to do my first drop with Crypto.com/NFT."
Following the disclosure of CozomoMedici's identity many Twitter users revealed both their surprise, and pleasure at having a well-known figure as a prominent NFT supporter and collector. While the identity of CozomoMedici is now known, SnoopDog's alterego underlined in a tweet that he would keep the account focused on NFTs and would not mention his other account again.
Disclaimer: This article is provided for informational purposes only. It is not offered or intended to be used as legal, tax, investment, financial, or other advice.