At a State Council policy briefing held this morning, Fan Yifei, Deputy Governor of the People's Bank of China, stated that Bitcoin and stablecoins were speculative, and that they threatened financial security and social stability. He also outlined how the digital renminbi was being piloted.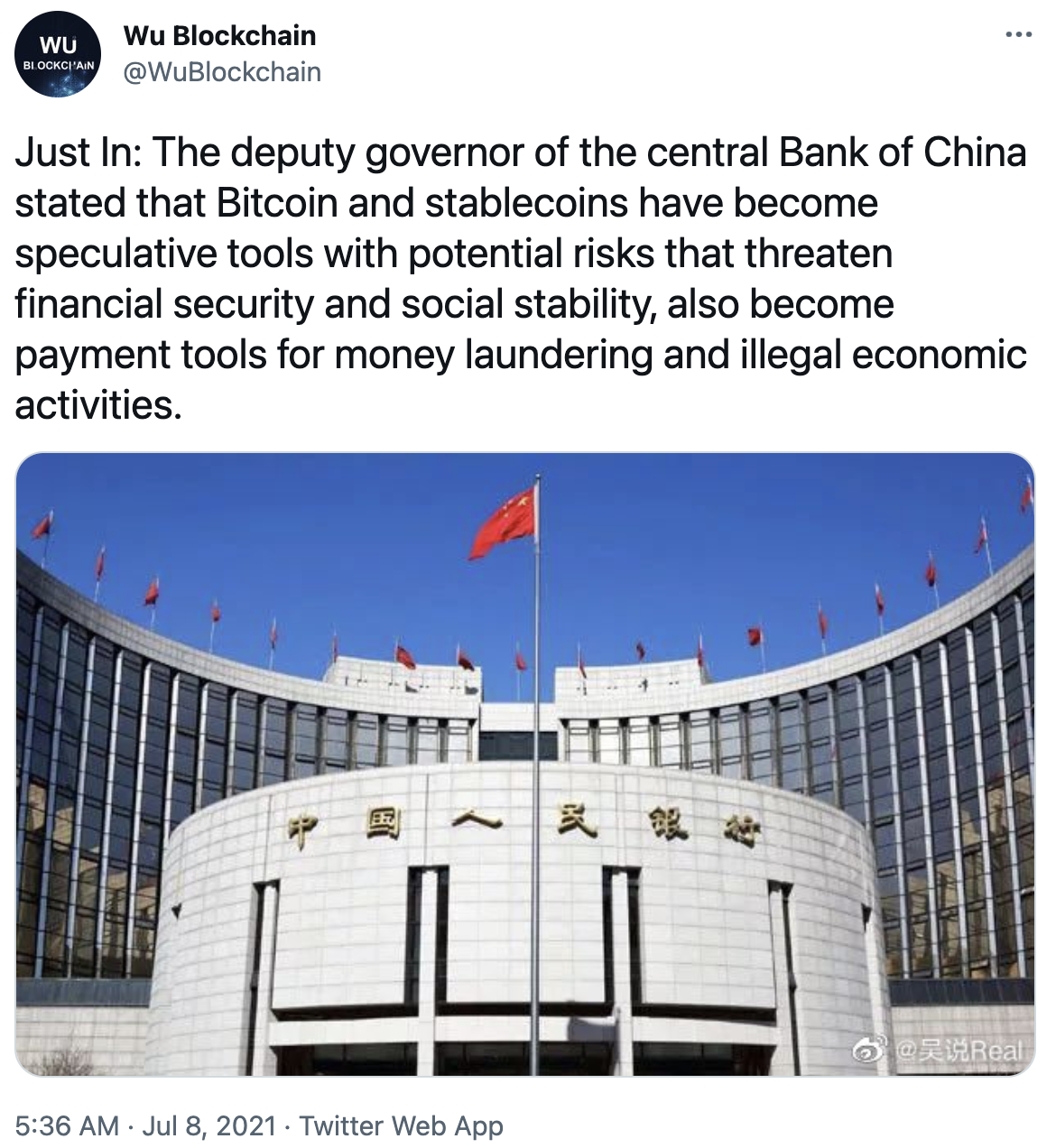 During the State Council policy briefing, Fan Yifei was asked by an AFP reporter about what the central bank was doing about virtual currency speculation. Yifei replied that the "typical representatives" of these types of digital currencies were bitcoin and "so-called" stablecoins.
"These currencies have become a speculative tool in their own right. When this happens in the market, there are also potential risks that threaten financial security and social stability. At the same time, it has also become a payment tool for some money laundering and illegal economic activities."
He reiterated that stablecoins in particular could potentially bring "risks and challenges" to the international monetary system. He admitted that the bank was worried about this and that it has already taken some measures.
He said that the central bank was continuing to study and observe private digital currencies, but at the same time the bank was "vigorously" promoting and developing its own central bank digital currency (CBDC).
He remarked that CBDCs could be split into two types: one being a "wholesale" central bank currency used for large value settlements by commercial banks and other institutional entities. The other type was for retail, used by the general public for every day transactions.
Yufei admitted that the bank was concerned that the retail CBDCs might have negative effects on the financial system, whether that be by "financial disintermediation", weakening monetary policy, or by "intensifying bank runs".
He stated that his bank was in the process of "piloting" the digital renminbi and that the scope of this program would continue to widen. He said that the "whitelist invitation method" for the program now had ten million users.
He said that the next pilot would be during the Beijing Winter Olympics.
Disclaimer: This article is provided for informational purposes only. It is not offered or intended to be used as legal, tax, investment, financial, or other advice.