A Goldman Sachs Global Macro Research report leaked on Twitter, detailed how the bank's research unit thinks Ethereum use cases will eventually lead to the number two cryptocurrency usurping Bitcoin dominance and replacing it as the top cryptocurrency by market cap.
The Ethereum market cap is just over a third that of Bitcoin, $250 billion compared with $660 billion. According to Goldman Sachs, there is a high chance that Ethereum will become the dominant store of value, terming it as the "Amazon of information".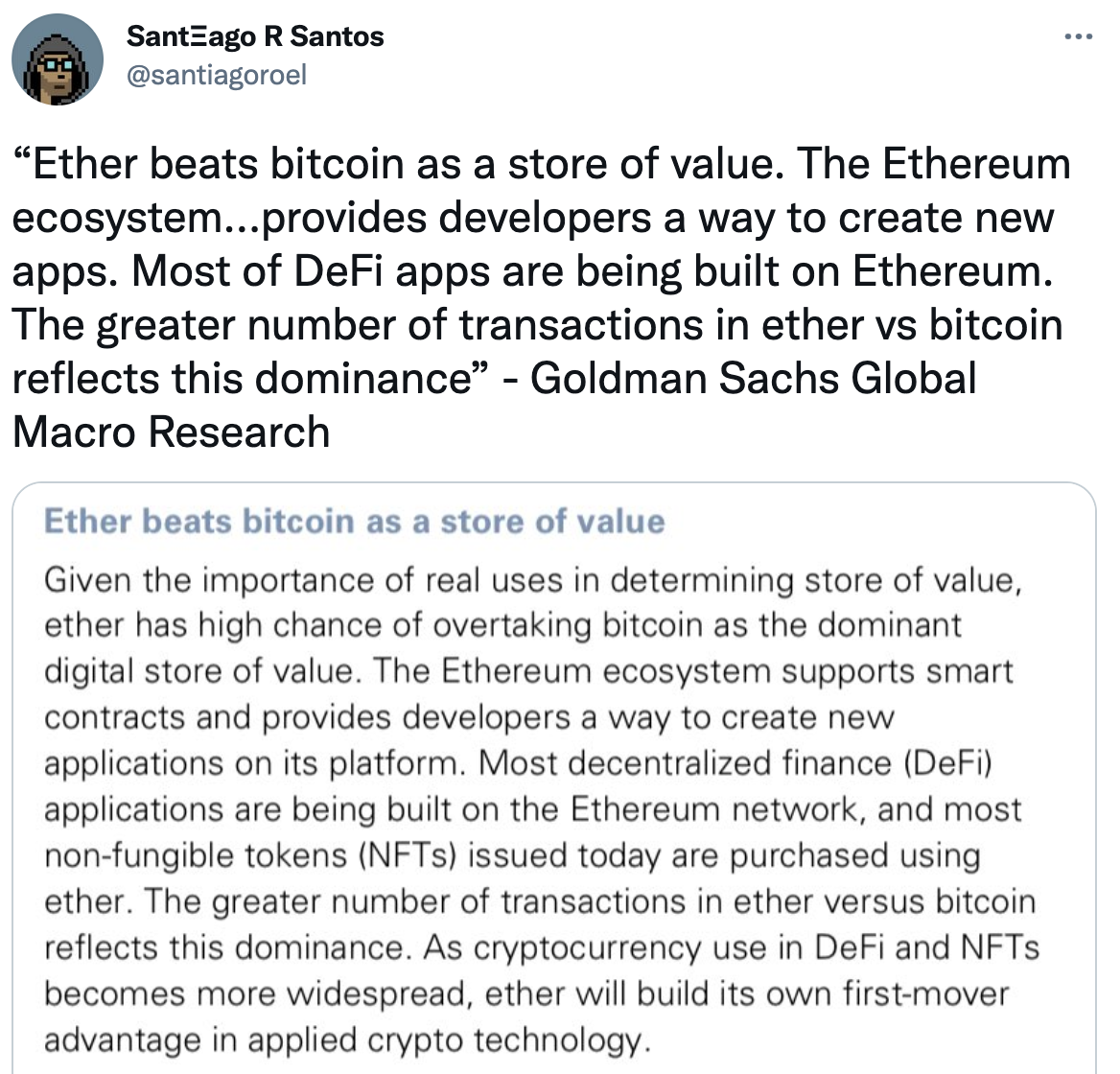 Decentralised Finance
Through the recent market carnage, DeFi has held up fairly well. A prospective future replacement for the banks, DeFi is knocking spots off the traditional finance industry in the areas of loans and giving huge interest yields in comparison.
DeFi is mostly based on the Ethereum blockchain and cryptocurrency projects here have helped to lock up more than $50 billion in TVL (total value locked). This figure was at nearly $90 billion before the recent market crash.

Non-fungible tokens are another value building use case for the Ethereum blockchain. Digitalised art and collectables have really started taking off in the last few months, and the future looks bright for this new sector.
According to the Goldman Sachs report writers:
"Most decentralized finance (DeFi) applications are being built on the ethereum network, and most non-fungible tokens (NFTs) issued are purchased using ether. The greater number of transactions in ether versus bitcoin reflects this dominance."
With the ETH 2.0 upgrades on the way, the thorny issues of scaling and high transaction fees can be solved. If and when we get to this point, the price of ether could rocket well beyond the recent highs.
According to Kosala Hemachandra, the chief executive of MyEtherWallet, who was quoted in a Forbes article today:
"Unlike bitcoin, ethereum is not just a value token, meaning it actually fuels all use cases built on top of the ETH blockchain"

He added:

"Bitcoin is simply a value token with no clear roadmap. Even with the price plunge, long-term development is unaffected and ethereum is well on its way to market dominance over bitcoin."
Disclaimer: This article is provided for informational purposes only. It is not offered or intended to be used as legal, tax, investment, financial, or other advice.