Things are looking better than it did half a year ago. Despite the fact that the world still suffers from the pandemic and the global economy has yet to recover, Bitcoin has stayed above $10,000 for over 70 days now, the longest period it had since its birth. Furthermore, Bitcoin is likely to benefit a lot from the coming stimulus package and wider adoption by institutional investors and countries. To help traders earn more profits, the leading crypto exchange Bexplus is launching a Golden October promotion that includes several benefits.
Who is Bexplus
Registered in Saint Vincent and the Grenadines, Bexplus is a leading crypto derivatives trading platform offering 100x leverage futures trading on BTC, ETH, LTC, EOS, XRP and etc. Bexplus is trusted by a million users and offers services to over 30 countries, including the USA, Iran, Japan and Korea.
Event duration:
The promotion lasts from Oct. 16th 0:00 - Nov. 1st 0:00 (UTC). The users who are eligible for the benefits will be notified by email after the activity ends.
What the Golden October offers
Direct Cashback
Users who made deposits of more than 0.3 BTC are entitled to join the cashback activity. Users can get cashback of a certain percentage of their traded margin, from 5% to 12%. For example, If you have made a deposit of 1 BTC and trade 100 BTC (with 100X leverage, you only need to invest in 1 BTC as margin) during the activity time, you can win ( 1 BTC*10% = 0.1 BTC). The cashback is withdrawable. The more deposit and trade volume, the more BTC you can earn back.

Trading Fee Discount
This is a juicy offer to active traders. Bitcoin is a volatile asset and oftentimes we need to change our positions to adapt to the market. While the transaction fee for one deal may seem insignificant, it could eat up your earnings if you like to open and close positions frequently. However, during the activity time, the more you trade, the more transaction fee you can save. You can get a certain discount starting from your 3rd trading, and you don't need to pay a transaction fee from the 20th trading.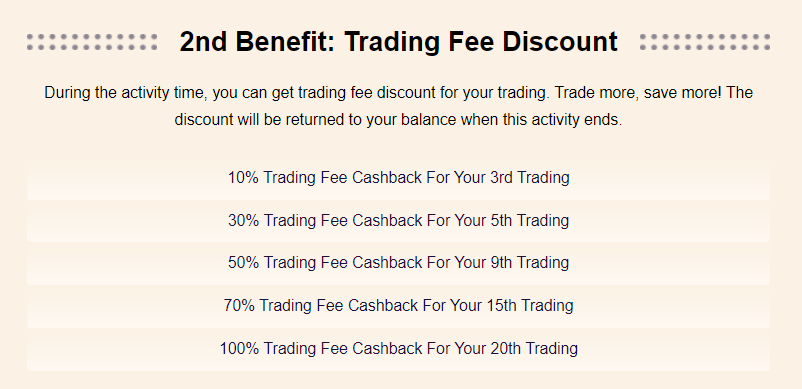 Free Gifts
A free iPhone 12 Pro will be sent to you as long as your trading volume reaches 500 BTC (100X Leverage)! With Bexplus' 100X leverage, your buying power will be enlarged 100 times. That is, you can open a position worthy of 500 BTC with just 5 BTC. Bexplus has prepared various free gifts to users, check out the platform now!

Features of Bexplus
No KYC requirement, registration with Email verification within a few minutes

Demo account with 10 BTC for traders to get familiar with leverage trading

100% bonus for every deposit and 10% off of transaction fee

Intuitive and full-featured App on Apple App Store and Google Play

Affiliate program with up to 50% commission reward

24/7 customer support
The Golden October activity is an amazing opportunity for you to earn more from an activity that you are already doing - trading. The more you trade, the more you can earn, so don't hesitate to join Bexplus now!