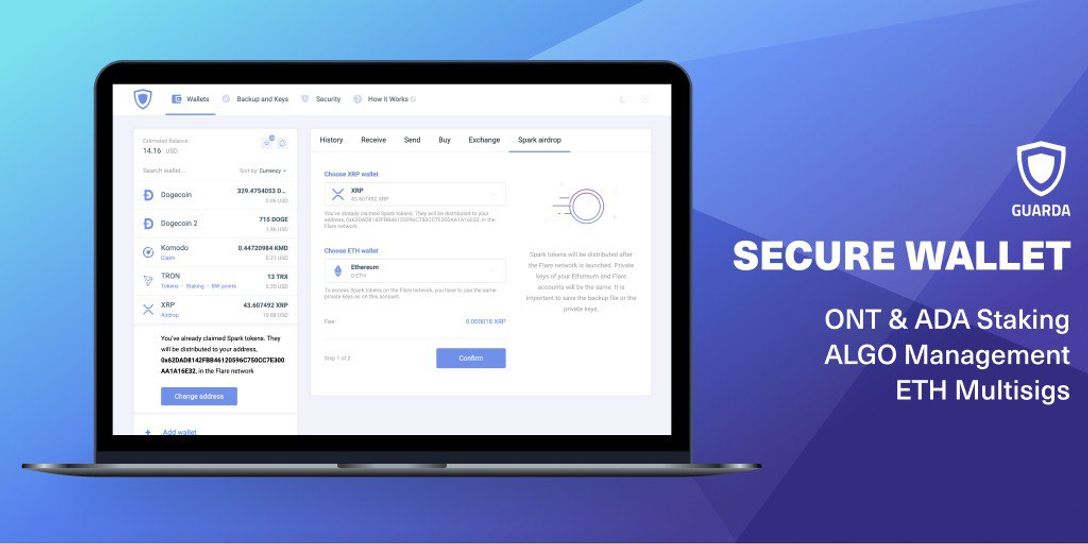 With the increased popularity of cryptocurrencies, the users' needs became much more complex and people have a lot more options to choose from. Therefore, Guarda developed new and exciting features for the Guarda Crypto Wallet, that meet and even exceed users' expectations.
What is Guarda Wallet?
Guarda Wallet is a multipurpose crypto wallet that helps you easily manage your income. Like any other crypto wallet, you can store and send various cryptocurrencies – but here you can also stake and even exchange them directly from the app.
It offers you control, privacy, and anonymity – what people asked for years.
Guarda made sure that its wallet is available on any kind of platform so that it can be used however users feel more comfortable. Therefore, Guarda offers:
Desktop Wallet – for macOS, Windows, and Linux;
Mobile Wallet – for iOS and Android;
While the web and desktop versions were built mainly for staking and trading, the mobile version is the key to normalizing merchants' crypto payments. Isn't it exciting that you can greet the autumn with a large cup of Pumpkin Spice Latte paid with crypto? They are now literally found in your own pocket, like any other fiat.
The Chrome extension was built mainly for those who like using crypto for lively and intriguing experiences – like gambling, finances, and even video games. Those adorable CryptoKitties are definitely worth your attention.
Supporting over 45 major blockchains, dozens of stablecoins, and over 10k tokens, Guarda Wallet is clearly one of the best wallets in this field.
Guarda also offers a Private Wallet developed exclusively for ZCash – Shielded Wallet.
Having the chance to collaborate with one of the most promising technologies in the matter of Crypto, the team was more than happy to promote the potential of zk-SNARK. Their shielded payment scheme secured by zero-knowledge is what people name "the next step for the Crypto World".
What are the new features of Guarda Wallet?
A careful analysis in the last couple of years shows that crypto users want more than just a decentralized network and a few cryptocurrencies to work with.
Besides aiming for a more secure wallet, they also started to explore new alternatives for earning tokens. They are also more open to new cryptocurrencies, knowing that most of them are a better version of the previous ones.
Therefore, Guarda came with exciting updates both in terms of security and experience.
Guarda Wallet has now implemented the multi-signature feature for ETH - on Web, Desktop, and Chrome extension versions. That means you need to use a combination of several keys before making a transaction. If hacking wasn't already hard enough, good luck hacking Guarda Wallet's accounts now!
In terms of experience, Guarda also welcomed on its platform the SPARK token airdrop – on Web, Desktop, and Chrome extension. There are platforms that reward its users with tokens for various activities that promote them and now you can easily use those for anything you can do with Guarda Wallet.
Being aware of the potential of new cryptocurrencies, Guarda also added:
ADA and ONT staking to the list of staking, alongside ALGO for management – on Web, Desktop, and Chrome extension versions;
FIO tokens for the Mobile version.
Very soon, Guarda Wallet will also support XMR HF on the Web, Desktop, and Chrome extension, as a positive response to the users' requests. Furthermore, there will be added Zilliga for staking.
If this wasn't enough, the team also made some updates for the Shielded wallet – now it has seamless transactions and decreased z-balance update time.
And because the health of its users is important as well, for the Mobile version Guarda implemented the night mode. You need to have keen eyes in the world of Crypto, right?
The team of Guarda Wallet
Guarda was launched in 2017 by Paul Sokolov, known for his experience in a variety of blockchain-related projects.
Alongside Artem Kirillov and other crypto enthusiasts, he went from single currency wallets to a multi-currency, cross-platform, and non-custodial one – known as Guarda Wallet.
The team conquered crypto users not just through the continuous updates of their platforms and intriguing ideas, but also with their qualitative 24/7 support and their interest in the users' needs.
They provide you with a lot of options, security, various platforms, and new technologies – what else would you want more from a crypto wallet?
Be up to date with their activity and follow them on social media!
Twitter: https://twitter.com/GuardaWallet
Facebook: https://www.facebook.com/GuardaWallet/
Youtube: https://www.youtube.com/c/GuardaWallet