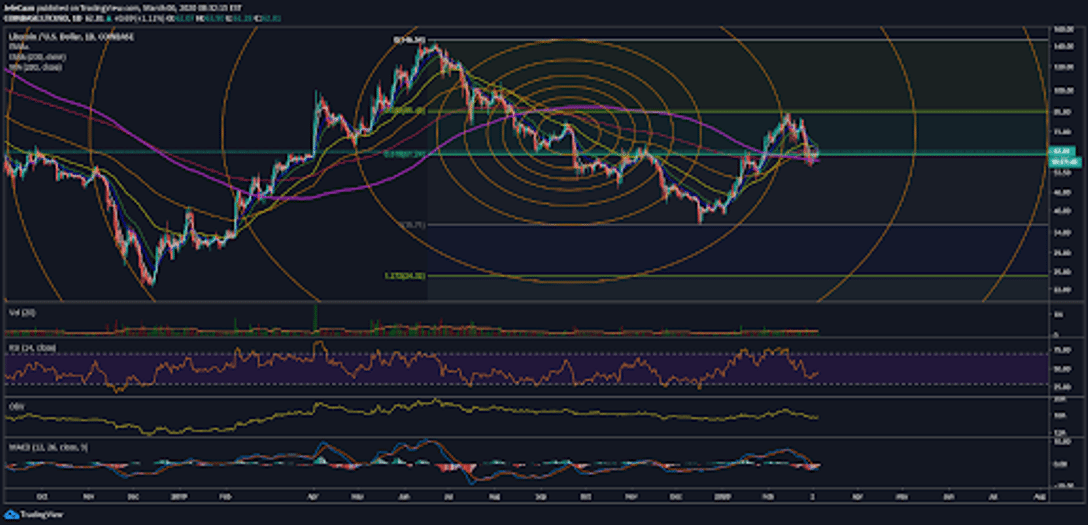 Litecoin (LTC) has been struggling to break past the 200-day exponential moving average. Even though it remains above the 200-day moving average, it still risks a major decline below it considering it has repeatedly failed to break past the 200-day EMA. The next decline would pull the price below the 61.8% fib level which means that we might be looking at LTC/USD declining down to the 1.272 fib level to make a new yearly low. This would also lead to the price testing the next fib circle and seeing a potential uptrend for a while before the next downtrend kicks in.

For now, LTC/USD remains very vulnerable and is at the risk of a major decline. As for the rest of the market, we have seen Ethereum (ETH) and certain altcoins rally aggressively against Bitcoin (BTC) today but that trend is not likely to last for long. If the S&P 500 (SPX) starts going down today as it did last Friday, we could be looking at a major decline in the cryptocurrency market over the weekend. It is important to realize that this would in no way shape or form decrease the chances of the market rallying to a new yearly high before halving. That is still very much on the table and it is actually quite likely to happen. However, before that happens a decline seems to be in order, one that could see Litecoin (LTC) decline to the 2019 low if not lower.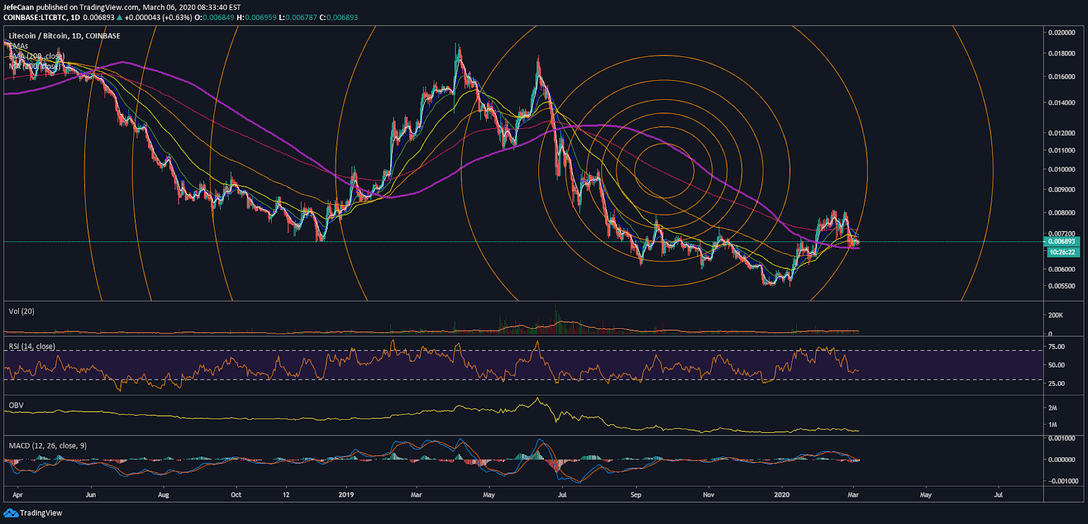 In all fairness, there is nothing much to expect to the upside. Bitcoin (BTC) could end up rallying to our previously mentioned target of $11.7k and altcoins might rally in a similar manner during that time, but the question to ask is, "Is it worth risking it all on a potential rally to $11.7k?". In the grand scheme of things, chasing this move could prove to be quite unreasonable especially if we consider the risk/reward. This is a time now when we are talking about Altcoin dominance (Others.D) entering a multi-year bear trend and for Bitcoin dominance (BTC.D) to revert back to pre-2016 levels.
This situation is even more alarming for coins like Litecoin (LTC) whose only use case is to be a Bitcoin spin off and pretend to be a cheaper and faster alternative. Bitcoin was not created to be cheaper or faster. Something like Ripple (XRP) could have done that job and it continues to do that job far better than Litecoin (LTC). The daily chart for LTC/BTC shows that Litecoin (LTC) now risks breaking below the 200-day moving average against Bitcoin (BTC). This could lead to the beginning of a major downtrend that might end up dragging Litecoin (LTC) down to its pre-Coinbase prices where it actually belongs.