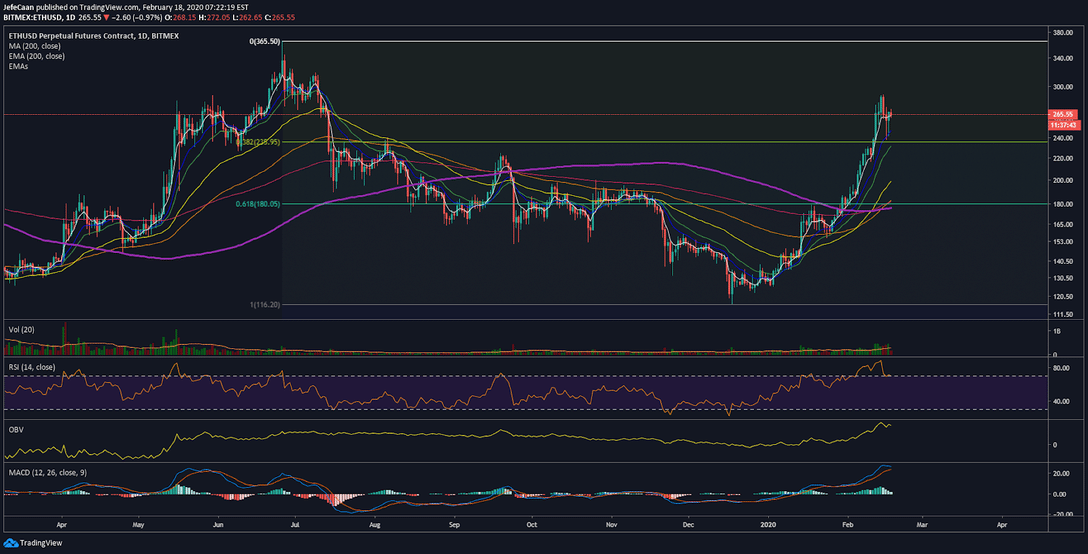 Ethereum (ETH) could shoot towards $300 and higher before the next halving. This sounds completely ludicrous to most traders at the point but then again, most people are often wrong. It is only a very small percentage of people in financial markets that consistently generate profits from trading or investing. The daily chart for ETH/USD shows that the price declined close to the 38.2%. It did not test that level on the Bitmex exchange but the strong bounce from there tells us that it tested that level as a strong support and could now see a move to the upside considering the uptrend still remains intact.
It goes without saying that it is extremely risky to long the market at these prices. However, this is not the time to be short selling either. It may however be a good point to think about taking some profits if you are already holding some coins. I do think that ETH/USD has room to rally towards $300 but the risk reward may not be worth it if you are entering trades now with a buy and hold approach. Ethereum (ETH) is likely to rally along with the rest of the market when Bitcoin (BTC) surges higher to fill that CME Futures gap at $10k. We can already see some major altcoins show signs of strength. Even ETH/USD has bounced off strongly and refuses to give up just yet despite there being fear in the market.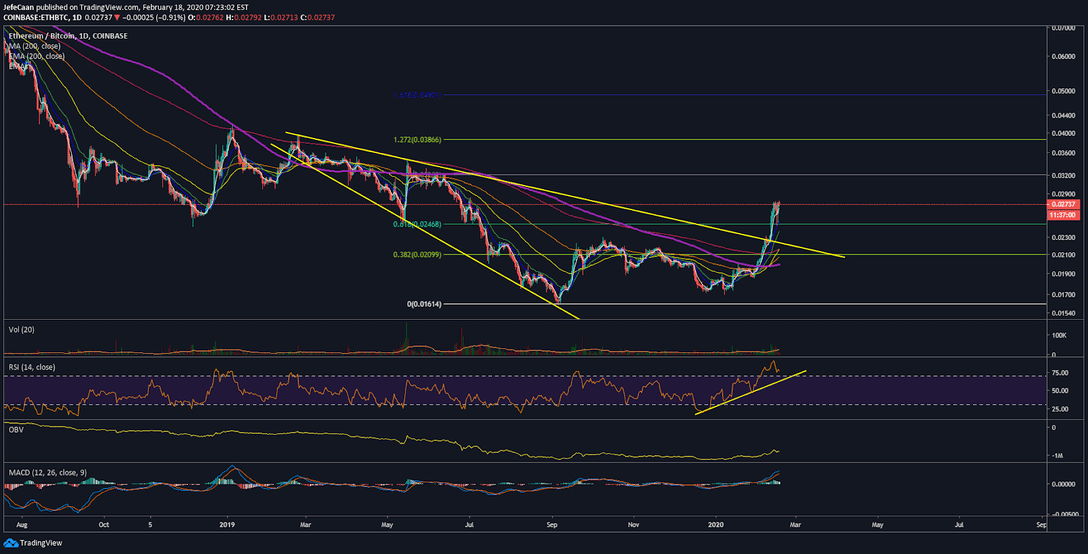 The daily chart for ETH/BTC shows that Ethereum (ETH) may be ready to rally against Bitcoin (BTC) as well considering the pair has found support on the 61.8% fib level. This could lead to a rally towards the 1.272 fib level and potentially much higher. RSI on the daily time frame indicates that there is the risk of a decline down to the trend line support. However, as long as the 61.8% fib level remains intact, there is no cause for concern for the bulls.
As for the bears, this may be the time to wait and see how high the price rallies next. We might want to see a retest of the 1.272 fib level and a rejection there before entering more shorts. The formation on the ETH/BTC chart does appear like a "W" which is why it is important to remain cautious and not rush to enter short positions. Bulls that are already in long positions with good stop loss management might want to wait it out because funding rates are starting to decline and with such low premiums, it is worth it to wait and see where the market heads next.