Table of Contents
What are clients looking for in a blockchain venture?
Any blockchain startup owner would tell you that it's, first and foremost, innovative technology.
For instance, one of the leading UK blockchain ventures, Edge Network (also known as DADI), drew the attention of the investors with the idea of data decentralization and the necessity to remove centralized centers for data storage and computation.
The company perfected its technology with over $2 million in initial investments, and, as of 2018, the company was able to raise over $30 million in investments in just 1 round.

But how did DADI manage to achieve such a success and become one of the UK's leading blockchain ventures? And how do they manage to compete with other similar ventures, like IBM Cloud Virtual Services, CloudStack, or Amazon EC2, which have already entered the UK market?
The answer is smart marketing and content marketing, in particular.
The blockchain technology market is very competitive. The size of it is expected to reach $23.3 billion by 2023: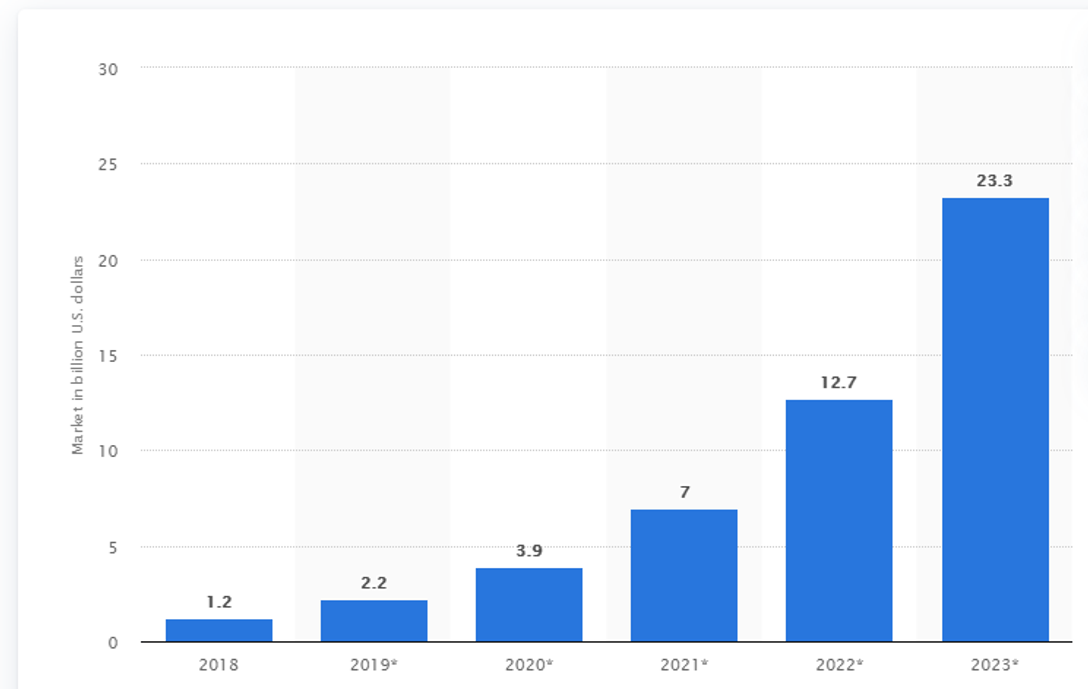 Image credit: Statista
UK investors are getting on the board of this trend as well, as the number of blockchain ventures increases rapidly every year. Last year alone, UK blockchain startups were able to raise more than £200 million from venture capital investors, which is three times bigger than blockchain technology investments in the previous years.
However, with fast-growing competition among blockchain technology ventures, the level of innovation is no longer the only thing that venture capital investors are looking for.
One of the critical factors is a venture's approach to marketing. The top venture capital investment companies Andreessen Horowitz and 500 Startups, who together invested over $50 million in blockchain technology startups, mention the venture's marketing efforts as one of the critical factors in decision-making regarding the investments.
So, how should you, as the owner, approach marketing, and content marketing, in particular, to get your venture noticed in the highly competitive blockchain technology market?
Before we jump to the content creation and content marketing tips, let's analyze the general specifics of content marketing for blockchain ventures.
How Different Is Content Marketing for Blockchain Ventures?
The general understanding of content marketing for blockchain ventures leans more towards the B2B approach.
What blockchain ventures usually concentrate on in terms of content creation?
"For a blockchain venture, the main focus is establishing authority and providing enough resources for the investors to be informed and make informed decisions," says Martin Black, a marketing specialist at Studyker. This means that the two main channels that would be the most beneficial content-wise are a blog and community-based social media channels.
As for the blog, investors are usually looking for blog content that can educate them about your venture and your technology, provide technical documentation and technology overviews, as well as to educate them about blockchain technology marketing in general.
As for the social media channels, not all of them will be a good fit for a blockchain venture. First of all, investors are expecting blockchain ventures to share quick updates and provide additional communication via social media channels, which should be your main focus in content marketing strategy for social media.
Now, let's dive deeper and take a closer look at content creation tips that will work for your blockchain venture.
Blogging – Educational Value or News Center?
The blog is an anchor of the blockchain venture's content marketing strategy. This is the primary source to which investors go for the additional information about the product and the venture itself.
However, your blog is also the main platform where you can showcase your expertise and build the authority to compete with other blockchain ventures.
What content should a good blockchain venture blog contain?
With your blog, you can take either of the two main approaches to content – make it a news center or make it an educational portal.
Let's take a look at the examples of each of these approaches.
Blog as a News Center
Circle, one of the UK's biggest cryptocurrency ventures, dedicated their blog to the news and updates about their product and its applications as well as company news and articles from CEO.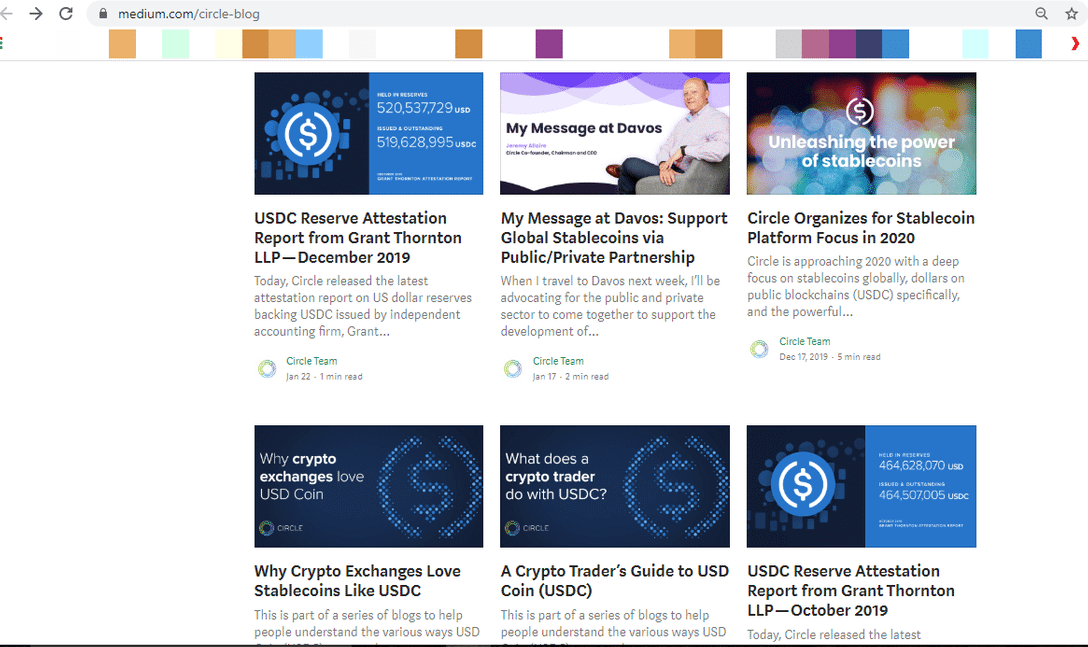 A general overview of the Circle's blog shows that their content provides consistency in delivering news and reports to their investors, although the activity on their blog is quite low. Nevertheless, having a news center for a blog, you can provide great resources to help your investors learn more about your venture and establish the authority as a strong leader on the market.
Here are some blog content ideas for the ventures, who want to run their blog as a news center:
updates about the role of the product in the crypto asset trading ecosystem

achievements and surpassing milestones

acquiring new investors

organizing and participating in events

reports and news related to the product and venture
Blog as an Educational Portal
Creating an educational portal is another very common way to treat your blog.
For instance, Codezeros, a blockchain venture from India, dedicates its blog solely to posting educational articles, from writing ICO whitepapers to smart contracts and general information about investing in cryptocurrency.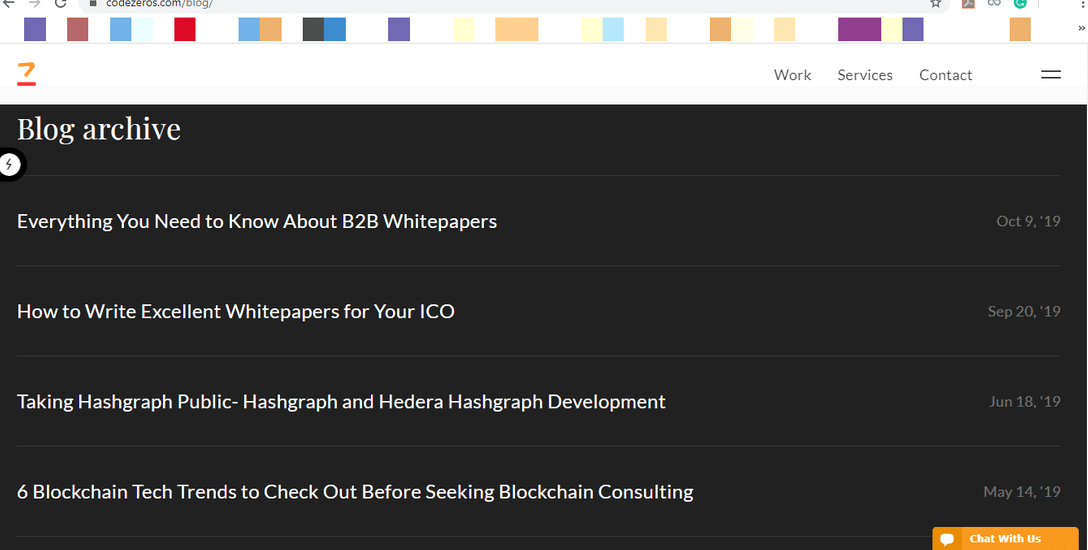 Instead of talking about their product and industry news, Codezeros dedicated its blog to providing investors with as much information as possible to help them make an informed decision about putting their money into any blockchain venture.
To post news and product updates, Codezeros has a separate page on their website, leaving their blog solely for general blockchain and cryptocurrency education.
If you're up to creating a more educational type of a blog, here are some content ideas you can benefit from:
general information on how to read ICO whitepapers correctly

general trends in blockchain technology

overview of the biggest blockchain ventures and their products

tips on wallet development

information about coin mining

information about smart contracts and their benefits for the investors, etc.
If you want your blog to educate investors more about the rules for investing in cryptocurrency and blockchain technology, but still want to keep them updated about your product, you can follow Codezeros' example and keep a newsroom as a separate page on your website.
Social Media – Technology Updates and Community Support
Now, let's briefly cover the social media strategy for blockchain ventures.
The main task of content creation for social media, in this case, would aim at supporting the community.
That is why, when choosing social media platforms for your blockchain ventures, go for those, where it will be easy to support your community and engage your audience.
One of these channels is Telegram.
For instance, Edge, the UK-based blockchain venture, actively uses Telegram to allow the members of their community to discuss the latest product updates, ask questions, and receive advice.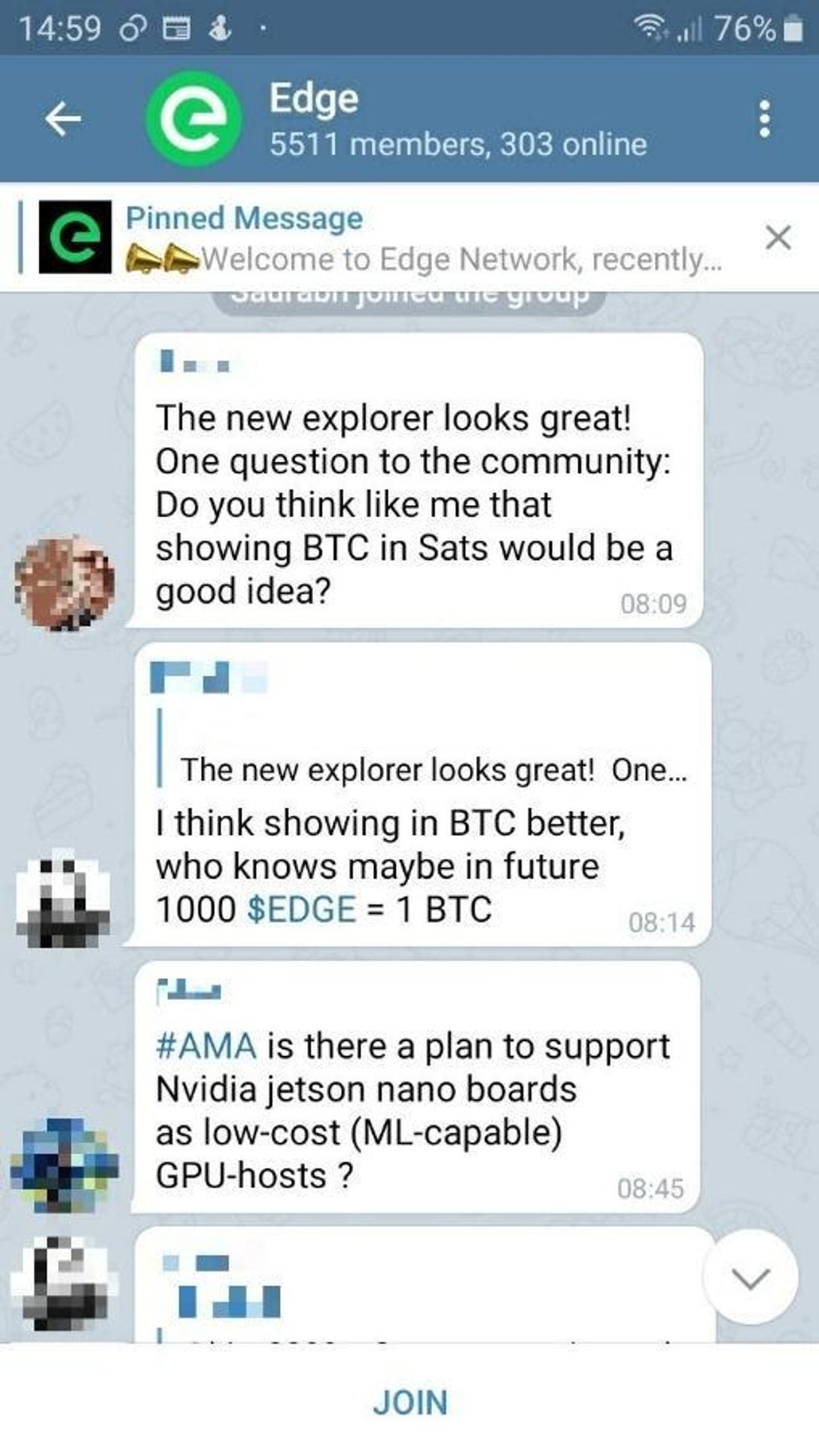 Apart from Telegram, for their social media and content marketing strategy, Edge Network uses Reddit as the platform to support their online communities.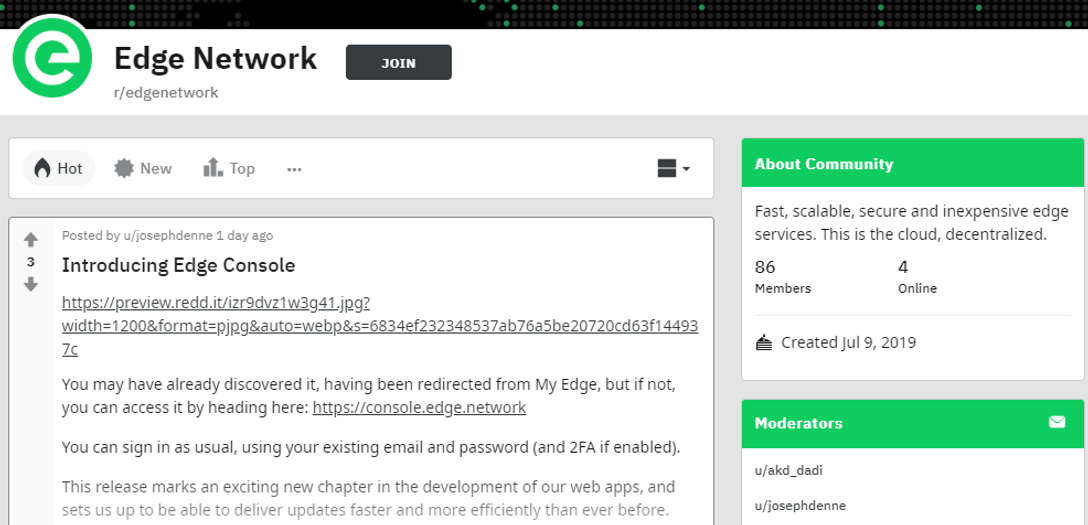 Quora is another similar community platform, which you can use to engage your audience.
We've grown accustomed to seeing the traditional social media platforms – Facebook, Instagram, and Twitter – to be used in a traditional social media strategy. However, these social media platforms don't always work for blockchain ventures, as these ventures usually a very niche audience.
Channels like Telegram and Reddit, however, work perfectly in this case. There, you can upload content that provides your community with quick company and product updates and allows them to discuss the news on the spot.
These channels, however, cannot go unmanaged. If you decide to use Telegram or Reddit for your content marketing strategy, make sure that you have a moderator for these communities. You can outsource this task to professionals from such platforms as Subjecto or Writescout, or, if your community is small, you can have your in-house marketing team moderate these channels for you.
Word-of-Mouth Marketing – Leveraging Press Releases
One of the strategies that blockchain ventures can greatly benefit from in content marketing is press releases.
In this case, press releases are pieces of news or news articles that describe the main changes that occur within your blockchain venture.
This type of content exists to inform your investors as well as those willing to invest in your venture, about important milestones and achievements, as well as the developments in the technology and the impact they have on their investments.
Usually, press releases in the blockchain industry are short (no longer than 300 words) and straightforward. Doing them regularly is a part of word-of-mouth marketing that can not only keep your investors informed but also attract new investors and establish the authority of your venture in the blockchain market.
Wrapping Up
Will your content marketing strategy be effective?
Yes, if you keep it diverse.
Since almost all content that blockchain ventures upload to their channels is aimed at a very niche audience, you probably won't be able to attract more massive audiences with it right away.
However, by having regular press releases together with the expert blog and strong communities on social media channels, you will not only grow your online presence but will also attract more high-end investors.