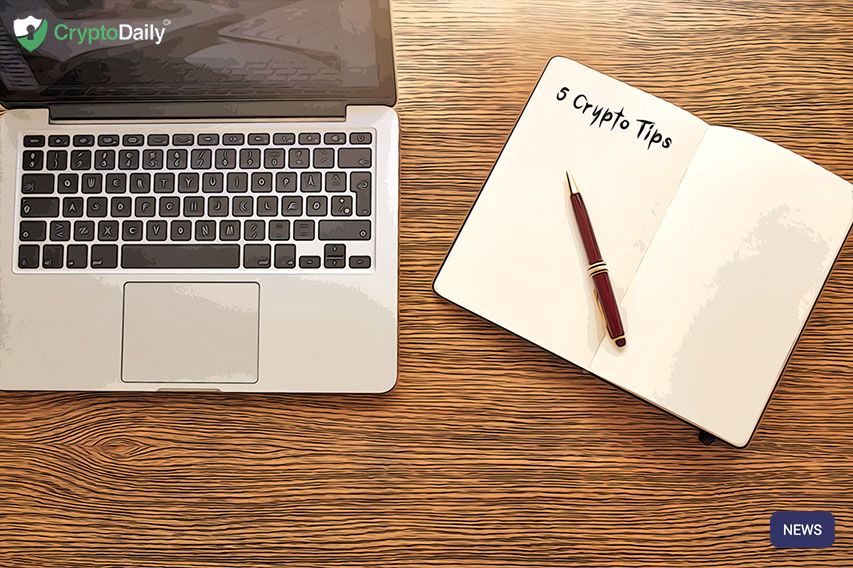 The turbulent times for cryptocurrency are over.
Several years ago no one would even expect cryptocurrencies to change the world this much.
It seems that turbulent times for cryptocurrency are over.
According to Statista, the investments in Bitcoin, in particular, grew dramatically in 2019 compared to 2016: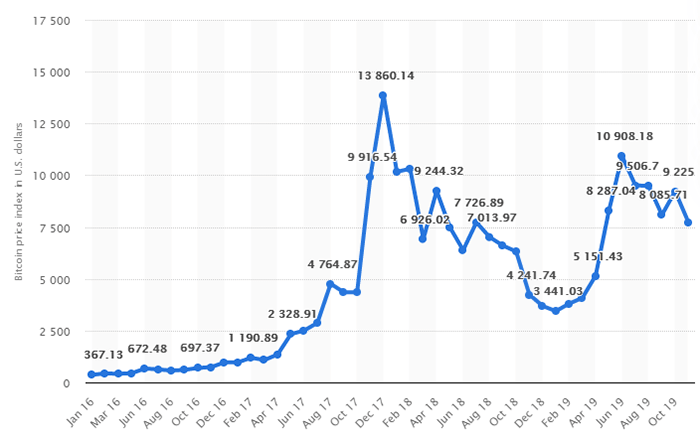 Image credit: Statista
Several years ago no one would even expect cryptocurrencies to change the world so much. Remember how people used to laugh at nerds who bought Bitcoin when it was still relevantly new and cheap?
No one is laughing at them now. Cryptocurrency is here to stay and these 'nerds' are now successful entrepreneurs opening blockchain ventures that get millions of dollars in investments.
The cryptocurrency market has become very saturated. This year, only in UK cryptocurrency and blockchain startups raised more than £200 million in investments, with blockchain software company Bitfury being the leader among the crypto ventures this year in Britain.
The number of ventures keeps growing, creating fierce competition on the cryptocurrency and blockchain market. Companies lure investors with ICO white papers to encourage investments.
While creating an ICO white paper is already a good PR move, combining it with a crypto press release doubles your chances for success.
What is Crypto Press Release?
So, let's dive in.
A cryptocurrency press release (hereafter – PR) is a piece of news or a news article that describes main changes in the industry, e.g. investment in cryptocurrency, blockchain technology, ICO launches, etc.
Crypto ventures use this format to either:
- tell about launching a project
- update the investors on reaching a specific milestone, alpha/beta releases, upgrades and any other events that happened within your crypto venture
This rather old-fashioned approach of telling the news and keeping public informed usually serves the following goals when it comes to crypto ventures:
to help investors make informed decisions about putting their money in the crypto venture

to encourage investors to spread the word about the crypto venture

to invite the news outlets to write about your venture and inform the wider audience
Although PR has very strong marketing potential, it doesn't guarantee your crypto venture marketing success. That is why many ventures invest in sponsored PR, especially if they are just looking for the investors.
How many words is a crypto PR?
Usually, a crypto PR is a short description of a venture and its goal is to attract the attention of potential investors or update them.
A crypto PR shouldn't be as long as an ICO white paper. The average length of an ICO white paper is 36 pages, while for a crypto PR it's about 300 words (a bit more than 1 page).
For instance, Kraken's recent press release is no longer than 300 words with an intention to update the investors about its recent acquisition of Circle's OTC Desk and the goals of this acquisition stated at the end of the press release.
Like any piece of news, crypto PR doesn't allow a chaotic structure. It's should be a well-thought-out piece of news, inviting the investors to do further research on a particular crypto venture.
Let's take a look at what it takes to write a spotless crypto press release.
Capture Attention with the Headline
Avoid the temptation of putting as many details in the headline as possible. It may be tempting to stuff your headlines with details to attract more attention to your press release. But since a crypto PR still belongs to journalistic writing, it has to follow certain rules and guidelines, namely:
Active voice.

The headline of a crypto PR should use the active voice. It is a grammatical rule: active voice prompts the reader to continue reading (act), while passive voice takes readers out of the action.

Avoid embellishments.

Metaphors and other figures of speech don't belong to crypto PR headlines. Get into your typical investor's mindset. Would you want to read a misleading headline about a venture that you've invested your money in?

Watch your punctuation.

In this case, crypto press releases use journalistic punctuation rules. If you have a one-line headline, try to avoid structures with complex punctuation. If you have a multi-line headline, keep most of your punctuation at the end of lines to make the headline easier to perceive.
With crypto PR, it is advisable to go straight into the matter, with a bit of generalization allowed to not give out all the details at once. For instance, the headline of a recent press release from Monero reveals that its key maintainer changes roles, but it doesn't disclose all the details right away.
We also advise you to write the headline only after you finish your press release. In this case, inductive reasoning serves a better purpose.

Set the Tone
Let's get straight into this.
The tone of a crypto PR, like with any other press release in journalism, should be neutral and informative. No bias is allowed, just straight facts.
When writing a crypto PR, focus on using a descriptive tone with the focus on the story, the facts, and the purpose.
Since a crypto PR usually accompanies other methods of informing the investors, such as an ICO white paper or a blog post on your venture's website, when writing it, you should be concise and unbiased, with the only goal to inform and update the public.
Pay Attention to the Structure
Now let's talk more about the structure of your crypto PR.
When writing a crypto press release, like with content writing in general, you need to follow a certain structure:
An introduction / summary.

Here, you need to include a two-sentence introduction in the form of a summary of what's your press release will be about. The introduction is usually written in bold font to capture the attention of the reader.

1nd section.

This section starts to introduce the first portion of details from the update that you want to inform your investors about. This paragraph also tells a more detailed story of what's been mentioned in the introduction.

2nd section.

In this part, you can introduce the stats or the research to support the goals that you will talk about at the end of your press release. This section can also include the word from the CEO or other parties that are discussed in this press release to add more credibility to it.

3rd section.

Here, you briefly lay out the goals, the benefits or any other form of outcome from the story told in the previous two sections. You should also briefly cover, what this update means for your investors.
Note: a crypto press release has a significant impact on your reputation. If you're writing a crypto PR that you will later send to reputable cryptocurrency news outlets, your press release should be well-proofread. Make sure to use online tools like Grammarly, ClassyEssay or TopEssayWriting in addition to manual proofreading to ensure a spotless result.
Let's take a look at an example of what the structure of a crypto PR looks like.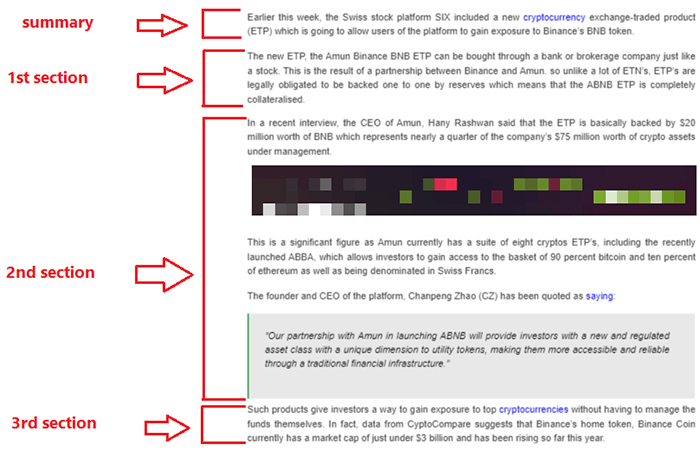 Here's a recent press release from Binance. The structure of this PR consists of a summary and 3 sections. The goal is to inform the investors and all interested in cryptocurrency ventures about Binance being included in SIX Swiss exchange.
The introduction briefly summarizes the update, allowing the readers to sneak peek into the benefits that this event brings.
The 1st section of the press release gives more details about Binance and goes straight into detail about the partnership between Binance and Amun.
Following the 1st section, the 2nd section of this press release includes the word from Amun's CEO talking about the profits from this partnership and what it means for the investors, quoting his words from the interview.
The 3rd section of this press release goes straight into detail about the benefits that the investors of Binance and Amun will get from this partnership as well as some market predictions.
This is a basic structure of a crypto press release that reports an update from a cryptocurrency venture. The press release is no longer than 300 words, making it perfect to send to all related news outlets.
Consider Your Crypto PR's Writing Style
So, as you've outlined the structure of your crypto press release, it's time to start writing. However, before you get into the writing process, consider the style that you will have to follow.
Here are some style considerations for a crypto press release:
Use strong assertive vocabulary

. Remember the tone of your press release. Your choice of words should not give away any possible bias.

Include highly concentrated information

. "A crypto PR can be compared to a brief report, where you should lay out the most important data", says Jane Harrison, a journalist and an editor at

BeGraded

. The most important statistics and research data should go into your press release to support your narrative.

No fluff

. When writing a crypto press release, avoid repetition. If you include someone's opinion, make sure that this opinion is highly relevant, like the word from a CEO.

Be careful with terminology and abbreviations

. Consider the news outlets which will post your crypto press release. If it's a niche news outlet, then feel free to include some terminology and industry-related abbreviations. If the source posts more general news for the general public, leave out all technical jargon.
It's also important to reiterate that you should use simple wording, with sentences that have a consistent structure. Avoid difficult grammatical and syntactical constructions that can confuse even the savviest cryptocurrency enthusiast.
Wrap Your Press Release with a Follow-Up
At the end of your press release, make sure that you at follow-up information.
You can add this information in the form of the 4th section of your press release. In this section, you can add any links that can help the reader find out more about the update that your press release covered, including the link to your website, your blog, your ICO white paper, etc.
Over to You
Although it's a rather old-fashioned tool in journalism, a press release can be very beneficial to cryptocurrency ventures. In this fast-growing market, you need to make sure that you do everything to be noticed, and crypto press release can bring you exactly what you need.
Make sure to follow our tips for a spotless crypto PR structure, tone, and style to deliver the information that you want your audience to learn.