Ethereum is no stranger to being in a do or die situation. Most of the time it ends up gaining the most and losing the most in such situations depending on how it plays out. Ethereum dominance (ETH.D) is currently trading within a symmetrical triangle on the daily chart. At the moment, it is struggling to break past the 38.2% fib extension level. If it succeeds in doing that, then we would be looking at rally to the top of the triangle. However, it is a break above or below this triangle that will make or break Ethereum (ETH) and the potential altcoin rally that lies ahead.

If dominance rises from here, we could still see it face rejection at the 200 Day MA. However, if it falls below the symmetrical triangle, the probability of Ethereum dominance taking out the previous low would increase significantly. A fall in Ethereum dominance would be a bearish development not just for Ethereum but majority of the altcoin market including stablecoins. At the moment, stablecoins are regarded safe but we have seen previously how stabelcoins like Tether (USDT) and Dai (DAI) have failed before. Ethereum (ETH) based stablecoins would be at a much higher risk during the next downtrend in the market if Ethereum (ETH) ends up losing most of its value. There is a strong probability that ETH/USD might end up falling below $80 to find a bottom around $60 or lower.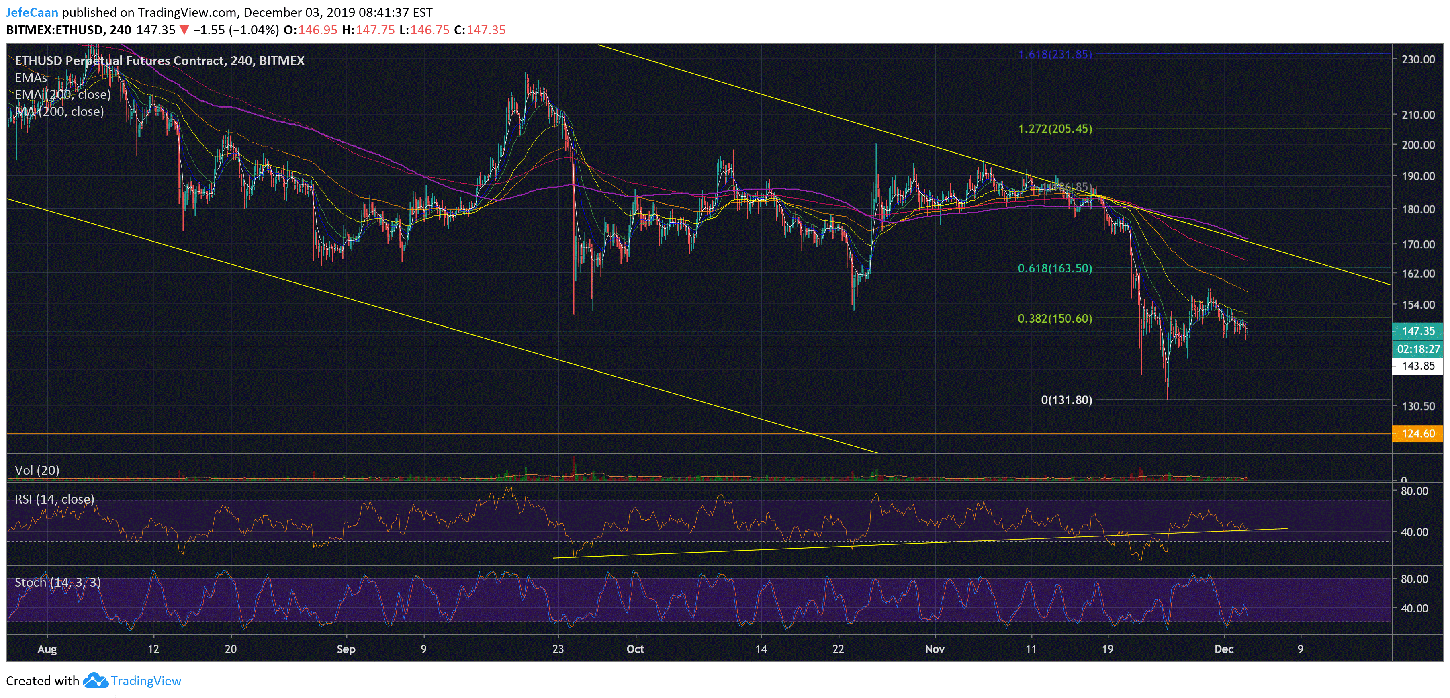 Ethereum (ETH) remains in a strong downtrend. The 4H chart for ETH/USD shows what Ethereum (ETH) stands to lose if it declines within the descending channel. We could easily see it decline to a double-digit price in the near future. The difference this time is that a lot of projects depend on Ethereum (ETH). Traders and investors who have been around for long in this market would be able to relate that 2014 seemed like the end of cryptocurrencies after the Mt. Gox hack. This was because Mt. Gox handled more than 70% of Bitcoin transactions around that time.
So far, we have not seen anything of that sort happen in the market. Investors are still too optimistic that the market will see a new all-time high and that it might happen around Bitcoin's next halving. The real maximum pain scenario would be if that does not happen and instead something unexpected happens in the Ethereum based altcoin market. We have already seen a DAO hack before so there would be no reason to be surprised if anything of the sort happens in the future. When something is meant to happen on the charts, we see real world events line up to support it.