Ethereum (ETH) declined sharply down to the 61.8% fib level but it ended up falling much further. Just when everyone expected it to decline further a few hidden buy orders worth millions of dollars saved the market again and we saw ETH/USD bounce strongly following the lead of Bitcoin (BTC). We now have a situation where the price is trading within a symmetrical triangle, it has tested the bottom of it and we now have to wait and see what happens next. The most probable scenario is that we might see the price rally higher to test the top of this triangle which means a price target of $147.65 or slightly higher but it is unlikely to rally much higher past that level.

The price of Ethereum (ETH) is now at a point where a big move to the upside would not be surprising at all. From the current price of $142.4 a move towards $147.65 would still be quite a move. However, traders might want to be careful as the market is heavily manipulated at the moment. Most of the real definitive moves are a result of few big iceberg orders that swing the market to both sides. This is likely to be another indecisive weekend if the price ends up rallying towards the $147.65 level. We have seen that the cryptocurrency market has been trading more and more inconsequentially over the weekends. This explains how high important the next move is going to be. It is very likely that the next move will shape the direction of the market for a long time which is why it may not come into effect in a straightforward manner.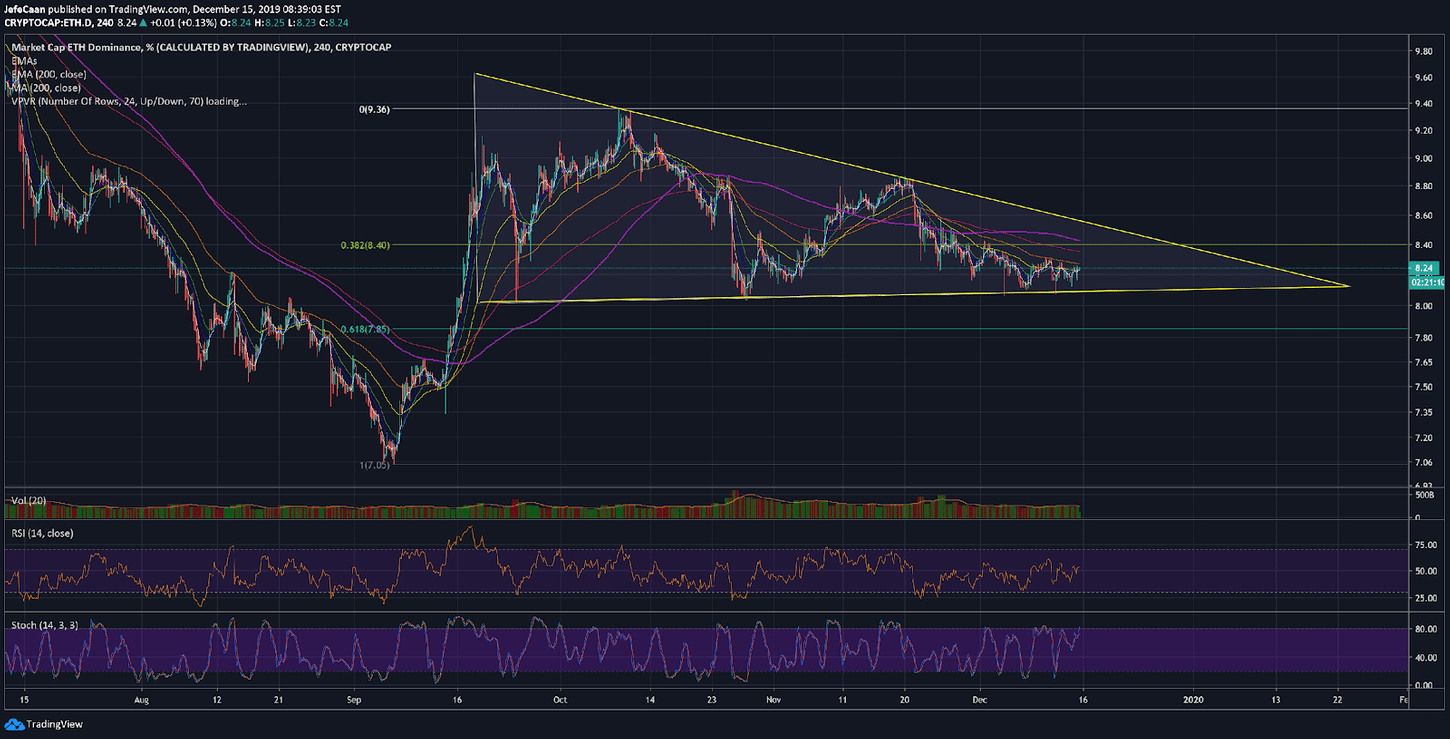 Ethereum dominance (ETH.D) is getting ready to take off again as it has also tested a key trend line support and is now primed for a move up within the triangle. This indicates that Ethereum (ETH) and other altcoins might see near term upside against Bitcoin (BTC) before the beginning of the next downtrend. There is a possibility of Ethereum dominance (ETH.D) breaking out of the triangle. If that happens, we could be looking at a very strong move in Ethereum (ETH) in the near future.
It is true that the vast majority of retail traders are still quite bullish despite fear in the market. Bitcoin Longs are at an all-time high and the majority of Crypto Twitter accounts are still talking about a rally to the moon. These are accounts with big followings and primarily because of their bullish stance. So far, we have not seen the market inflict any significant pain on such traders but there is no doubt that it will sooner rather than later when more of such retail bulls are trapped in. While Ethereum (ETH) may still rally towards $147.65 near term, let us not lose sight of the big picture and the fact that Ethereum (ETH) remains within a strong downtrend.