Bitcoin (BTC) Longs have just reached an all-time high. This is a big deal and it points to the extreme optimism currently prevalent in this market just before the highly anticipated UK election. It is quite alarming for BTCUSDLongs to have spiked this aggressively just before the beginning of a major downtrend. The last time something similar happened was in March, 2018 and we saw BTC/USD enter a slow-bleed downtrend after that. However, this time things are expected to be different. The manner in which BTCUSDLongs has spiked up this time is unprecedented. The bulls seem far too optimistic than before. Most think that the price of Bitcoin (BTC) could just decline down to $5,500 and it will take off from there to begin a new bullish cycle towards $100,000 or higher.

The fact that the bulls are still so optimistic is a reason in itself that the market is far from inflicting maximum pain on the bulls. Believe it or not, the price declining down to $5,500 no longer seems to be the maximum pain scenario at all as most retail bulls seem prepared for it. It is when the price plunges below the 200-week moving average and breaks below $3,000 that we will see the maximum pain scenario. The altcoin market will be hit the hardest and we will probably have another Mt. Gox styled event. By that, I don't necessarily mean an exchange hack; it will be another black swan event. Everyone seems so sure about the next bullish cycle. Throughout my years of trading this market, I have not seen this kind of optimism close to the end of a bear market which tells me that we are not close to the end of a bear market.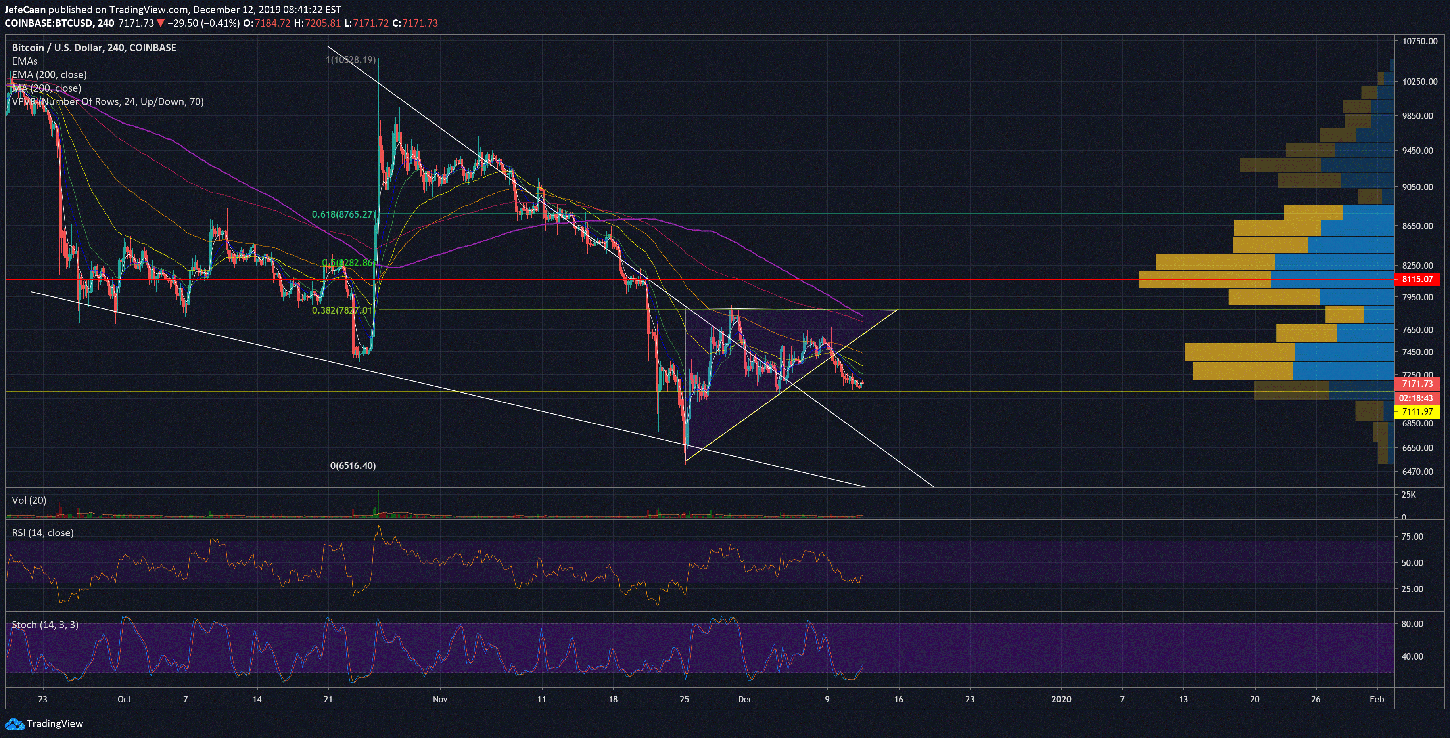 Bitcoin (BTC) was trading within an ascending triangle that the price respected for a while but then it declined hard below it. At this time, BTC/USD is trading below the $7,308 support turned resistance. In the best bullish scenario we could see a rally towards $8,000 but that would be it. We have a very strong resistance at $8,115 which the price will find really hard to breach.
The cryptocurrency market as a whole remains quite vulnerable. While the EUR/USD forex pair has rallied recently due to uncertainty surrounding UK election today, a rally in Bitcoin (BTC) and the rest of the crypto market has yet to be seen. This UK election is expected to be the most important in decades due to its impact on Brexit. Its outcome will have a major impact on stock and currency markets around the globe which means that the crypto market is expected to react strongly to it in the near future.