Bitcoin (BTC) has just broken above the falling wedge and the trend line resistance that seemed a hindrance has now turned into a trend line support. Despite yesterday's frightening candle on the 4H chart for BTC/USD that turned the Fear and Greed Index from 24 to 21, the near term outlook of Bitcoin (BTC) remains promising as it has just entered the grey area on the chart and is now likely to rally higher. If the ascending triangle plays out as expected, we might be looking at an aggressive surge in the price that could see it break past the 200 moving average and eventually rally as high as $8,700 before beginning the next downtrend.

The majority of retail traders are expecting some sort of a decline at this point. Recent price action has played a major role in supporting that narrative. Most traders on Crypto Twitter are looking for the price to decline to lower levels so they can buy more before the next "rally to the moon". It is interesting how most of these traders keep making the same mistakes over and over. They have a large following and they end up misleading most of their followers too. Every time we are in a situation like this, you will see most such traders talk about a decline to a certain level before they can buy more. What actually ends up happening is that the price rallies first and most of these traders miss out, then when it actually declines to that level that most of them have been talking about, nobody wants to buy.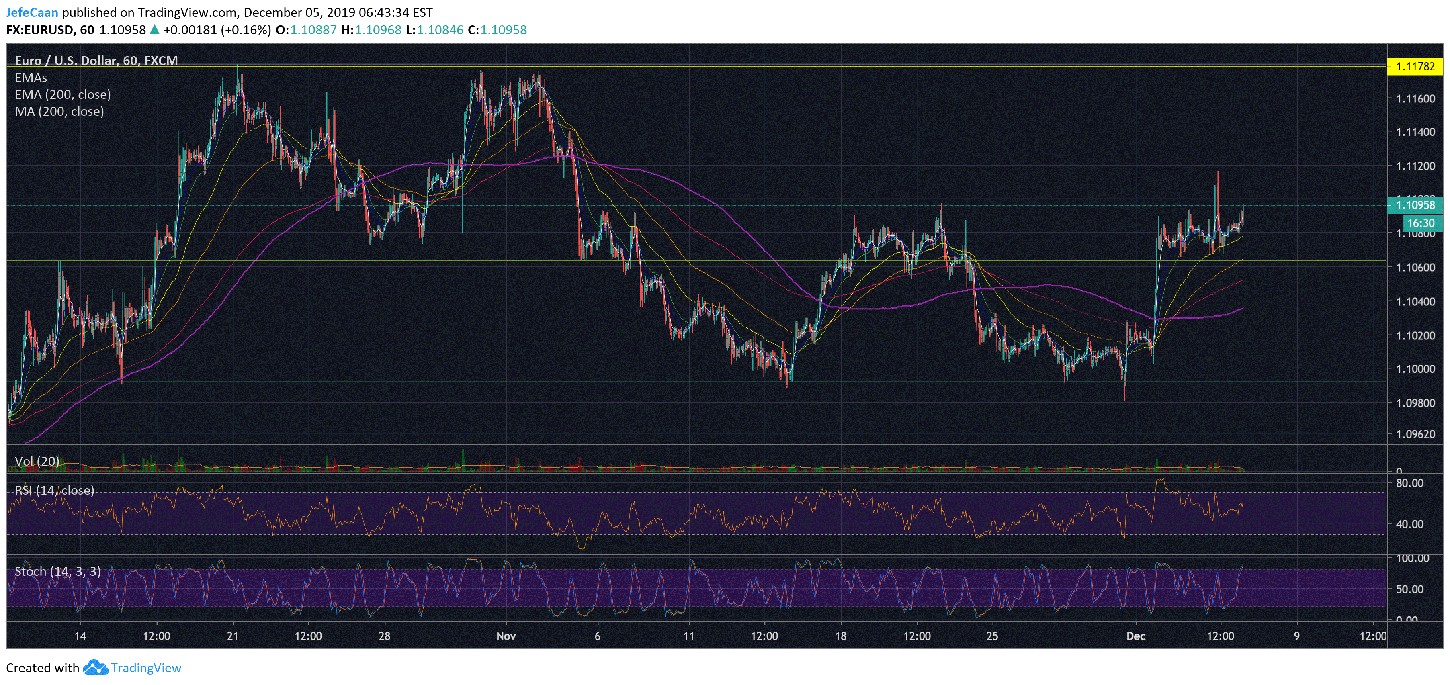 The 1H chart for EUR/USD shows that even though the recent spike in the pair was erased by a large move to the downside soon after, the bullish outlook has not been affected. We can still consider this to be a bull flag that might lead to further upside until we have a break below the 38.2% fib extension level again. It is important to keep trading as simple as possible. If the price ends up closing below the 38.2% in the days ahead, we will reconsider our bullish stance.
The EUR/USD forex pair as well as the S&P 500 (SPX) still have room to rally which is good news for Bitcoin (BTC) and the rest of the cryptocurrency market. However, it is very important to realize that any such bullishness would be short lived and we might soon see things head sideways with the beginning of next year. Billionaire investors like Ray Dalio of Bridgewater Associates are buying billions of dollars of put options against the S&P 500 (SPX) with expiration in March, 2020. At this point, it is not a question of if we will see a correction but when we will see it. In my opinion, it is not worth taking the risk and thinking Bitcoin (BTC) could be "digital gold" or a hedge. It might be a far better idea to sit on cash during that time and therefore you might want to have an exit plan for your investments in this market by the end of the year.