Bitcoin (BTC) has found support on the 1.27 fib extension level from the recent top formed at the top of the descending channel. It declined briefly below the descending channel but to an important trend line support which it has now found support on. The 4H chart for BTC/USD shows that this trend line could prove instrumental in helping the price rally towards the 61.8% fib retracement level from the local top. If that happens, we could see the price shoot towards $8,700 in the weeks to come. This move is likely to take around three weeks to come to completion before we can see further downside. Unfortunately, it may also get a lot of people overly excited again and they will be left holding their bags of altcoins again before the next decline.

Time is more important than price but the majority of traders fail to use it to their advantage. If the price continues to remain above $7,000 for a long time, many traders will once again become overly bullish calling for a rally towards a new yearly high before the next halving. It would not be surprising if we see a Bakkt like event around that time to keep traders even more optimistic before the next major crash. The next decline could easily bring the price down to $5,600 and potentially much lower if the 200 Week EMA fails to hold this time. We saw the 200 Week EMA hold previously but the price had declined to that level after more than 3 years. The fact that the price is declining in a year to this level this time tells us that something different might happen and the price might end up crashing below the 200 Week EMA.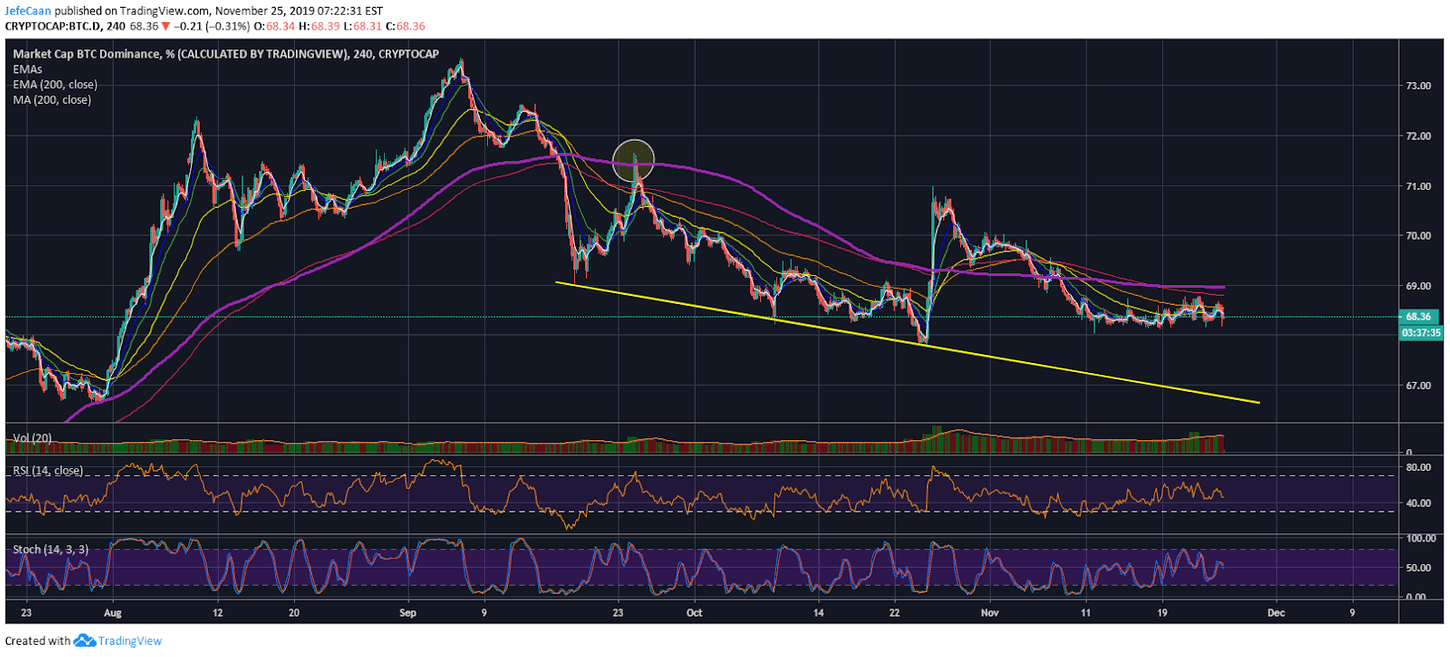 Bitcoin dominance (BTC.D) has yet to test the 200 MA on the 4H time frame. This is a sign that we might yet see further downside in the market after temporary upside. It has become quite clear at this point that the market is ready for further upside. We could see Bitcoin (BTC) rise above $8,000 again and altcoins might rally even higher as Bitcoin dominance (BTC.D) continues to decline. However, it is very important to realize that all of this is happening just before a crippling downtrend.
At this point, both the bulls and the bears expect the price to decline down to the 200 Week MA at some point. However, I'm not convinced that the price will stop there. I think it is more likely to decline much lower and eventually plunge below $3,000. That is likely to coincide with a similar downtrend in the EUR/USD forex pair as well as the S&P 500 (SPX) both of which are now long overdue for a major correction. If the stock market begins its downtrend, it will be very hard for Bitcoin (BTC) to stay above $7,000 for long.