Ethereum (ETH) seems to have lost its bullish momentum against Bitcoin (BTC) and is now eyeing downside. If a downtrend does begin in the ETH/BTC pair, then Ethereum (ETH) has a lot to lose against Bitcoin (BTC). The daily chart for ETH/BTC shows what that really means. We are currently seeing the pair trade close to a key trend line resistance. If the pair fails to break past it, then it will have to decline to the trend line support which would be lower than the 141.8% fib extension level. This would be a very bearish development for Ethereum (ETH) as it would end up making serious losses against Bitcoin (BTC). Recent price action is once again beginning to indicate quite obviously that the market has not bottomed just yet.

The altcoin market has yet to see real pain. So far, it has been far too easy being bullish on altcoins. Even during the bear market, investors have had no problem holding altcoins to eventually turn a profit. However, things are beginning to change as this half of the bear market could inflict a lot more pain on the altcoin market that most new investors would not have seen before. There is still a lot of greed in the market as investors are busy accumulating coins "before the next bull run". Those of us who have been around to see the last bear market would be able to relate that when the market bottoms, nobody wants to accumulate altcoins because people have serious concerns regarding the future of the market and altcoins are a much riskier investment compared to Bitcoin (BTC).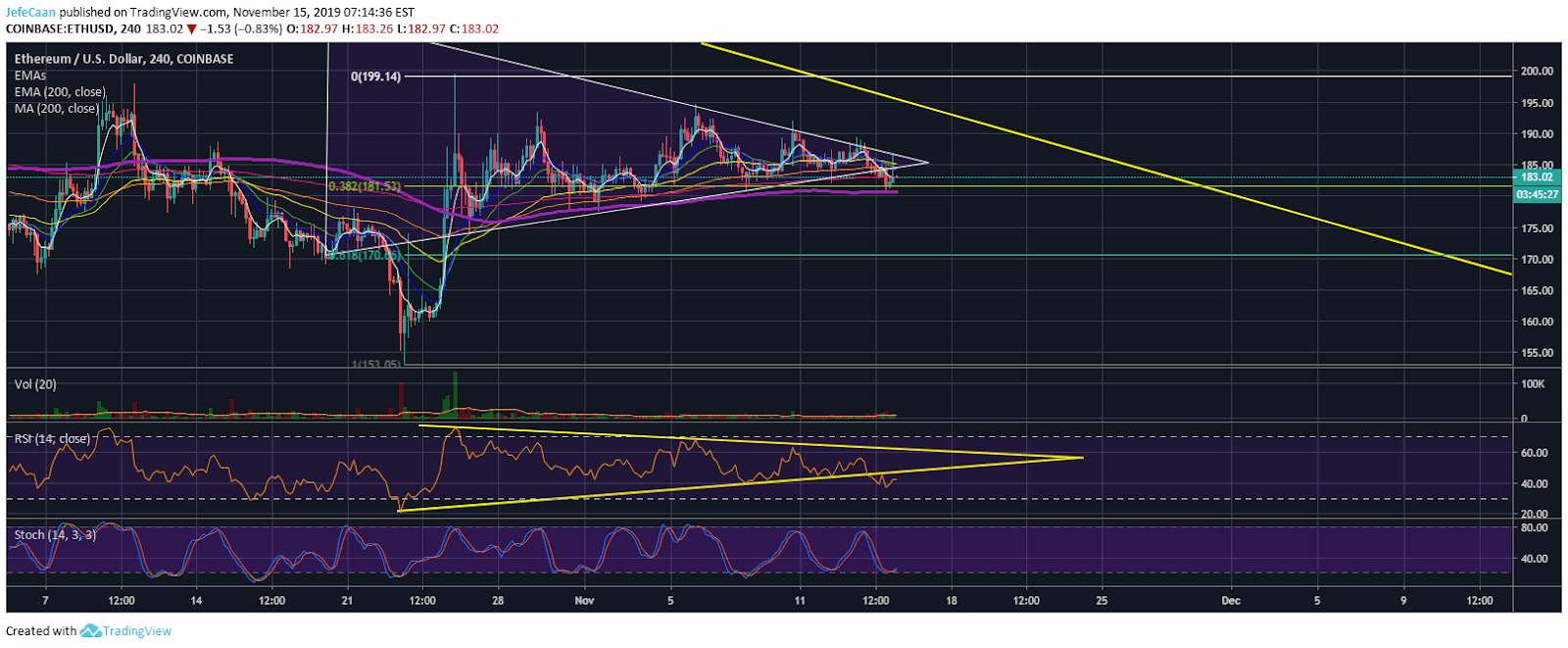 The 4H chart for ETH/USD has now seen the price break below a key symmetrical triangle. It is now holding briefly above the 38.2% fib extension level. If it declines below this level, then we are looking at the beginning of a major downtrend that might see the price easily fall through the 61.8% to decline down to $154 and eventually the $144 level which coincides with the 61.8% fib extension level on the logarithmic scale from the December lows to the yearly high. It should now be very clear at this point that we are in a bear market. The price is trading below the 200 day moving average and we are days away from it making a decisive move.
If the price ends up breaking and closing below the 200 MA on the 4H time frame, it will become really difficult for the bulls to save the price from crashing more than 20% in the days and weeks ahead. This decline could be much more brutal as a lot of big players are now very eager to cash out. Unlike so many retail gamblers on futures exchanges where a few big players play them like a fiddle, the smart money just looks at simple indicators like the 200 MA and based on that they decide whether it's time to stay in the market or get out. For most, the answer is clear at this point which is why we are seeing these failed pumps as a consequence of institutional exit. It is time we realize that it would not be surprising at all to see ETH/USD decline to a double digit price once again, this time a lot lower than $80.