Ethereum (ETH) continues to show signs of bullishness against Bitcoin (BTC) despite the recent decline in the market. Most cryptocurrencies are still bleeding but Ethereum (ETH) has maintained its uptrend against Bitcoin (BTC) despite losing most of its recent gains. The daily chart for ETH/BTC shows that the pair has now found support atop the 38.2% fib extension level. A rally from here is expected to test the trend line resistance and simultaneously the next fib circle. It is also very likely that the pair might run into the 61.8% fib extension level at that point. That would be where we would want to see whether ETH/BTC has room to rally further or this was a short lived trend.

The uptrend in Ethereum (ETH) against Bitcoin (BTC) might have room to rally further if Bitcoin dominance keeps declining further. A near term altcoin rally is still possible which means that Ethereum (ETH) and other cryptocurrencies might be on the verge of beginning a short term rally towards higher levels not only against Bitcoin (BTC) but also against the US Dollar (USD). So far, there is nothing much that points to a near term bearish outlook. Ethereum (ETH) remains in a bear market but it could still inflict more pain on the bears before the downside actually begins. I don't expect Ethereum (ETH) to rally significantly past $200 but I do expect a test of that level before the next decline because that is where many retail bears have their stops.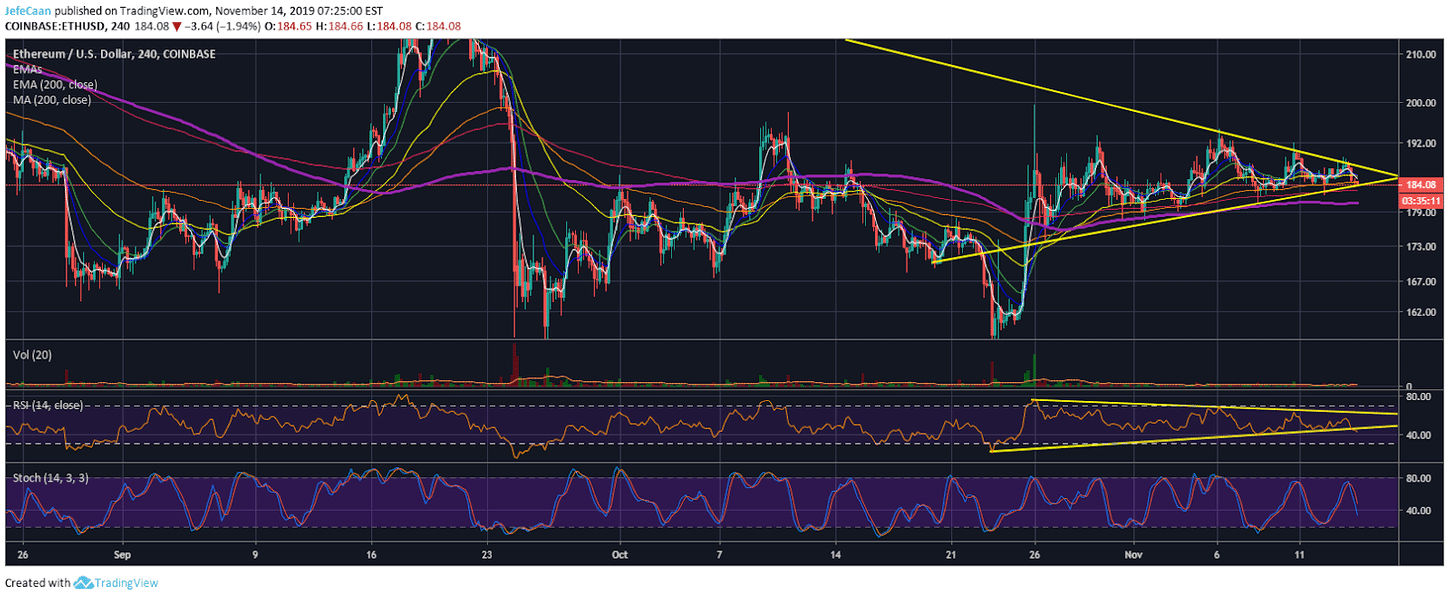 The 4H chart for ETH/USD shows that the price is still trading within a symmetrical triangle and we have yet to see a break out. In my opinion, the bears have failed to effectively fight for control at this point. I think we are more likely to see the price break to the upside out of this symmetrical triangle compared to the downside. That being said, it is important to realize that we are still in a bear market. The price might rally higher from here but it remains in a bear market and is thus poised to decline a lot lower long term.
Ethereum (ETH) and other cryptocurrencies are still well positioned to rally against Bitcoin (BTC) near term. Recent indecision in the market should not be confused for a lack of bullish momentum. It is true that there might be an actual lack of organic buying interest just yet but this indecision and deliberate attempts to bring the price down towards key support levels is intended to trap in more bears before the big move. We have seen pumps in the past that have led to massive short squeezes. I think we are likely to see something like that in the near future. Barring a close below the 21 Day EMA, it is likely that ETH/USD will continue to rally from current levels.