Ethereum (ETH) started the day in green but Bitcoin (BTC) did it better. There is a reason retail bulls are more interested in Bitcoin (BTC) compared to Ethereum (ETH) and that has to do with the recent 43% pump in BTC/USD in just two days. In this market, traders like to wish for something to happen again more than we have seen in other markets. This is the reason many people are comfortable buying all sorts of altcoins because they think if they made an all-time high before, they will make an all-time high again. This is kind of how pyramid schemes work too but let's not get in to that. I'd like to think this is a real market and nothing of the sort is going to happen here.

There have been times when I have been bullish on Ethereum (ETH) but this is not going to be one of those times. The daily chart for ETH/BTC shows the price failing to break past the 38.2% fib retracement level. Normally, this would be a very bearish sign and we would see a sharp decline but this time, the big players in this market are trying to avoid any sharp declines as much as possible until they are done selling and trapping in more retail bulls. I fail to understand why some people don't like the idea of me exposing all of this even though they are not whales. We have a ton of media outlets out there talking about cryptocurrencies flying to the moon, I think it is only reasonable to want to hear the other side too if you plan on making good investment rather than wanting to feel good.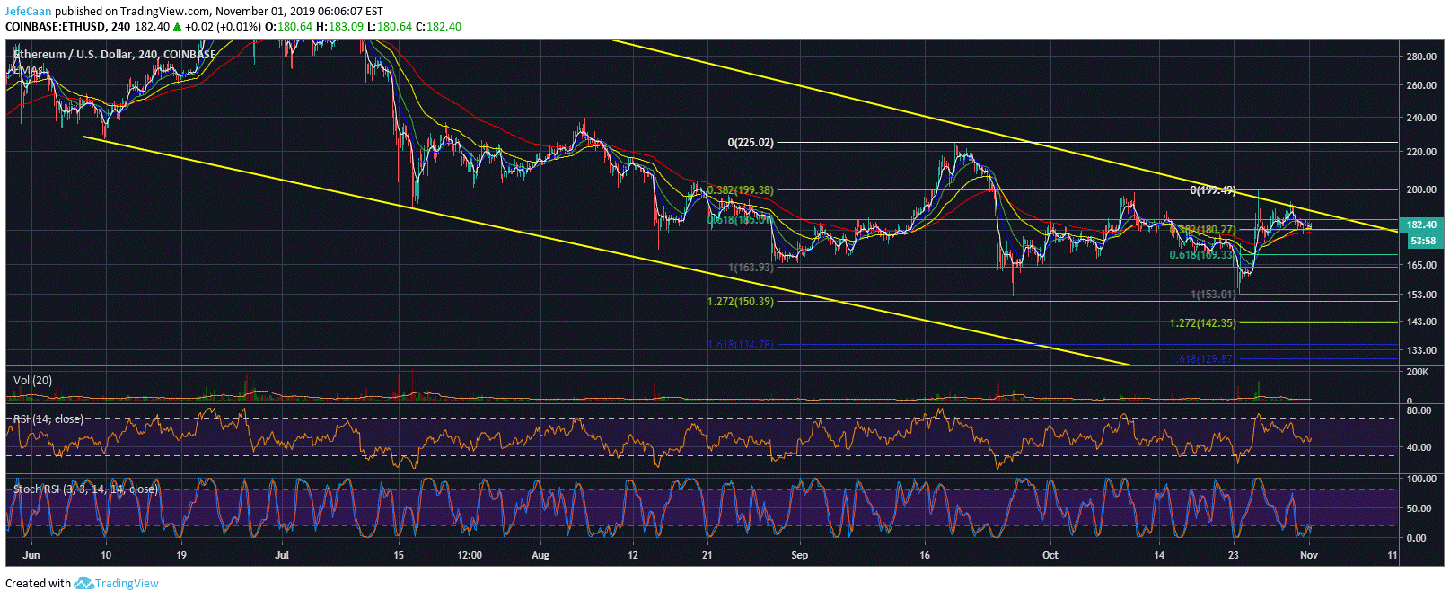 If we look at this 4H chart for ETH/USD, we can see that the price broke below the 38.2% fib extension level before and it was followed by a sharp decline. However, it is important to note that back then the price had not touched the top of the descending channel. This time, it has touched the top of the descending channel which is why I think it has a lot more room to decline even if it finds short term support along the way. Eventually, I expect it to decline to the bottom of this descending channel.
Lest we forget, it should be very clear to all of us here that ETH/USD in a downtrend. This will not change until the price breaks out of this descending channel. If you want to bet on the price breaking out of the descending channel then you are welcome to do that but you should know that this is exactly what the big players want you to do. To hope and pray for something to happen rather than trading what is right there. I'm not discounting the possibility that sometime in the future we may see the price break out of this descending channel, but in my opinion this is not the time. That being said, if we see a break past this descending channel with follow through, I would be a buyer.