After the manipulation that resulted in a 43% pump in two days when hundreds of millions of shorts were liquidated, the market makers and whales have become quite comfortable playing these games over and over. Why? There are no consequences! In the absence of regulation the big players keep manipulating the market in ways that I have not seen even in the penny stocks market. Even if regulators were to come down to investigate, they would pay a small fine and it will all be forgotten. The point is, when the stakes are this high; these games will continue to be played. This desperation should tell you what is about to come and why the big players keep confusing retail traders around points where a decline is expected.

It is very important to realize that at this point once again a lot of people are expecting a decline just like when the price was trading around $7,400. A lot of traders that entered short positions around that point were taken aback when the market moved against them in an unprecedented case of manipulation. However, it can still happen again and therefore traders need to be very careful expecting a decline without a confirmation. The 4H chart for BTC/USD shows the price trading above the 200 MA. As long as it remains above that level, there is no rush to enter bearish positions. That being said, if the price were to crash below the 200 MA, it might decline very aggressively because this time a lot of people are waiting to get out of the market should that happen.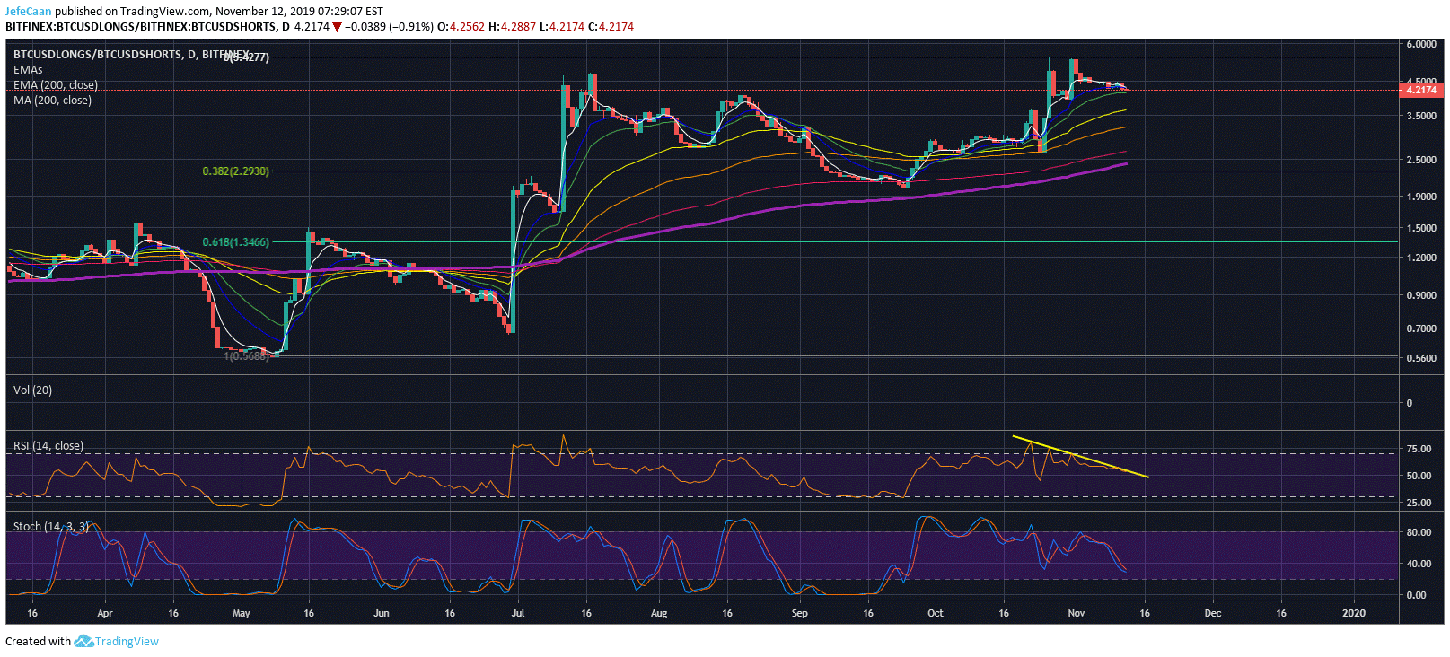 The daily chart for BTCUSDLongs/BTCUSDShorts shows that we might be about to see a sharp decline in the number of longs against shorts. We can see that the ratio is still around its all-time high and therefore on the verge of a strong decline. The vast majority of traders remain largely optimistic and hopeful of the beginning of a new bullish cycle. It is surprising how so many traders think we are out of a bear market when everyone is looking for a new all-time high.
When Bitcoin (BTC) bottoms, very few people think of a new all-time high because the majority is thinking whether Bitcoin (BTC) will even survive or not. So far, we have not seen anything of the sort happen, not even close. The market has inflicted some serious pain on the bears but the bulls have yet to see any pain. We are long way from when BTC/USD finds its true bottom. The market can stall the next downtrend but it has to happen before the beginning of a new cycle.