Bitcoin (BTC) Longs/Shorts ratio has reached near its all-time high again amid a wild bullish euphoria that seems to know no bounds. Most retail traders have been bullish on BTC/USD since the beginning of the year and they have no intentions to stop being bullish. The big players are capitalizing on this euphoria by cashing out at excellent prices while the sentiment remains overly optimistic. The weekly chart for BTCUSDLongs/BTCUSDShorts presents a very alarming picture but unfortunately most retail traders are not concerned by it. It is always the mainstream investors that are left holding the bags as the big players know when to get out. This is a major red flag that should discourage you from being long on the market at this point.

It is not about how big a pump we get to the upside, it is about whether that pump is sustainable or not. If you want to ponder further then you might want to think about the reasons behind those pump and why it might be happening and what it means for you. I still believe that the recent pump was institutions getting out of the market. I would not be surprised if we see similar pumps again. For retail traders that are bullish on Bitcoin (BTC), let me say that it is not worth another potential pump to remain in the market. If you are holding on because you expect another pump, then maybe you should start thinking about a potential dump too because nothing just keeps on rising. In the case of BTC/USD, the recent pump delayed a brutal downtrend but we are now very close to it. Being bullish on BTC/USD at this point means you are thinking Bitcoin (BTC) will break its descending channel and not just that, all these overly optimistic traders would be proven right.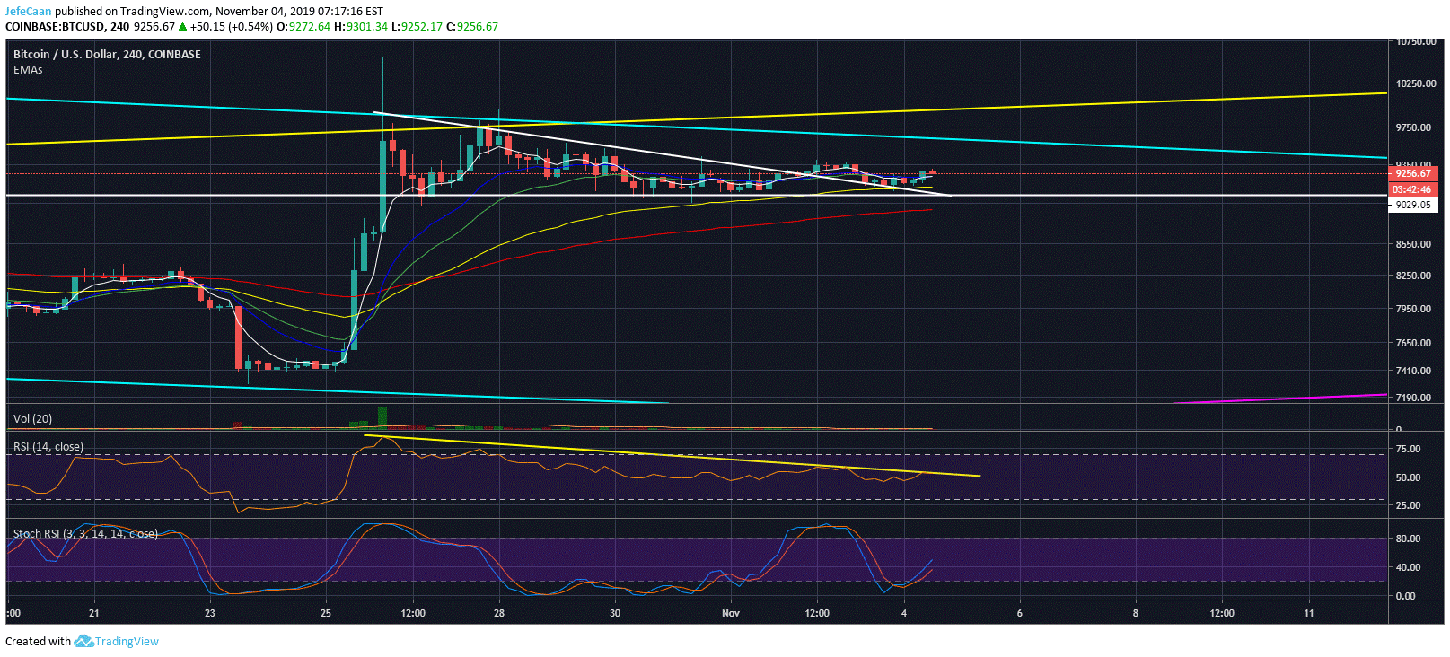 The 4H chart for BTC/USD shows the price breaking one descending triangle after another. We have now seen another large descending triangle being invalidated but the price has kept on trading sideways. Meanwhile, the RSI has run into a trend line resistance. The price is now in a very vulnerable position to decline. I think we will continue to see some fake bullishness in the market before the major crash. The big players need to keep the retail bulls optimistic as they cash out on them.
Bitcoin (BTC) has been on a roll since the beginning of the year. Even traders that have been overly optimistic were able to profit enormously off the recent move. However, there comes a point in the market when traders on one side become too complacent. Previously, it was the bears and they were punished for it as the price cut through $6,000 and kept on liquidating shorts along the way till it made a yearly high. It is now time for the market to turn towards the complacent bulls that have gotten too comfortable staying long on the market. It is therefore important to be very careful here and not to be misled by the short term bullishness.