Bitcoin (BTC) bulls are still too optimistic even though the price has begun the day in red and has embarked upon a downtrend. We have yet to see whether the price has some room to make one last move to the upside before declining hard but the retail bulls seem unconcerned by any of this. The daily chart for BTCUSDLongs shows that bullish positions on BTC/USD have been on the rise in the past few days and they might yet rise further to test the 61.8% fib retracement level once again. Such a rise is likely to coincide with some short term relief or a false signal leading the bulls into thinking a rally is still on the table. This should be a red flag for anyone bullish on Bitcoin (BTC) at this point because this could all come crashing down hard.

It takes a long time for the price to rise but it only takes a few big moves to erase all those gains hence the popular Wall Street saying, "Bulls go up the stairs but bears go out the window". Considering that BTCUSDLongs is still above the 200 day EMA, those that are still too optimistic and not prepared to get out of the market might want to see a break and close below this level for confirmation. However, by then most of the damage might be done because BTCUSDLongs could crash hard in a matter of days. The bulls have become really complacent this year and I would not be surprised if a lot of them have their stops just below $9,000 thinking "this is the last time to buy below $10,000". These are sweet spots for the market makers and the whales to drive the price down to so they can hit those stops and take your coins.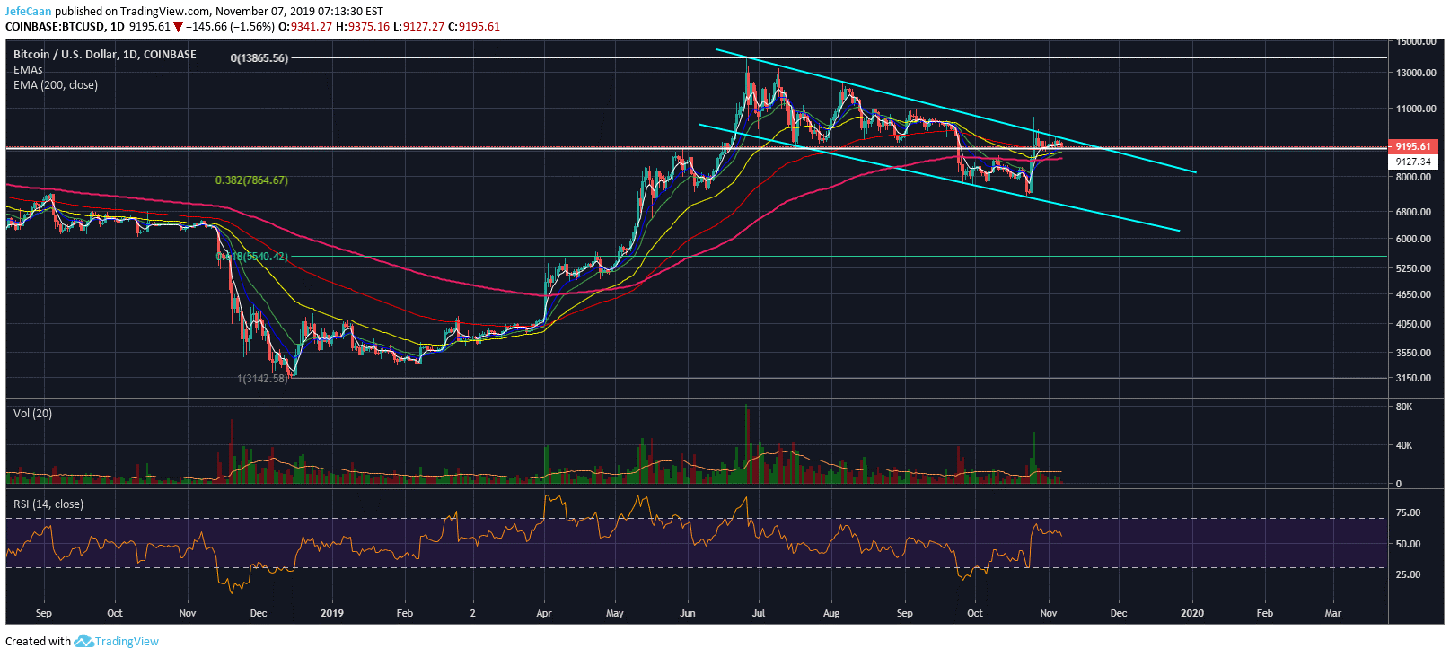 The daily chart for BTC/USD shows quite clearly what is going on and what you can expect in the future. If the price decline below the 20 day EMA and closes below it, there is a strong probability that it will continue to decline further. If it rallies higher and breaks out of the descending channel and finds support on top of it, there is a good chance BTC/USD would have started a new uptrend.
I remain bearish as I expect the price to bottom below $3,000 but like any reasonable trader I am going to let the market tell me what is going on rather than make traders based on hoping or wishing. That being said, I'm biased on the bearish side because I do not have any reason to think BTC/USD is ready to break out of the descending channel at this point. I think the recent 43% pump was a false signal and the market is ready to correct any time now. We could see the price find temporary support in the $8,800s but I expect it to decline to the 38.2% fib extension level at $7,864. If the price declines below that to the 61.8% fib extension level at $5,540 it would be breaking below this descending channel at which point the probability of it declining below $3,000 would increase substantially.