Ethereum (ETH) in on the verge of a major downtrend. The 4H chart for ETH/USD shows what kind of a downtrend could follow soon after as the price declines from current levels. However, traders need to be careful short term because we could see further manipulation. Some people don't like us calling this "manipulation" and that's understandable because most of the time when the market goes against amateur traders they call it manipulation. However, I would like to mention here that I have been bullish on the market just before that big pump to the upside and I still call it manipulation because that is what it was. It was a few big players preying on retail bears and forcing them out by hitting their stops in one go. This is nothing new but this time it was too naked which is not good for market confidence.

Investors don't provide liquidity to the market; traders do. It is people who buy and sell constantly on exchanges that keep this market alive. However, when you discourage those people with such moves they will go to find opportunities in other markets because to a trader it makes no difference whether it is Ethereum (ETH) or corn or metals or anything else as long as there is an opportunity to buy and sell to turn a profit. Recent manipulation in this market has made it obvious that the market makers and whales don't care about what any of these traders think or feel. They can play these games again to prey on such traders regardless of the consequences. Obviously, this is not a healthy sign for the market and it does show utter desperation and restlessness on part of the big players to have stooped this low but that does not change the fact that we could see further manipulation before the downtrend actually begins.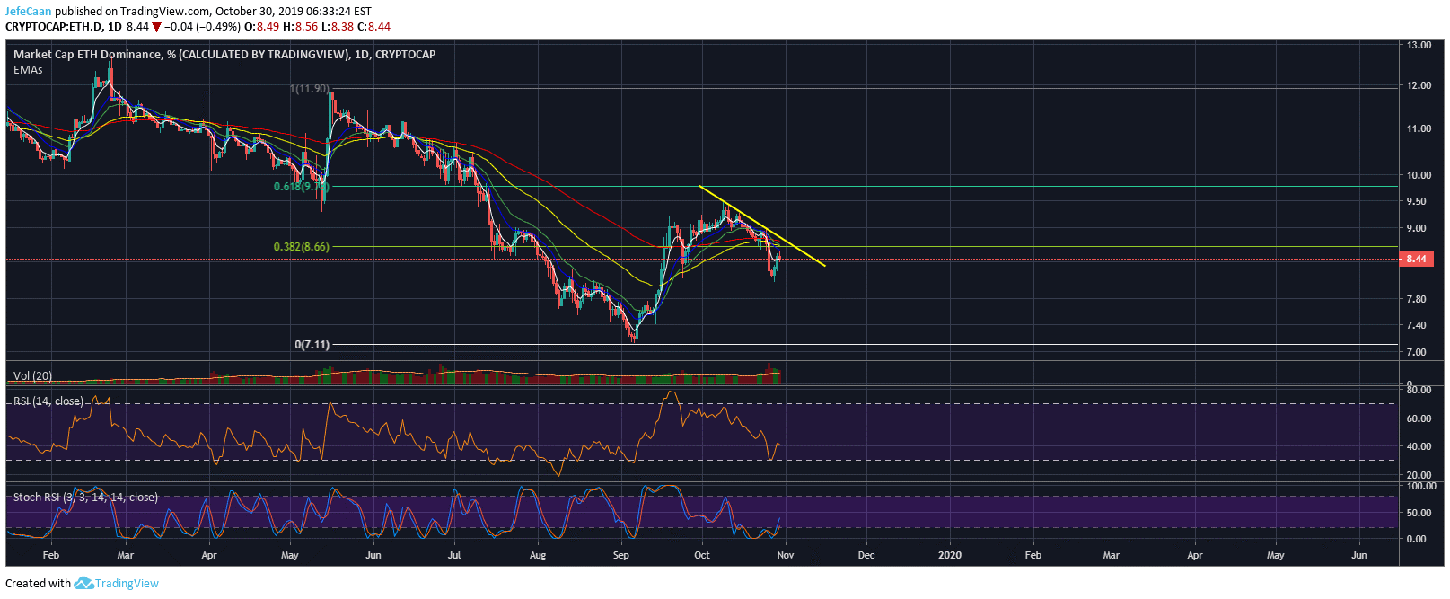 The daily chart for Ethereum dominance (ETH.D) shows us that we could see a rise in Ethereum (ETH) dominance near term if we see Bitcoin (BTC) trade sideways and other coins including Ethereum (ETH) begin to rally because recently Bitcoin (BTC) rallied hard leading to other coins losing ground against Bitcoin (BTC). This might be time for a short term correction to the upside in some of these coins and thus a perfect alibi for the big players to shake out more bears.
I have no doubt that this market is ready to decline sharply from current levels and neither do many other traders which is why it is not going to be easy to short this market. The big players would try everything they can to keep as much traders away as possible from shorting this market. We could see a series of big pumps just like we did in the past few days in an extra ordinary case of manipulation. At this point, there is no such thing as fair play and in the absence of regulation in this market the big players are free to prey on the majority with impunity.