Ethereum (ETH) could begin its most anticipated downtrend as soon as this week. This would be a big move followed by further continuation for the weeks ahead. In my opinion, this would be more than a 40% decline that would see the price fall towards the 61.8% fib retracement level from the yearly high. So far, we have seen the price consolidate within a symmetrical triangle. It is equally likely that we see a sharp breakout to the upside before any downtrend follows. We have seen such fake outs in the past before major downtrends which is why such a move cannot be discounted this time as well. However, it is important to realize that the market is primed for a correction at this point and it would be very risky to bet on further upside from here.

The symmetrical triangle on the 1H chart for ETH/USD could break to the downside in a matter of days. This would be the trigger for the next big move which would also put the recent indecision to an end. There is no denying that the market is going to decline way lower than current levels in the weeks and months ahead but at this point traders are scared to short sell because anything could happen short term. The next downtrend in Ethereum (ETH) will affect other altcoins more than Ethereum (ETH). Recently, BTC/USD made a few big manipulated pumps to the upside but as it was not real buying interest, only Bitcoin (BTC) pumped while the rest of the market did not move much. As a result, a lot of cryptocurrencies declined below key support levels against Bitcoin (BTC).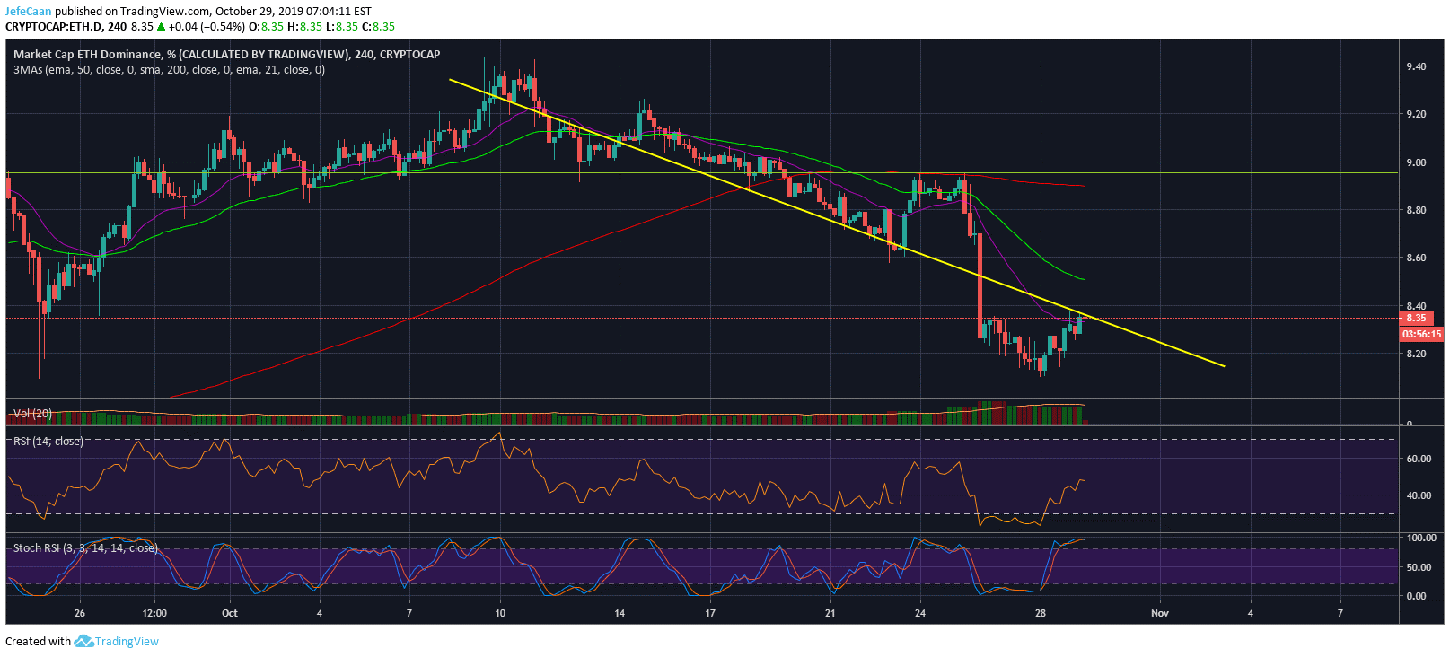 At the moment, we can see that Ethereum (ETH) dominance is struggling to break out. If it succeeds in breaking past the trend line support turned resistance on the 4H chart for Ethereum Dominance (ETH.D), then we might see a mini altcoin season that could give a temporary boost to Ethereum (ETH) and other cryptocurrencies while Bitcoin (BTC) trades sideways.
Ethereum (ETH) dominance could break the trend line resistance but it still remains in a downtrend. As long as this downtrend remains intact, we have no reason to believe that Ethereum (ETH) could sustain any near term rallies against Bitcoin (BTC). The most probable scenario would be a sharp decline in dominance if the cryptocurrency market enters its long awaited downtrend and Bitcoin (BTC) begins to decline towards $6,000. In that case, Ethereum (ETH) could be expected to decline towards $124 and lower levels near term but it would not be surprising to see the price find its true bottom well below $60 towards the end of this bear market.