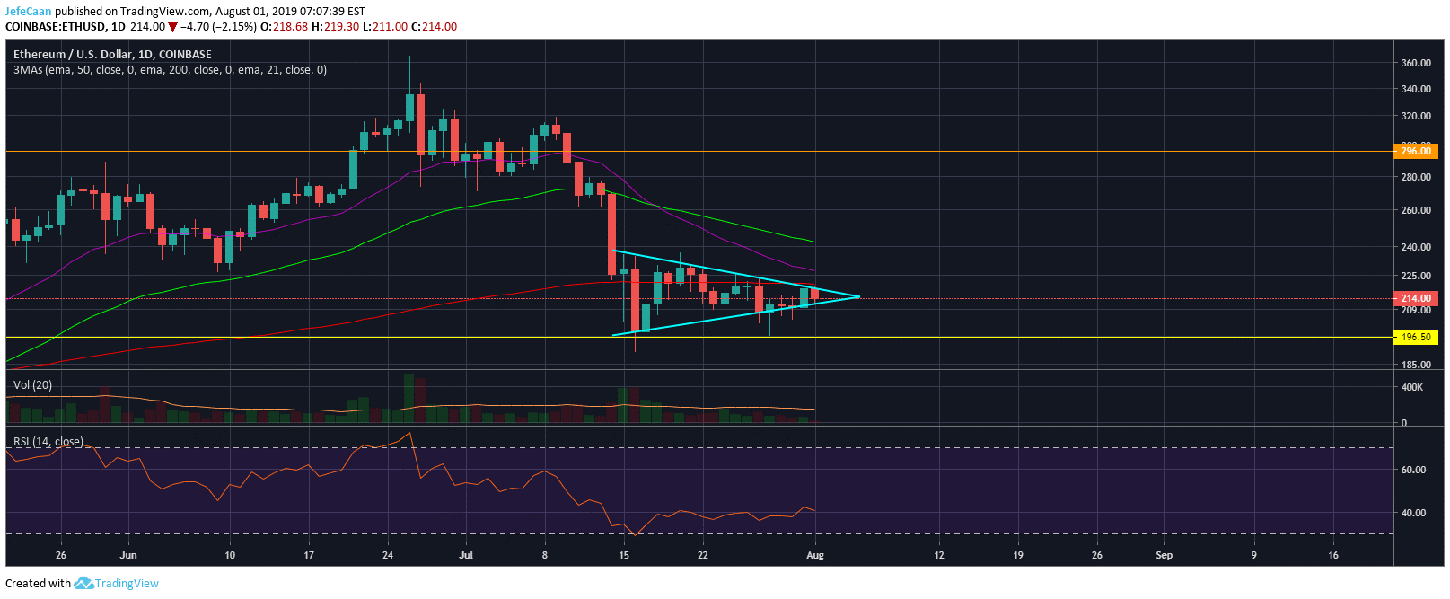 Ethereum (ETH) is on the verge of a decisive breakout. The price did end up rallying hard yesterday but it was more of a Fakeout. We have already seen it reverse some of those gains. Now the price is back inside the pennant and we are back to square one trying to figure out what is likely to happen next. Basically, we have two possibilities here. Either the price breaks to the upside and gets stopped out at the21 Day EMA or the 50 Day EMA which will then be chalked as a fake out or the price falls straight below the pennant and decline below $200. This decline could quickly bring the price down to $180 before further downside ensues. While Bitcoin (BTC) might fall hard during the next downtrend, Ethereum (ETH) is going to fall a lot harder as it does most of the time.

The daily chart for ETH/USD shows that the price ended up closing above the 200 day EMA yesterday which was a bullish development but the price has declined well below that level today and it is likely that we might have a bearish close below the 200 day EMA with potential further downside below the $200 mark. Ethereum (ETH) unlike Bitcoin (BTC) is not seen as digital gold or a potential safe haven asset by any group of investors. This is because it does not have a limited supply and it does not have the same level of adoption and decentralization as Bitcoin (BTC). So, when the market starts to decline, there is no reason for investors to be holding on to Ethereum (ETH) especially when they fear that Ethereum (ETH) may not be the second largest coin by market cap during the next cycle.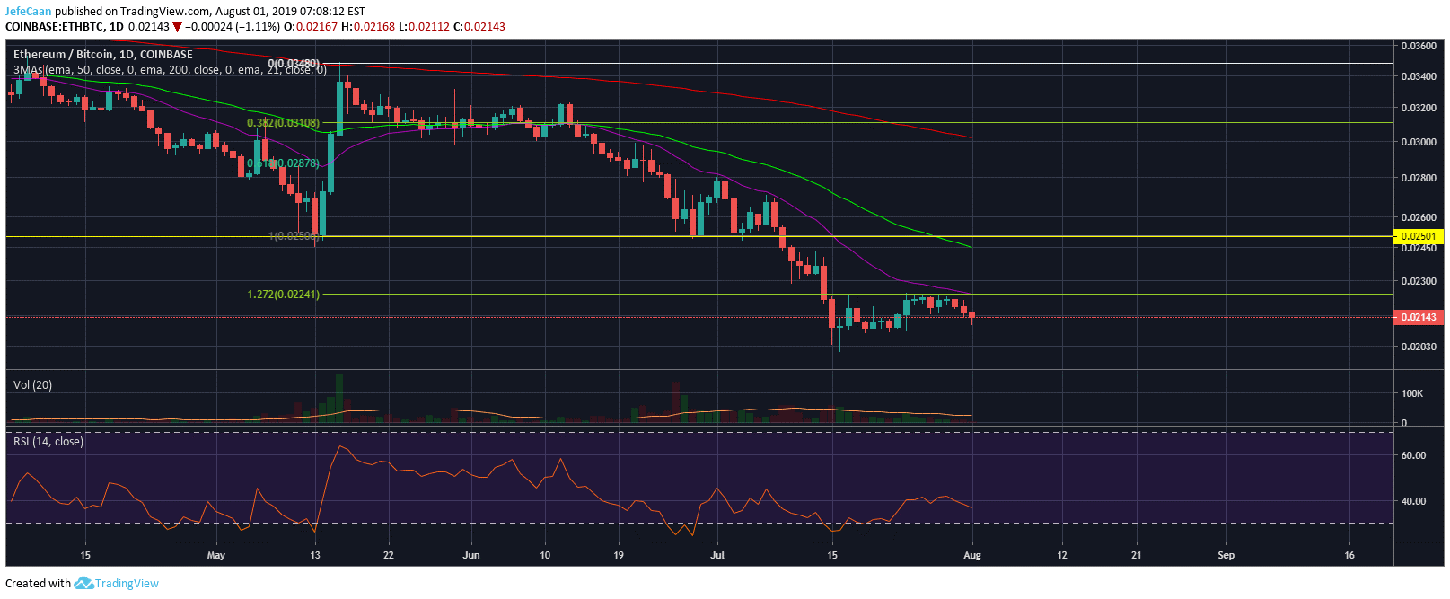 It is true that Ethereum (ETH) has had a big run up but its reign might be coming to an end. A quick glance at the daily chart for ETH/BTC shows that Ethereum (ETH) continues to fall against Bitcoin (BTC). The pair has faced a strong rejection at the 1.272% fib extension level and is now expected to fall harder in the weeks and months ahead. Ethereum (ETH) broke a key support last month and so far it has failed even to test it again. There is a lot of weakness in the price action and the bulls seem reluctant to fight wholeheartedly because deep down they fear further downside.
If we think about it rationally, there is not much reason to be holding on to Ethereum (ETH) when it is not considered digital anything unlike Bitcoin (BTC). One could argue that Bitcoin (BTC) might be a hedge during a crisis to be used as an alternative currency but the same cannot be said about Ethereum (ETH). Moreover, it already remains in an established downtrend against Bitcoin (BTC) so there is no reason to turn from Bitcoin (BTC) towards Ethereum (ETH) until the price breaks that downtrend and ends up closing above the previously broken support which has now turned into a strong resistance.