Bitcoin (BTC) has already begun its downtrend to the bottom of the descending triangle and the price has just broken below the fib circle on the weekly chart. It would not be surprising to see the price decline straight to the bottom of the descending triangle in a matter of one or two weeks. It could take longer but we are most likely to see a sharp decline which will serve two objectives. Firstly, it will discourage shorts from stacking up. Secondly, it will create the right conditions for a bounce up towards the top of the descending triangle again. Like it or not, this decline is going to be boring. Now that BTC/USD has broken this fib circle, it is expected to decline to the next fib circle but it will take its time.

Unlike most other cryptocurrency pairs, we are yet to see BTC/USD, decline even below the 21 day EMA. This means that the majority of retail bulls have every reason to keep on expecting further upside from here. A small percentage of bulls would recognize that the price has topped out and it is time to sell but the majority will keep expecting this rally to continue until it is too late. If we were to not to take other factors into account that tell us that further downside is to follow, then it would make sense to keep thinking that the price could still go up. In other words, thinking that the price is going to fall from here is against the trend. Bitcoin (BTC) remains in an uptrend for now, but we believe that it has topped out here.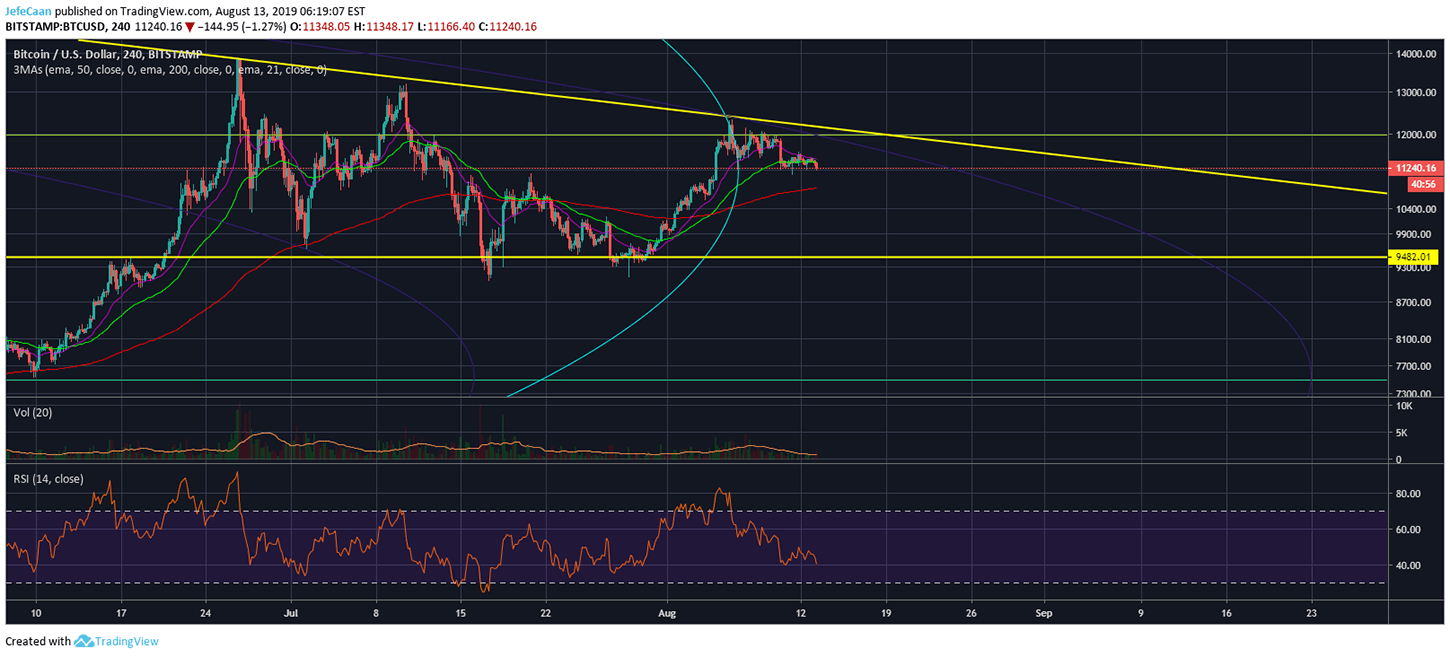 Those that entered bullish positions early on would still be very reasonable and responsible traders if they want to wait this out until we have a bear trend. They would want to wait at least till BTC/USD falls below the 21 Day EMA but they will lose a lot in potential profits. That being said, those that are still bullish would need to keep an open mind to turn bearish if the conditions change as we expect. The vast majority of traders are too stubborn and too reluctant to change their mind if something goes against them which is why only a small percentage of traders make consistent profits. Bitcoin (BTC) confirmed an uptrend soon after it shot straight past the resistance zone around $6,000 but a lot of traders still worried as to what might follow next. They were right to worry because Bitcoin (BTC) has not bottomed yet.
Previously a lot of analysts and traders thought that we might be in the 2015 part of the last cycle but now we know that we are in the 2014 part of the cycle. Bitcoin (BTC) still remains bullish for now but that should not make us oblivious to the fact that market is long overdue for a major correction that is going to pull the price down to around $9,482 from here. After that it might rally towards the top of the descending triangle again but eventually it is going to decline lower till it bottoms between $1,200 and $1,800. To a lot of new traders that come from an equities trading or forex trading background, it does not make much sense why they shouldn't just go with the flow but considering the pace of movements in this market it is not only an edge, but a necessity to analyze all such moves in advance.