Bitcoin (BTC) bears are fixated on the descending triangle on the 4H chart for BTC/USD and there is nothing wrong with that. It is a pattern that I eventually expect to play out but not before some greedy bears are shaken out and some greedy bulls are trapped in. There is a reason we see an overlapping symmetrical triangle and a descending triangle on the Bitcoin (BTC) chart. It is at turning points like these that market makers make the most money. Most traders have a greed problem. They would enter a position here hoping and praying for a breakout in their favor. Even worse than that some might have their stops too close or no stops at all and they get liquidated. Market makers are aware of this which is how they shakeout such traders at every inflection point.

If you are a small time retail trader, you cannot beat the market. Your best course of action is to distance yourself from the flock guided by the market makers and take a different route. Now, the right thing is almost never the popular thing in financial markets, but that is how you know it's the right thing. If everyone agrees with what you are thinking or doing, you are probably not doing it right. The symmetrical triangle and the descending triangle on the 4H chart is the perfect play for market makers to first shake out the bears and discourage more shorts from stacking up, trap in the bears and then run their stops as well. This has happened over and over again but there are too many popular accounts on Twitter misleading their followers. We at Crypto Daily believe that everyone needs to hear both sides which is why it is important to us to discuss the bearish case no matter how unpopular or annoying it may be to some readers.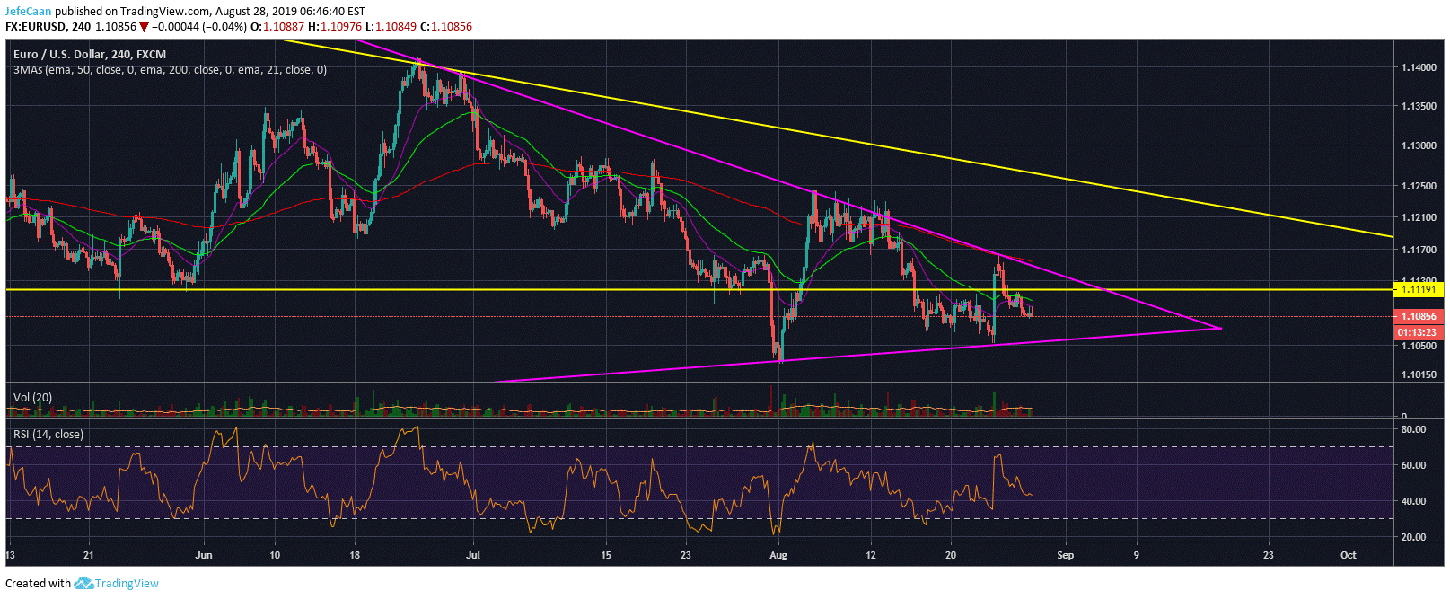 The 4H chart for EUR/USD shows that the Euro is in a similar situation against the US Dollar as Bitcoin (BTC) is. It is trading below a descending triangle and within a symmetrical triangle. It would not be surprising to see the pair break out of the symmetrical triangle and rally higher to test the top of the descending triangle again. I would not be surprised even if it ends up staging a fake out past the descending triangle. The stakes are too high at inflection points, so don't expect fair play.
EUR/USD began its decline in 2018 and Bitcoin (BTC) soon followed in its footsteps. As the US Dollar gets stronger, Bitcoin (BTC) gets weaker. Now that Gold has topped out, we will see investor flock back to the US Dollar which will make it even stronger. All of this does not bode well for Bitcoin (BTC). Even if were to ignore all the technicals, it is still reasonable to believe that the price has to come down from here because there is no way the market makers are going to let 65% of Bitcoin (BTC) longs and 80% of Ethereum (ETH) longs have their way and clean out the casinos.