Table of Contents
The Cleveland Cavaliers and Cavs Legion GC (NBA2KL) have partnered with cryptocurrency blockchain provider
UnitedCoin
.
On July 15th, 2019 the Cleveland Cavaliers put out an official press release on NBA.com regarding the new partnership with UnitedCoin. We at CryptoDaily brought you the first news of this pending partnership on April 24th, 2019, "UnitedCoin Brings Crypto To The NBA". Regrettably, I was told to take the interview down because we leaked a little too much information.
It Appears the Cleveland Cavaliers are Pumped for Blockchain and Decentralization.
"As decentralized technology continues to evolve, we know it is important for us to stay ahead of the curve and plan for how it will impact our fan experience and business as we move forward," said Nic Barlage, Cavaliers president of business operations. "We are happy to team up with UnitedCoin, a like-minded company motivated by innovative technology to help us do that and are excited about how this partnership will bring blockchain technology to life for our fans."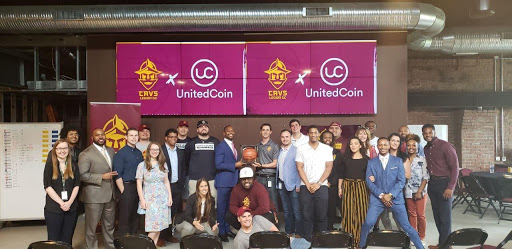 Derek Jones CEO of UnitedCoin Regarding the Partnership with The Cleveland Cavaliers and Cavs Legion GC.
"Our partnership is a great opportunity to introduce Cavs and Legion fans to our insured blockchain platform and to educate them about and the benefits of cryptocurrency, a safe and secure alternative to spending cash," said UnitedCoin founder and CEO, Derek Jones.
This Announcement Signals a Monumental Shift in the World of Cryptocurrency and Blockchain.
We are beginning to see real-world adoption show up for cryptocurrency projects. When I began my crypto journey around 2011 it was a playground for tech-savvy people. Over the last few years, we have seen projects work hard to offer blockchain technology that was both easy to use and secure. Now we are starting to see the fruit of that work.
Congratulations on the partnership UnitedCoin! I look forward to seeing your branding plastered all over Rocket Mortgage FieldHouse during Cavs games.