Those people who just came into cryptocurrency industry experience so-called "Fear of missing out" effects. It's characterized as feeling anxious that something exciting or interesting is happening elsewhere. However, it does not mean that they should invest in everything they see. The reason is quite simple – despite the fact that the market is bullish and most of the digital currencies are growing (Bitcoin has been holding near $11,000 for the past two days, while Ether came close to its target objective of $335, whereas the rest of cryptocurrencies gained over 20% for the last few weeks), in case of a slow reversal, the vast majority of altcoins,except exchange altcoins, will go down. What is the solution then?
Curiously, exchange coins are the best performing digital currencies this year and don't seem to suffer any severe fall as the rest of altcoins. In an interview to Bloomberg, Zhao Changpeng, Binance chief executive officer, illustrated how some cryptocurrency exchanges were able to thrive despite a rout in digital assets that have seen Bitcoin lose 52 percent of its value this year. The company itself became one of the top cryptocurrency exchanges after launching their own BNB coins.
Binance Coin growth has finally stabilized after a month of bull run, reaching a fresh all-time high (ATH) value of $36.91. In the past three months, BNB is up by more than 147%, and the cryptocurrency is up around 500% on the year. The same story happens with Huobi coin. Meaning that it is too late to invest in most exchange coins.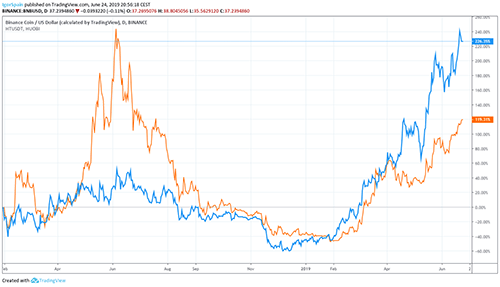 BNX – the natural solution
BTCNEXT Coin (BNX) – new cryptocurrency token issued on the Ethereum platform, whose value increases not only every day but every hour. BNX coin is established with a total supply of 500 million coins.in order to keep BNX strong, independently of the market condition, every quarter company will burn tokens based on the trading volume on the platform until 50% of all the BNX are gone.
Since BNX coin has been issued, it has increased by over 600% in just 10 days. When looking at Binance trading history, it is only the beginning. BTCNEXT exchange keeps growing, as well as its adoption. Also, by holding BNX coins, investors get cuts on their fees and receive tens of additional benefits.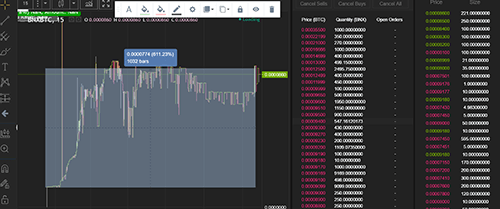 What is essential, is that BNX focuses on solving real-world and blockchain related problems. The current most prominent use cases include using BNX to:
Pay for trading fees on the exchange, obtaining the equivalent of a 50% discount on trades;

Buying a wide range of blockchain courses at BTCNEXT Academy.

Buying tickets to various exclusive conferences and blockchain events.

One of the most interesting features is using BNX to participate in unique IEO campaigns, being conducted on BTCNEXT. In this case, the only way to participate will be paying with BNX tokens.

BNX holders will participate automatically in airdrop campaigns, conducted by BTCNEXT.

Obtaining the BTCNEXT angel trader status also requires holding BNX tokens.

Additionally, BTCNEXT exchange offers a unique bonus system for angel traders, which includes:
PREMIUM SPECIAL PLATINUM UNION CARDS for NOAH/BTCNEXT (once released);

Each week holders will receive 1000 BNX (On Wednesday);

BEST chances to win in lotteries;

1000% more airdrop coins that anyone else;

FREE PREMIUM access to some unique courses at BTCNEXT academy (when launched);

0% Trading accounts;

Exclusive meetups all over the world;
To see the full list of benefits from becoming an angel trader, visit BTCNEXT official page.
About BTCNEXT
BTCNEXT is a Korean and Japanese-friendly cryptocurrency exchange, developed by Q DAO Platinum Engineering, which has also brought USDQ and KRWQ to the market, looking to edge together innovative solutions in collateralization. Overall, BTCNEXT offers a big variety of tokens, including many largest cap currencies, the most popular ERC20 tokens, and many stablecoins. It's designed to make the trading experience as easy and effective as possible.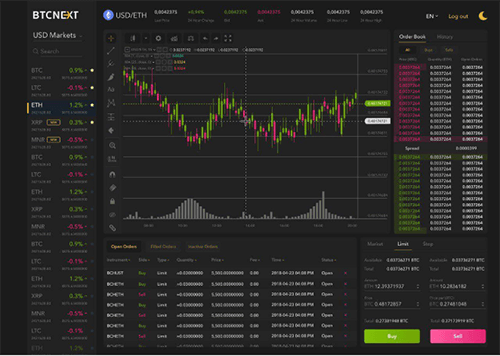 As for now, newcomers can benefit from the best customer support on the market. Users have 24/7 access to customer support that looks forward to guaranteeing a smooth user experience and quick feedback and resolution of any support inquiry. Meanwhile, experienced traders can take advantage of services like SPOT Trading, Margin Trading, OTC Trading, IEO Launchpad, and sophisticated trading instruments. As well as that, BTCNEXT's dashboard includes wallet and escrow services.
The security is guaranteed by the employment of special risk control measures and strategies. Normally, security is strongly correlated with transparency. Unlike many other cryptocurrency exchanges, BTCNEXT doesn't say or promise something that cannot be delivered or achieved. For example, the team doesn't hide they are still working on launching the gateways for fiat deposit and withdrawal. They have also admitted seeking to assure full compliance with all laws and regulations in countries of operation, but due to the high cost, American and Chinese citizens should be aware of the possible risks.
BTCNEXT exchange is a cryptocurrency trading platform designed for the beginner and delivered by experts. In order to protect investors' funds, BTCNEXT developers have implemented more than 300 security measures. In the near future, users will be able to trade over a hundred types of tokens including Bitcoin, Ethereum, and Litecoin. For more information, visit their website and follow them on Twitter, Instagram, Telegram, Facebook, Medium, and LinkedIn.