Professional traders are net 15% short on Bitcoin (BTC) while retail traders are insanely bullish on Bitcoin (BTC). Even some of these digital hedge funds are overly bullish on BTC/USD. So, why are they this bullish? Well, the pumps that the price has seen over the past few weeks has convinced even some of the most risk averse investors in this market to turn bullish on Bitcoin (BTC). Renowned investors, Charlie Munger and Warren Buffet have both vehemently criticized Bitcoin (BTC) so much as to call it "Rat Poison" and "Rat Poison Squared". We might say that they do not understand the technology and that is fine, but they did not use the same terms for Facebook or Google when they missed out on investing in them and it is a good idea to ponder why.
If we look at the weekly chart for BTC/USD, we can see that the price has done something that it has not done in its entire history. It broke below a key trend line support that it had held since 2011. The price then tried to rally towards this trend line for the past few months and yesterday it managed to test this trend line support turned resistance and as we can see today, it has faced a strong rejection from there. So, what does all this tell us? Well, here is the thing. We thought that we were in the May, 2014 part of the last cycle. This move tells us that we are probably not in that part of the cycle. So, then where are we? There are two possibilities. If the price is in fact following the previous cycle, then it is possible that we are even more early on in the 2014 cycle. In fact, we would be around January, 2014.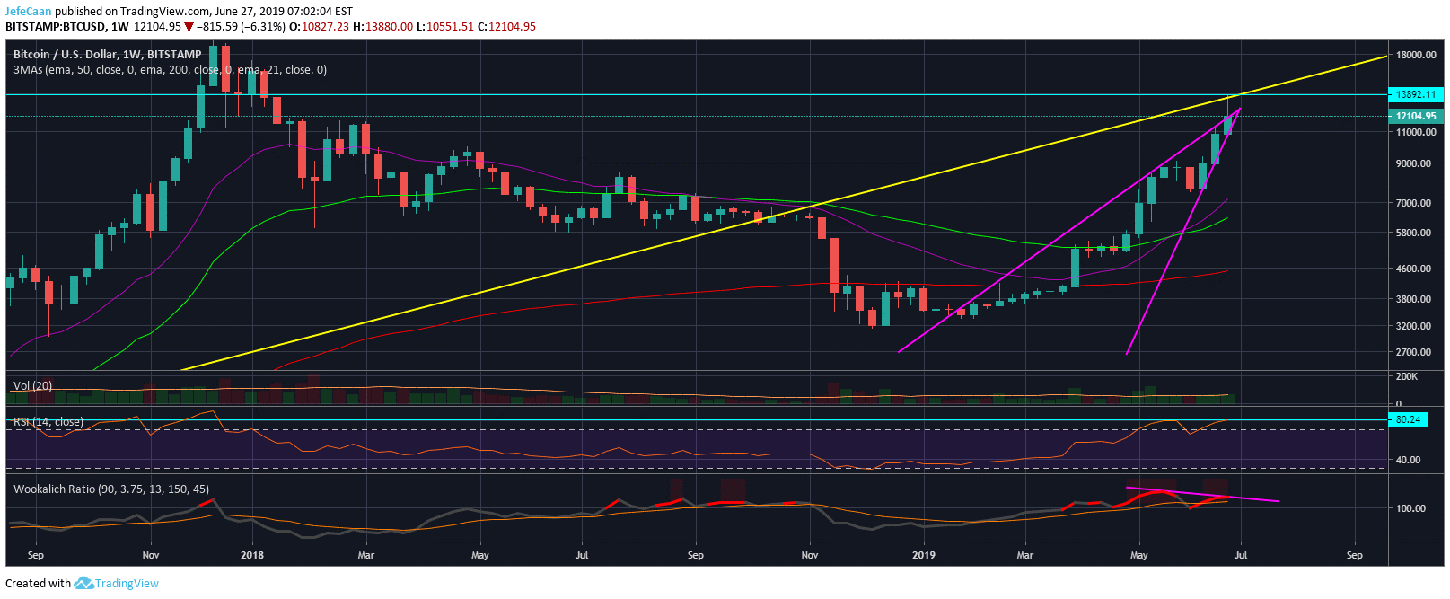 Now, that is being bullish on Bitcoin (BTC) long term. The second scenario is that we have entered a multi-year bear market in Bitcoin (BTC). We saw BTC/USD enjoy a long bull market since its inception. Certainly, there were ups and downs in between but it never broke the key trend line support. The fact that it did break that support in November, 2018 leads us to entertain the possibility that we might be in a multi-year bear market in Bitcoin (BTC).

If we take a look at the weekly chart, we can see that the price is about to break below the rising wedge. It could do this as early as next week and it might be a long downtrend from there. The NVT indicator is flashing sell signals and shows a clear bearish divergence despite the recent pumps in the price. Considering the state of the global economy and where things are headed on the political spectrum, there is absolutely no reason at all to think that BTC/USD is about to begin a new bull run from here. On the very contrary, there is every reason to think that Bitcoin (BTC) will remain in a bear market for a long time now that it has delayed its downtrend.