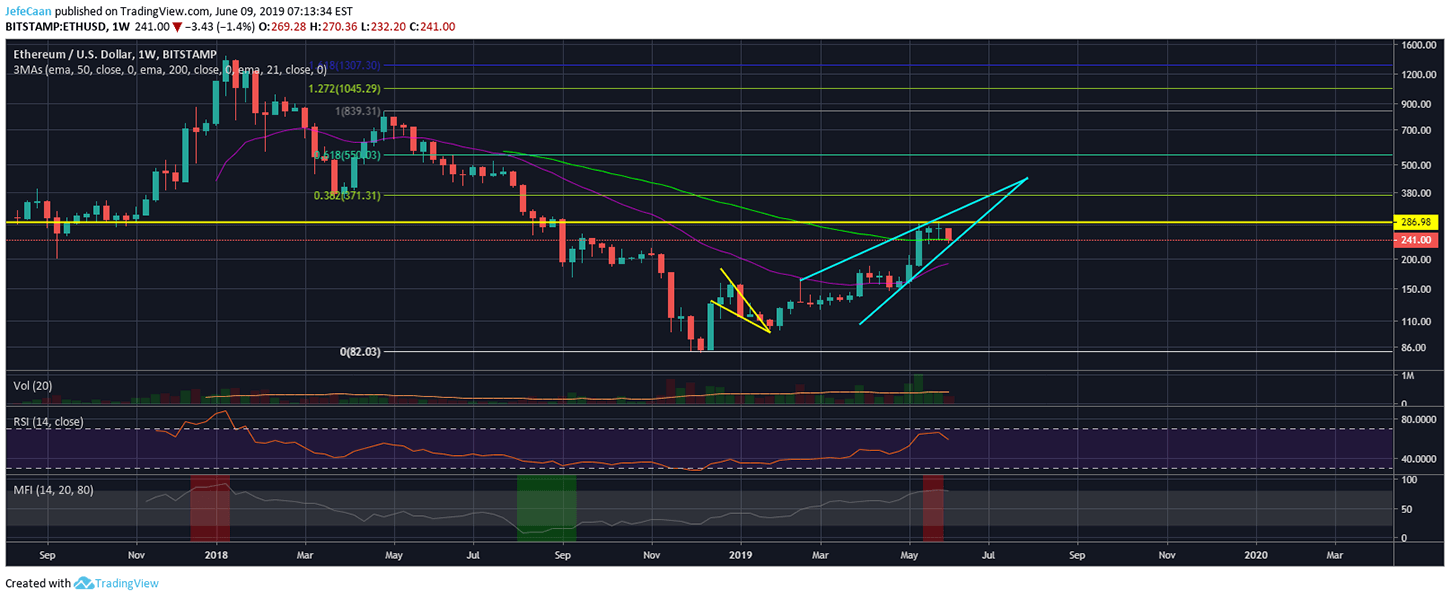 Ethereum (ETH) is finally closing a week in red after months of uptrend, but this may not be as bearish as it looks. In fact, it ETH/USD ends up closing the weekly candle above the 50 week EMA, that would be a very bullish development, one that might pave the way for a rally past $300 in the weeks ahead. Ethereum (ETH) was primed for a major decline but it stalled that decline by cooling off short term to make way for another rally to the upside. The price can keep on consolidating and rising in this manner for a long time which is why the RSI may not be a good indicator of predicting price action. This is because the RSI is derived from the price action and not vice versa which means that price action is the most valuable data we have.
Looking at the price action for ETH/USD, we see that it formed a higher high and higher low between April and now. If Ethereum (ETH) begins next week in green, we have every reason to believe that the price could end up rallying towards $300 or higher levels. That being said, we should be very careful going long on ETH/USD at this point because the price could break below this rising wedge any time now. It should not be forgotten that Ethereum (ETH) is still due for another downtrend and that the price of Ethereum (ETH) has yet to find its true bottom. We have seen the market inflict maximum pain on the bears in a way that surprised even most retail bulls. However, they have also become complacent now while the bears have become very cautious.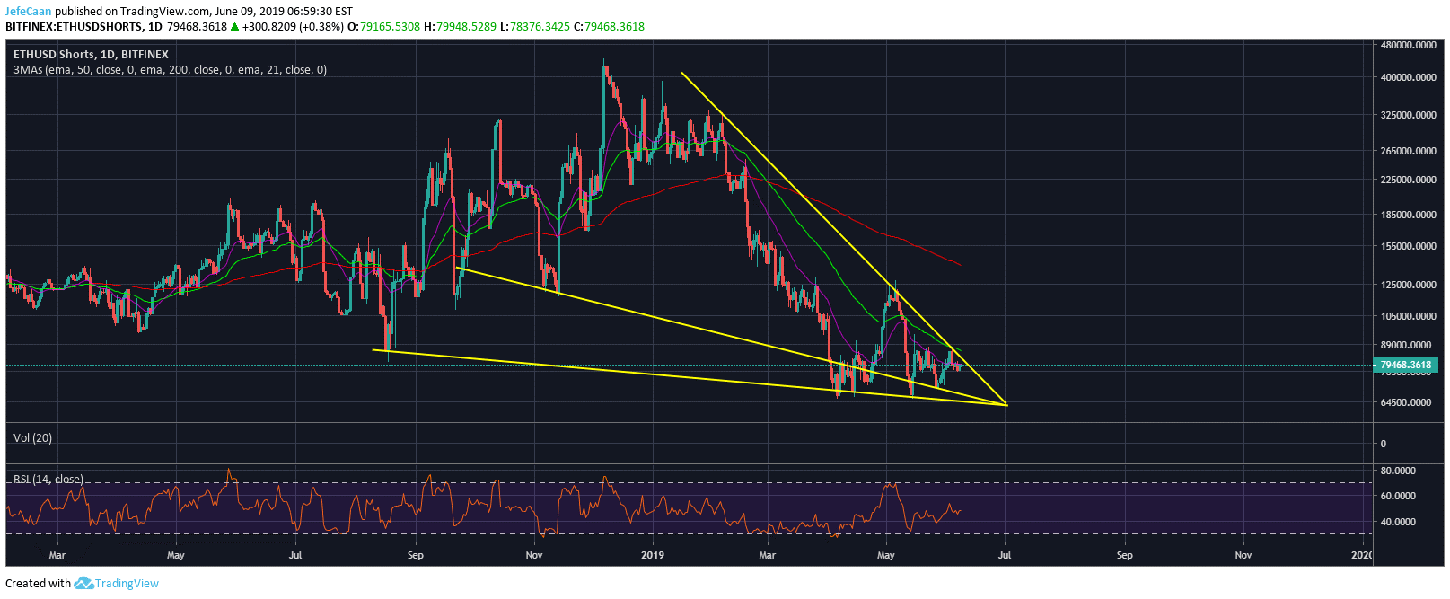 Interestingly, we are at a turning point in this market as the bears are about to see their good days begin again because this bear market is far from over yet. The daily chart for ETHUSDShorts shows that the number of margined shorts declined significantly in the past few months but the time has come for a trend reversal. The bears attempted to force a new downtrend in April but they failed miserably. However, this time ETHUSDShorts has reached the end of the line trading within a large descending wedge. Soon as ETHUSDShorts breaks the trend line resistance and breaks out of the large falling wedge, we will see bearish pressure mount up and the price of Ethereum (ETH) will take a hit.

However, before that happens, we can see the number of margined shorts decline further for the next few weeks. The big picture remains intact. Ethereum (ETH) might be bullish short term but it is due for a major move to the downside long term. The market has inflicted maximum pain on the bears but we are unlikely to see another bullish cycle before the market inflicts maximum pain on the bulls. There are still a lot of people waiting for Ethereum (ETH) to rocket to the moon from here. The market will give them reasons to believe that until it crushes their dreams and leaves them dejected and heartbroken. That is when we will see the new bullish cycle begin.