Ethereum (ETH) is still on track to rally towards the $300 mark and possibly well past it to touch the top of the ascending channel. The daily chart for ETH/USD shows that the price has found strong support atop the 21 day exponential moving average. As long as it remains above this level, we can expect it to continue its rally towards the top of the channel. So far, Ethereum (ETH) has failed to outperform Bitcoin (BTC) as we see BTC/USD leading most rallies with higher gains compared to ETH/USD. All that could change during the next rally with the beginning of a mini altcoin season that might see Bitcoin (BTC) profits flow into altcoins short term. This is the only strong catalyst that could see Ethereum (ETH) rise towards the top of the ascending channel, otherwise it would get stopped out well before that happens.
A lot fo things about this recent rally has been about make-believe. The whales managed to pump the price higher and higher with the retail bulls now fully convinced that the bear market is over and a new bullish cycle is about to begin. For the whales, this is about picking highe price points to unload their bags. If the market continues to believe that we are going higher, the whales have no reason to dump on retail investors. They are going to give them more reasons to think that we are in fact going quite higher. This is exactly what has been happening for the past few months. Now, make no mistake this is going to end in a lot of blood and retail investors who fell for this will realize soon afterwards how they were being played. However, for the time being, the promise of an altcoin season is what a lot of retail investors want to believe as true. It is up to the whales now to make it as convincing as possible.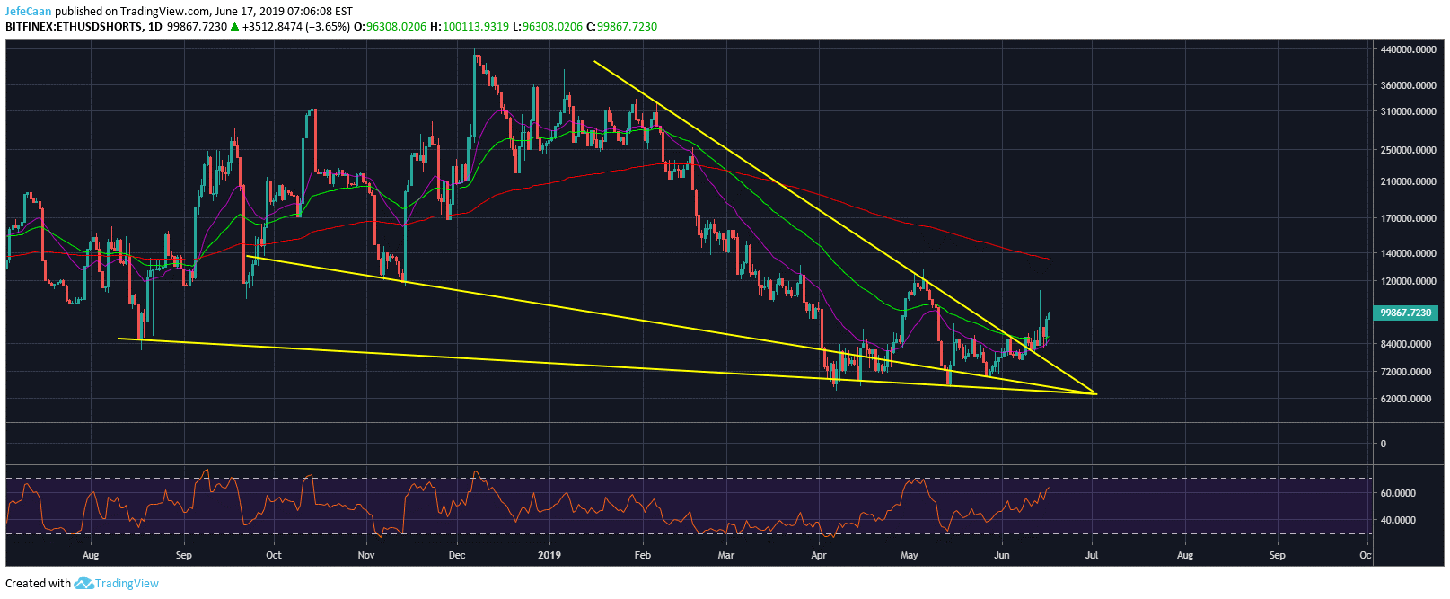 Retail bears are still pushing higher but the RSI shows that ETHUSDShorts might get stopped out near the 200 day exponential moving average. It is important to note that retail bears are very scared to get into the market again because the market has been hunting down for the past few months with no mercy. Most bears looking to find short selling entries at this point are professionals who do not care about emotions but risk/reward and this is a pretty good point to be finding entry points to short sell.

When we buy something, we hear about dollar cost averaging all the time. Now, it is important to realize that the same thing can be done short selling. You do not have to pick one big bet to short sell an asset; you can dollar cost average your short selling entries. The Crypto Fear and Greed Index is at 84, which is completely insane and shows that the bulls have become complacent. However, make no mistake; this rally might still have a lot of juice left in it. The price is very likely to rally past $300 before it tops out and begins its long anticipated downtrend.