Bitcoin (BTC) has had a good run these past few months and we are yet to see it come to an end. The parabolic path that BTC/USD set out on has yet to be broken and it is still very likely that we might see Bitcoin (BTC) rise past $9,000 and rally all the way towards $10,000 in the weeks ahead. However, the US Dollar Currency Index (DXY) has signs for those that are willing to take a step back and see the big picture. Recently, Paul Tudor Jones whom I and many others consider to be one of the most successful traders of all time said that Gold is going to be his preferred investment in the years ahead. There is only one way Gold and not Bitcoin (BTC) becomes a hot investment and that is a period of political and economic instability.
People have come up with a lot of correlations when it comes to Bitcoin (BTC). Some say it follows Gold, some say it follows Silver and some say it follows Coca Cola stock from a certain year. Now, when you are desperately trying to look for a correlation chances are you are going to find it. The way to do this is to find reasons why there is no correlation rather than finding reasons that there is some particular correlation. As for the price action that BTC/USD might have followed that resembles that of Coca Cola or Silver or Gold, it is important to realize that major price action is now institutions driven and they can use the same algorithms as they used in the past say on Coca Cola or some other financial asset. The point is, there is a difference between resemblance in the price action and correlation. In every case, it is important to find the reasons behind why that might be happening.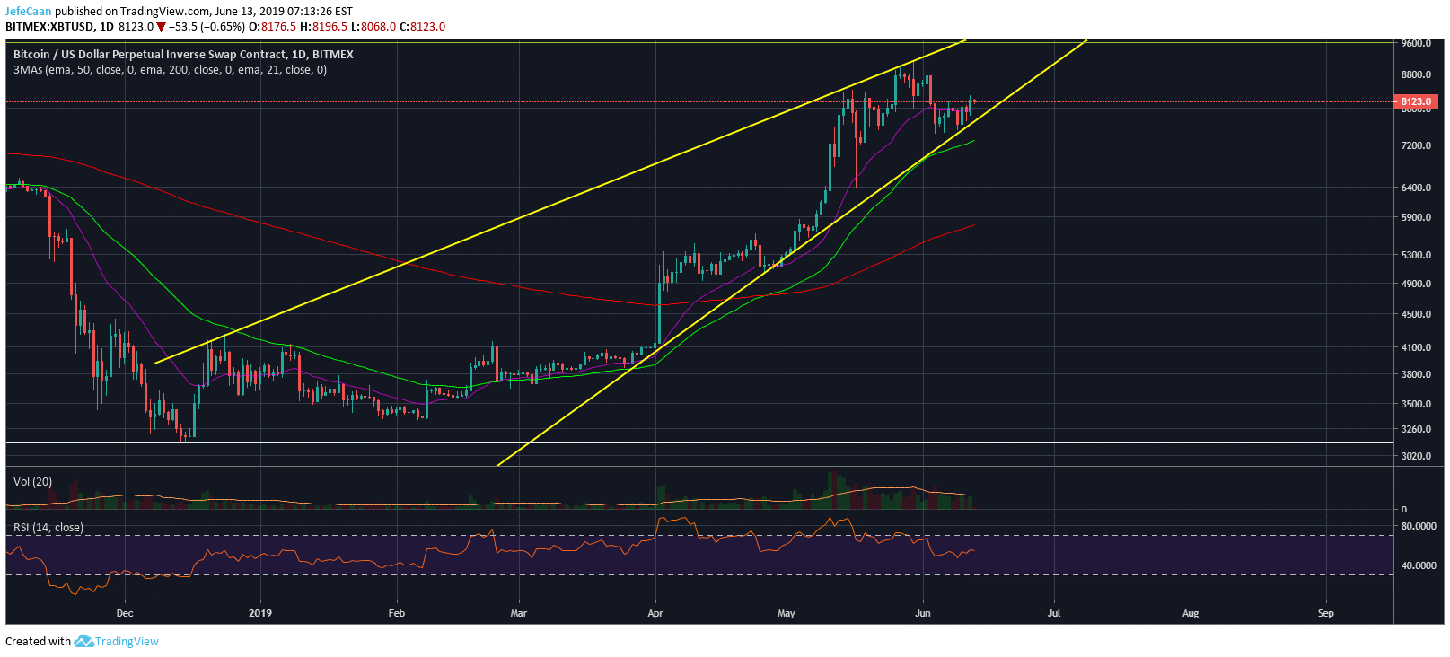 The daily chart for BTC/USD shows that Bitcoin (BTC) has plenty of room to rally short term but if we take a step back and look at the big picture, it is clear to see that this large ascending wedge has to break down sooner or later. A lot of traders are trying to get in front of this rally to short and they are likely to face the same fate as those before them that tried to short around $6,000 did. That being said, for those that have a proper plan to short sell Bitcoin (BTC) at current levels, it might be one of the best investments they can make this year.

Bitcoin (BTC) could go up to $10,000 or slightly closer to that level before it comes crashing. It may not be easy to catch this short because market makers know what retail traders would be doing around those levels, so a fall would most likely be quick and brutal which may not give short sellers the opportunity to open positions. However, for those that have strategically placed limit orders and hedged their positions, it might prove to be quite a productive trade as BTC/USD has yet to bottom.