Ethereum (ETH) seems to have broken a critical support against Bitcoin (BTC). This is a big development that nobody is talking about because everyone is expecting the next bull run and the next alt season. Bitcoin (BTC) dominance keeps on rising and has now surpassed 63%. This is bad news for the altcoin market because BTC/USD is not done yet and we are yet to see further downside and possibly a multi-year bear market. While Bitcoin (BTC) may survive that, most of these altcoins will have a hard time staying above water. We have been talking about a test of this support for the descending triangle on ETH/BTC for a long time. Finally, that has happened and the price has dipped below it. We will need confirmation on the weekly to be sure that it has indeed broken this support.
ETH/BTC was trading in a long descending triangle that extends back to 2017. We expected this triangle to break to the downside and it finally has. Some traders are very concerned about the RSI all of a sudden as they expect the price to rebound soon because the RSI is close to oversold territory. However, as we have seen during bull runs, the RSI may remain overbought and the price could still rise. Similarly, the RSI might remain oversold and the price might still fall. We already saw this happen in the case of Ripple (XRP). XRP/BTC was oversold for weeks but it continued to experience further downside against Bitcoin (BTC). As BTC/USD begins its next downtrend possibly as early as next week, we can expect ETH/BTC to break a lot lower than this level and if Bitcoin (BTC) ends up in a multi-year bear market we might see a lot of trouble for Ethereum (ETH) ahead.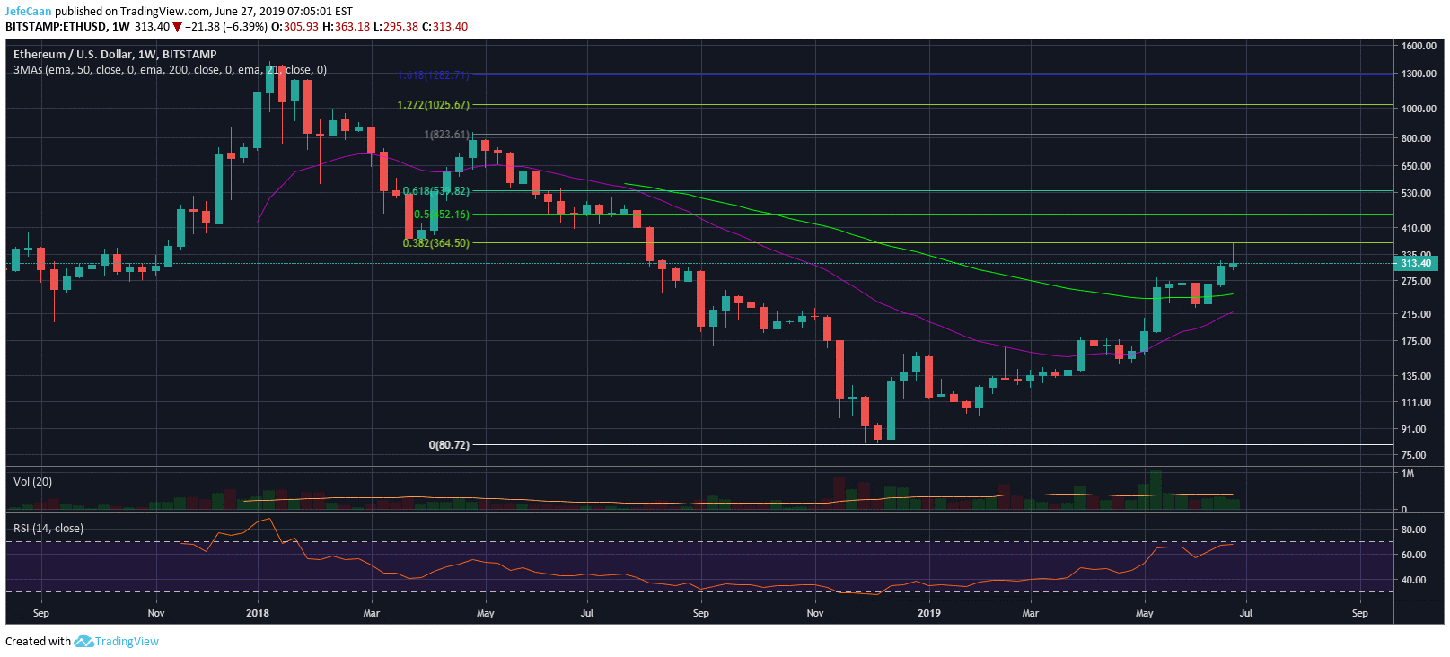 During 2018, Ethereum Classic (ETC), the original version of Ethereum Classic (ETC) was left stranded when its core development team ETC Dev decided to shut down operations because of funding issues. Now, we know that the ETC Dev team was one of the most dedicated teams in this industry that did not care much about financial gains or returns. They were working on Ethereum Classic (ETC) out of respect for its principles and ideals. Now, if a team like that can shut down operations because of funding issues, what can we say about other altcoin projects?

The weekly chart for ETH/USD shows that the price faced a sharp rejection at the 38.2% fib retracement and is now expected to decline further. We mentioned in our previous analyses that we expect the price to be in double digits by the end of the year but if Bitcoin (BTC) enters a multi-year bear market, we might see ETH/USD fall a lot lower, maybe not to a single digit price but close. A lot of investors do not realize the threats amid the current bullish euphoria. While Bitcoin (BTC) might see some interest short term as some people still consider it digital gold, Ethereum (ETH) is not considered digital anything. Besides, a lot of new blockchain projects valued at just a few million dollars can do what Ethereum (ETH) can do and more.