Bitcoin (BTC) is unlikely to keep on stalling a move to the upside for much longer although this is what it has been doing for the past few days. The 4H chart for BTC/USD shows that there is a deliberate attempt to induce weakness in the price action every time it begins to rally around while being around $9,000. Some of these moves would have shaken out both aggressive longs and shorts in the past few days. It has thus become riskier to trade the price at current levels regardless of the way it swings. The price does seem to be trading within an ascending triangle which makes a move to the upside more likely but then again we have seen a lot of surprises in the cryptocurrency market.
The price just needs to rise slightly above the 38.2% fib retracement level from all time high to convince both the bulls and the bears that the price has topped out. Market makers know that a lot of traders are anticipating a test of this level to go short which is why one of three things could happen. The first scenario would be that the price ends up rallying towards $10,000 but it falls sharply before shorts can stack up. The second scenario would be that BTC/USD falls towards $7,000 and then begin to rally towards $10,000. The third scenario which is also the least likely is that the price might end up rallying towards the 61.8% fib retracement level. Now, the third scenario is unlikely but if it were to happen a lot of people retail bears will be taken by surprise and we might see a massive short squeeze.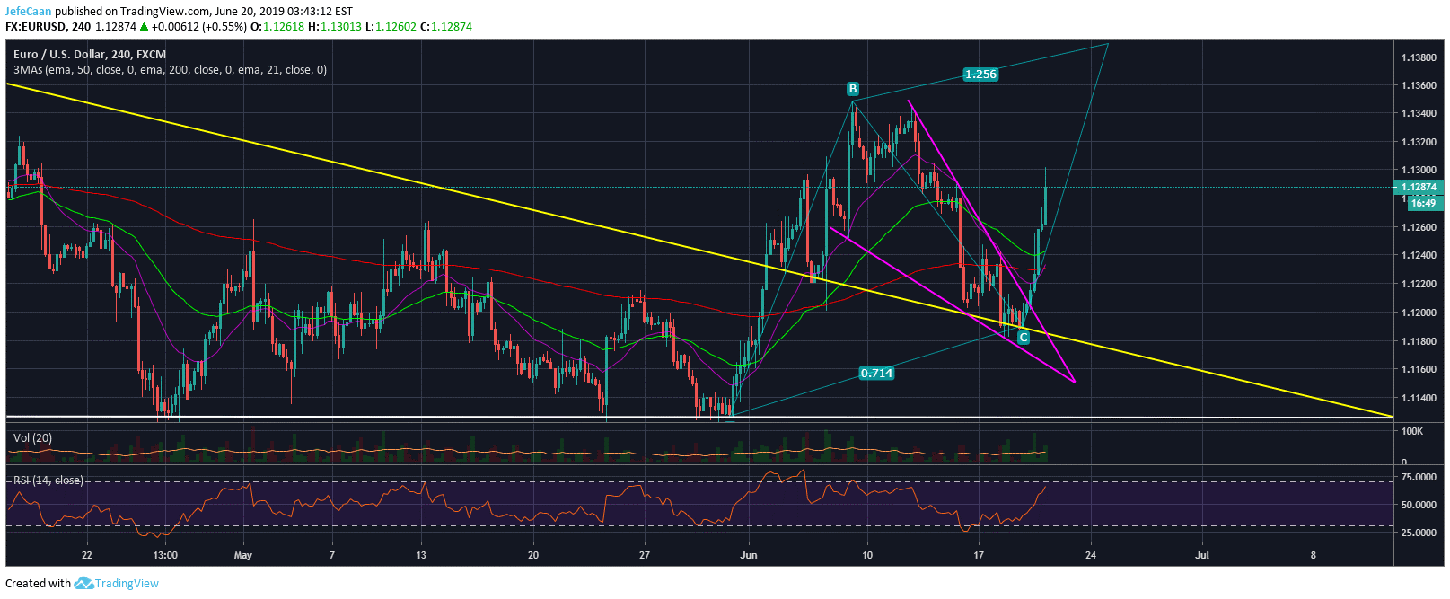 Bitcoin (BTC) is close to breaking out of the ascending triangle and the 4H chart for EUR/USD shows us which way this breakout is likely to be. In our last two analyses on Bitcoin (BTC), we discussed the Euro and how it has room to rally short term. We also outlined a path on which it can rally during the next few days. As we can see, the price has exactly followed our projected path and it is already halfway there. It is easier to manipulate the price of Bitcoin (BTC) but large forex pairs with much higher volume are hard to manipulate. This is why the Euro can often be a better indicator of the future price action than Bitcoin (BTC)'s own price action.

As long as EUR/USD remains above the 50 EMA on the 4H time frame, we can see BTC/USD rally towards $10,000. The overall look of things and the general state of financial markets suggest that Bitcoin (BTC) neither has much time nor room to keep on stalling. It has to break out soon to do its thing and when it is done, it will go where the market takes it. Gold has just reached five years high as the Fed takes a dovish approach. Investors see trouble in the market and they are moving out of risky assets. Bitcoin (BTC) remains one of the riskiest assets prone to massive manipulation and wild swings which means it is likely to be hit the hardest as money flows into Gold.