The S&P 500 is a ticking time bomb for a lot of markets especially highly speculative markets like that of cryptocurrencies in general and Bitcoin (BTC) in particular. We have noticed a strong correlation between the S&P 500 Index (SPX) and BTC/USD for a long time now. This is because regardless of wishful thinking to equate Bitcoin (BTC) to digital gold, it remains a highly speculative asset that is prone to stock market movements. Most of the time the S&P 500 has made a critical move, BTC/USD has followed suit. This has happened during the previous downtrends and there is no reason to assume it will not happen again. The weekly chart for S&P 500 Index (SPX) shows that the index has now declined below a rising wedge.
Some analysts think the decline could not be this obvious and I agree. We could still see the index test the broken trend line support as resistance in the weeks to come. However, the cat is out of the bag and it is quite clear to see what is going to happen next. Sure, the index might stall a move to the downside but sooner or later it is going to happen and when it does, BTC/USD is going to be hit a lot harder. The RSI and Stochastic indicators on the weekly chart for the S&P 500 Index (SPX) warn of a sharp decline to come anytime now. Even though a large number of people still remain bearish on the S&P 500 Index which as a contrarian would be the time to go long, but all things considered it is not. It is true though that a lot of people turned bearish on the S&P 500 Index and Bitcoin (BTC) a lot sooner but that does not mean they are wrong.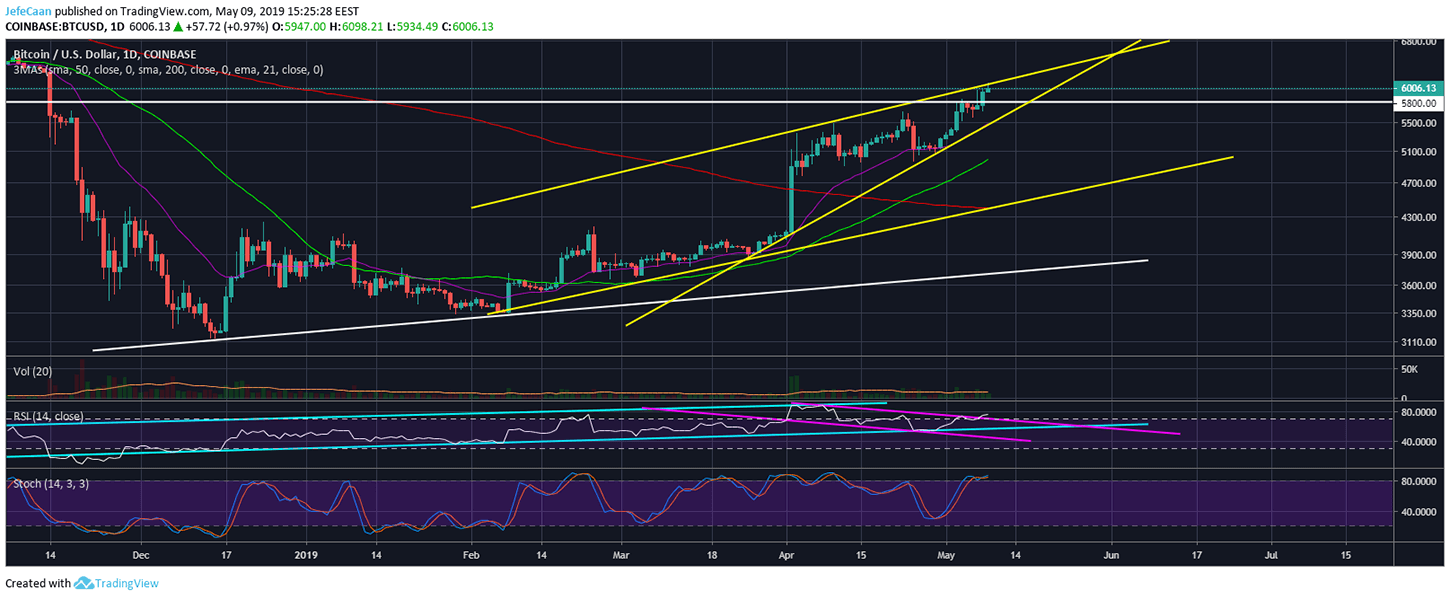 Long term policy decisions have a strong impact on financial markets and the S&P 500 Index (SPX) and BTC/USD are no exceptions to that. Let us see what those long term policy decisions are. First of all, the Fed is going to continue to unwind its balance sheet till the month of September. This means that the institution that can be credited with pumping 'life' into the stock market especially after the last financial crisis is now cashing out. Second of all, the Fed has made it clear that they are not going to cut interest rates. Last but not the least, potential political conflicts globally point to worsening relations with China that could make the trade war situation even worse.
Apart from all of these factors, let us not forget that the stock market is heavily overbought which is why a lot of people are expecting a pullback in the first place. Well, some of them are expecting a crash to be precise but I do not think we are going to see a stock market crash any time soon. I think the pullback that will last till September or later will set the ground for another rally in the S&P 500 and Bitcoin (BTC). This is finally when we can expect a trend reversal in Bitcoin (BTC) and the beginning of a new market cycle.