Ripple (XRP) is trading below a critical trend line support now and the price has already tested it as resistance. This coupled with the fact that XRP/USD is already trading within a descending triangle has raised some red flags. Ripple (XRP) is one of the few large cryptocurrencies that investors worry could take the whole market down with it. As BTC/USD nears a potential downtrend, investors are looking for a black swan event that could trigger the next sell-off. We have seen the recent Binance exchange hack do little to affect the enthusiasm of overly excited bulls. Maybe something like an SEC decision regarding the legal status of some cryptocurrencies could be a likely catalyst. Ripple (XRP)'s own dealings shows that there is no lack of catalysts. For instance, the company recently released 1 billion XRP from escrow.
There are many catalysts that could bring the market down now that most of the large cap coins are in very vulnerable positions. Ripple (XRP) tops the list because it is the third largest coin by market cap that to this day has not been accepted by the community with open arms. The general feeling of distrust against this cryptocurrency begins to surface every time it looks weak from a technical analysis standpoint. We may still see some buying ensue short term as Bitcoin (BTC) trades sideways but this cryptocurrency has a very low probability of breaking past the broken trend line support that has now turned into a resistance. In fact, as the price continues to trade within the descending triangle and keeps testing the bottom of this triangle, the probability of a decline below it keeps on rising. In technical analysis, the more the price tests a certain level, the higher the probability that it will break it.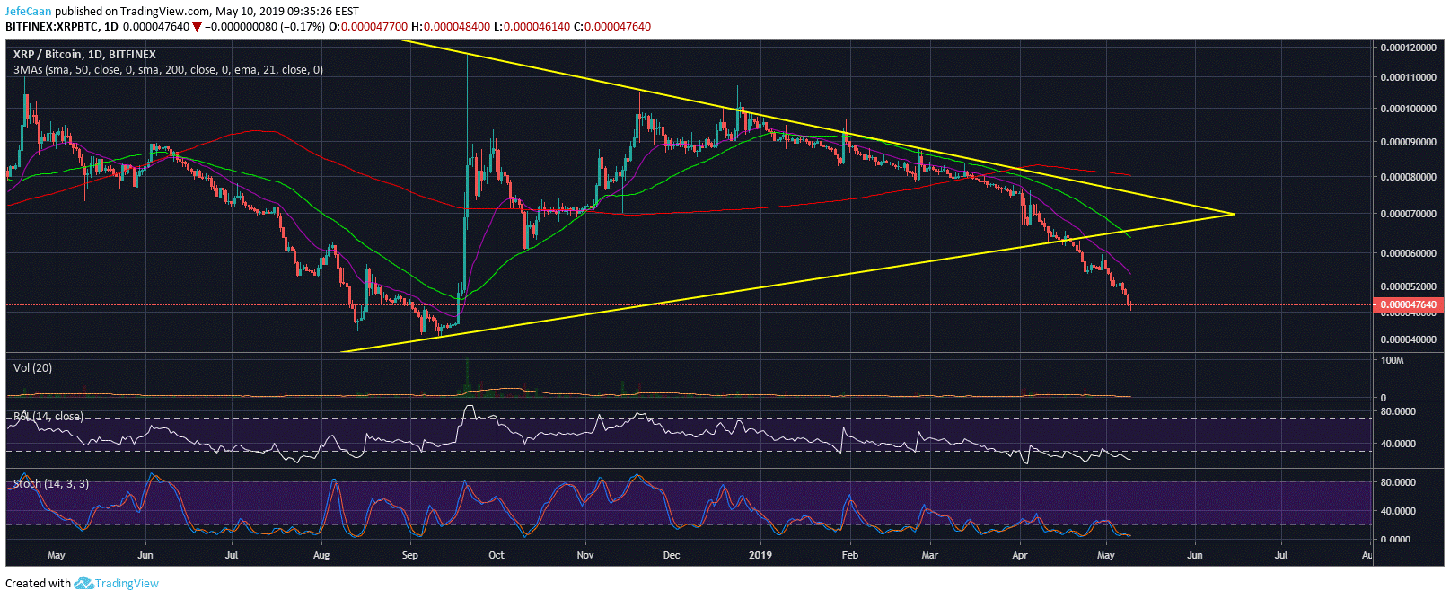 Ripple (XRP) has already corrected in a big way against Bitcoin (BTC) and yet it continues to decline despite major oversold conditions. The daily chart for XRP/BTC shows that Ripple (XRP) has been oversold against Bitcoin (BTC) for weeks but the price has remained unaffected by this. In fact, we have seen Ripple (XRP) fall aggressively against Bitcoin (BTC) when the market declines while it does not rise as much when the market rallies. This had led to XRP/BTC breaking below a critical trend line support and the price is now trading well below its 21 day EMA which is a bearish development.
As Ripple (XRP) continues to be marred by uncertainty and confusion as to its legal status and future outlook in the midst of new competitor entries like the JPM coin, we are unlikely to see any bullish reversal. A lot of analysts are of the view that Ripple (XRP) might continue to decline even if Bitcoin (BTC) rises. This would not be hard to see as Ripple (XRP) has made independent moves in the past. Considering that many in the crypto community already see Ripple (XRP) as the enemy, the cryptocurrency (XRP) risks isolation if the company (Ripple) fails to instill confidence in the market once again.