Ethereum (ETH) has just run into a confluence of strong resistance zones. The price has now tested a strong trend line resistance and faced a rejection at it. ETH/USD has now retraced below the 38.2% Fib extension level. If the price closely below this level, we could see a bearish follow up in the days and weeks ahead as ETH/USD has now tested the trend line resistance and is ready to decline to the bottom of the descending triangle. The price would be at risk of breaking both the rising wedge as well as the descending triangle during the next decline. That being said, the 61.8% Fib extension level will serve as a short term support before the price eventually falls below it. RSI for ETH/USD does not appear as bearish and hints at the possibility of a fake out.
Retail interest in cryptocurrencies remains high and the optimistic remains unchanged. However, the price action demonstrates extreme weakness that most traders and analysts have chosen to overlook amid their own biases. One big candle to the upside cannot be a reasonable reflection of the level of bullish interest in the market. There needs to be sustained growth in an organized way. Ethereum (ETH) is not some useless altcoin to be pumping in this manner. It is the second largest coin by market cap and should therefore have to rally forming higher highs and higher lows if there is genuine interest in the market. So far, that does not seem to be the case which is why we see a lot of confusing sideways movement followed by a big pump to the upside. Needless to say, it has a lot of retail traders or the dumb money excited but it never ends well for this lot.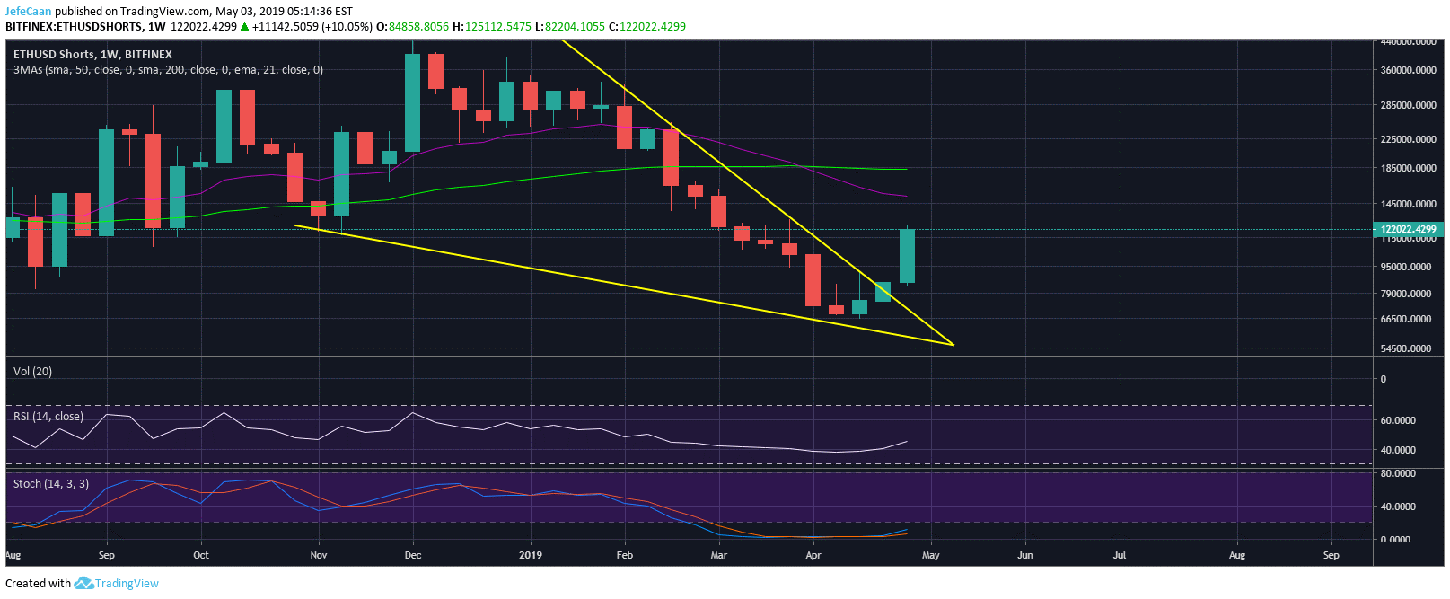 The weekly chart for ETHUSDShorts shows that the number of margined shorts is up more than 10% for the day. Ethereum Shorts have now also broken above a critical falling wedge that extends all the way to November, 2018 when Ethereum (ETH) broke below its market structure. We could see the number of margined shorts against ETH/USD rise in the weeks ahead but caution must be exercised as traders seem to have gotten too excited too soon. RSI and Stochastic indicators on the weekly chart show that ETHUSDShorts still has plenty of room to rally.
Ethereum (ETH) continues to lag behind Bitcoin (BTC). If the bull market had begun, this would not be the case. Ethereum (ETH) is lagging behind Bitcoin (BTC) because it has done the job that BTC/USD is about to do i.e. retest the previously broken market structure. ETH/USD tested its previously broken market structure and faced a strong rejection. Bitcoin (BTC) is more than likely to meet the same fate but meanwhile ETH/USD will continue to lag behind Bitcoin (BTC). As Bitcoin (BTC) starts to fall, Ethereum (ETH) is going to fall a lot harder. We expect Ethereum (ETH) to drop to $60 or lower levels before the end of this bear market.