Ethereum (ETH) bulls were very optimistic about a rally towards $300 especially after the recent price pumps that saw the cryptocurrency fly in a matter of days. However, all those dreams seem to have now been completely shattered by a flash crash that saw the price fall below $200 before recovering. The weekly chart for ETH/USD now shows the price retracing below the 50 week moving average. If the price closes below this level, we will have bearish confirmation and ETH/USD can be expected to decline towards a new yearly low in the months ahead. We have mentioned a price target of $60 for Ethereum (ETH) during its next downtrend but it is likely that after developments we could see the price fall a lot more. This is because it has become clear now that Bitcoin (BTC) is more likely following the 2014 part of the previous bear market of 2014-15.
As discussed in our previous analyses, ETH/USD is supposed to have a longer market cycle than the previous one. It is only reasonable to expect that because this time there is more money in the market and it will take longer to bottom. This is also true of Bitcoin (BTC) as it has never had a succeeding market cycle shorter than the preceding one. This means that Ethereum (ETH) just like Bitcoin (BTC) would be expected to have a longer bear market than before. If it were to have a bullish reversal at this point to begin a new market cycle that would mean that the ongoing market cycle would be shorter than the previous one which cannot be the case. The price of Ethereum (ETH) is still at a good point for long term bag holders to unload some of their holdings before the decline sets in.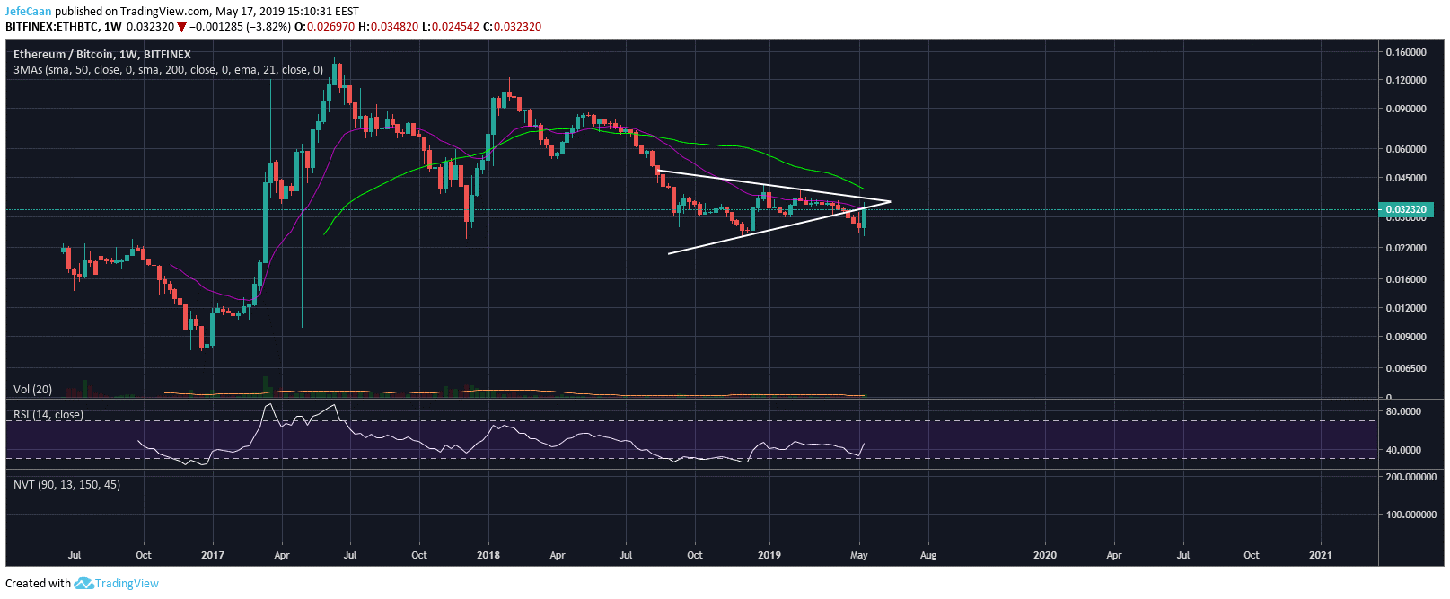 Chart for ETH/BTC (1W)
One mistake most people make in this market is to think that they have to chase the price because the price will not come to them. This is not the case because despite the hype around blockchain technology, cryptocurrencies like Ethereum (ETH) are still very high risk investments. Some retail traders wouldn't mind putting $1,000 or a little more into a cryptocurrency like Ethereum (ETH) but for professional traders with millions of dollars in assets under management, such price swings make a huge difference. This is why they have to be on their toes and they are very sensitive to such price movements.

If things get out of hand, they sell without having to look at what a remarkable project Ethereum (ETH) is. For them, it is about the money not the technology. This is also true of most retail investors in this space who care more about their investments than what goes on with Ethereum (ETH). Altcoins like Ethereum (ETH) are likely to experience the most pain during the next downtrend as they have rallied hard against Bitcoin (BC) the past few weeks. As Bitcoin (BTC) goes down, altcoins like Ethereum (ETH) will go down harder just like they go up harder when Bitcoin (BTC) rallies.