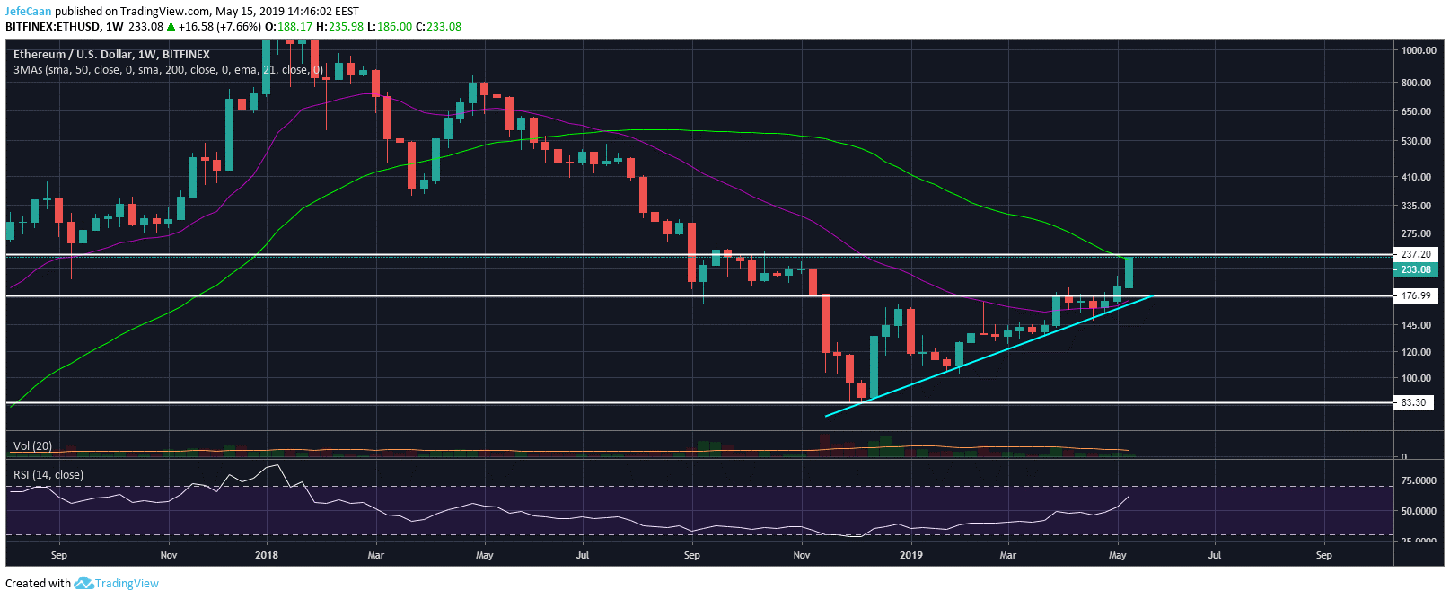 Ethereum (ETH) has just run into its 50 week EMA and is now likely to face a strong pullback to the trend lie support it has skyrocketed off these past few weeks. ETH/USD climbed slightly above $237 before it retraced to $233. So far, the price of Ethereum (ETH) remains heavily overbought on the weekly as well as the daily time frame. These moves seem to have unnerved a lot of greedy bears but smart money is not touching Ethereum (EHT) at these prices. The pump seemed to have been triggered by a few big players that got more institutions to follow them with a bunch of retail desperate buying. Now, most of these desperate buyers are currently sitting on profits but this rally of desperation cannot be profitable for long because this is not a real rally.
The growth that we have seen the past few weeks in Ethereum (ETH) is anything but organic. We have seen the manner in which the price has pumped the past few weeks. There is no steady rise in volume just long green wicks out of the blue. This cannot be expected to last for long and as we have seen in the past it ends in more blood and misery for desperate buyers. So far, there is little to suggest that the recent rally could be followed by further rallies before a sharp pullback. It is still possible that we might see a continuation of this rally after a pullback but the desired effect of this rally has already been had. This was supposed to be a rally that scared the bejesus out of retail bears and it has already had that effect. Now, the bulls are next in line but the whales might try to trap in as many desperate buyers as they can before the next inevitable crash.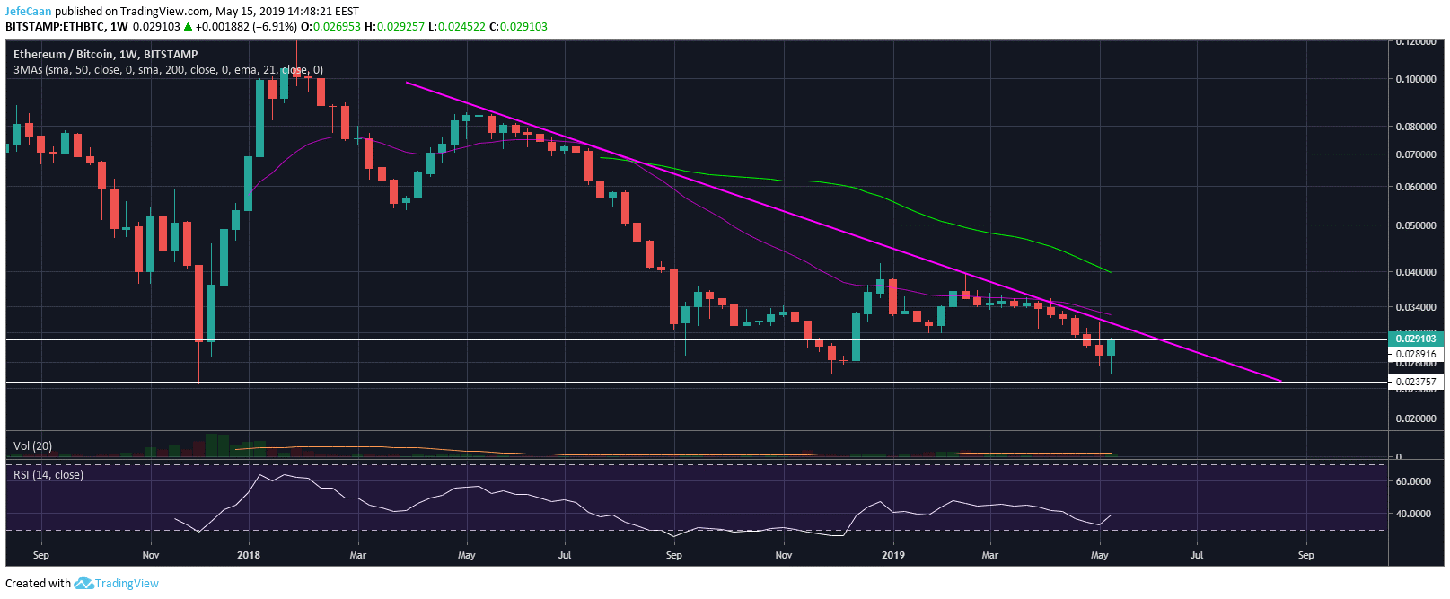 Ethereum (ETH) has been successful in staging a rally against Bitcoin (BTC) today. The weekly chart for ETH/BTC shows the price up more than 6% for the day but risks of a sharp decline continue to loom over. Just as the price has kept on pumping regardless of overbought conditions, it can keep on declining regardless of oversold conditions. The weekly chart for ETH/BTC shows that the price is still trading within a long descending triangle that extends back to 2018.
This descending triangle has a very high probability of being broken to the downside. We have already seen it break critical support in the past few weeks which is now being revisited as resistance. If the price falls down to the next support, it will be at increased risk of a massive decline during the next crash. The recent rally in Ethereum (ETH) might be the perfect bait for retail traders who have long been expecting an altcoin season. Now that altcoins have rallied, most of them are likely to fill their bags only to see them being dumped on in the months ahead.