Ethereum (ETH) has made quite a move to the upside in the past 24 hours but it seems to have hit the wall as the price has now started trading inside a descending triangle. This triangle is very likely to break to the downside and could be the catalyst that brings about Ethereum (ETH)'s fall below $250. We expect ETH/USD to ultimately decline below $200 during the next decline but for now it is likely to decline below $250 and trade sideways until its next major decline when Bitcoin (BTC) starts to fall. One pattern that we have seen during the recent pumps is that when Bitcoin (BTC) pumps, altcoin do not pump up as high. This has led to altcoins like Ethereum (ETH) lose ground against Bitcoin (BTC). While altcoins may not rise as high as Bitcoin (BTC) they always end up crashing harder than Bitcoin (BTC).


It couldn't be more obvious that the recent price action of cryptocurrencies has little to do with retail interest. In fact, the long list of shady dealings behind Tether (USDT) and a few big players in this industry is what has influenced the price action. Most of the trading activity even on large exchanges still comprises largely of wash trading. Their cronies keep on calling for the end of the bear market on Twitter and other forums as they capitalize on the desperation of people looking to get rich quick. Now, there is no problem with getting rich quick if there is a sensible way to do it, but getting in front of the FOMO train expecting the price to go up forever, that does not end too well and we do not have to go too far to see that. We have seen such pumps in ETH/USD followed by massive crashes and there is no reason to think this time will be different.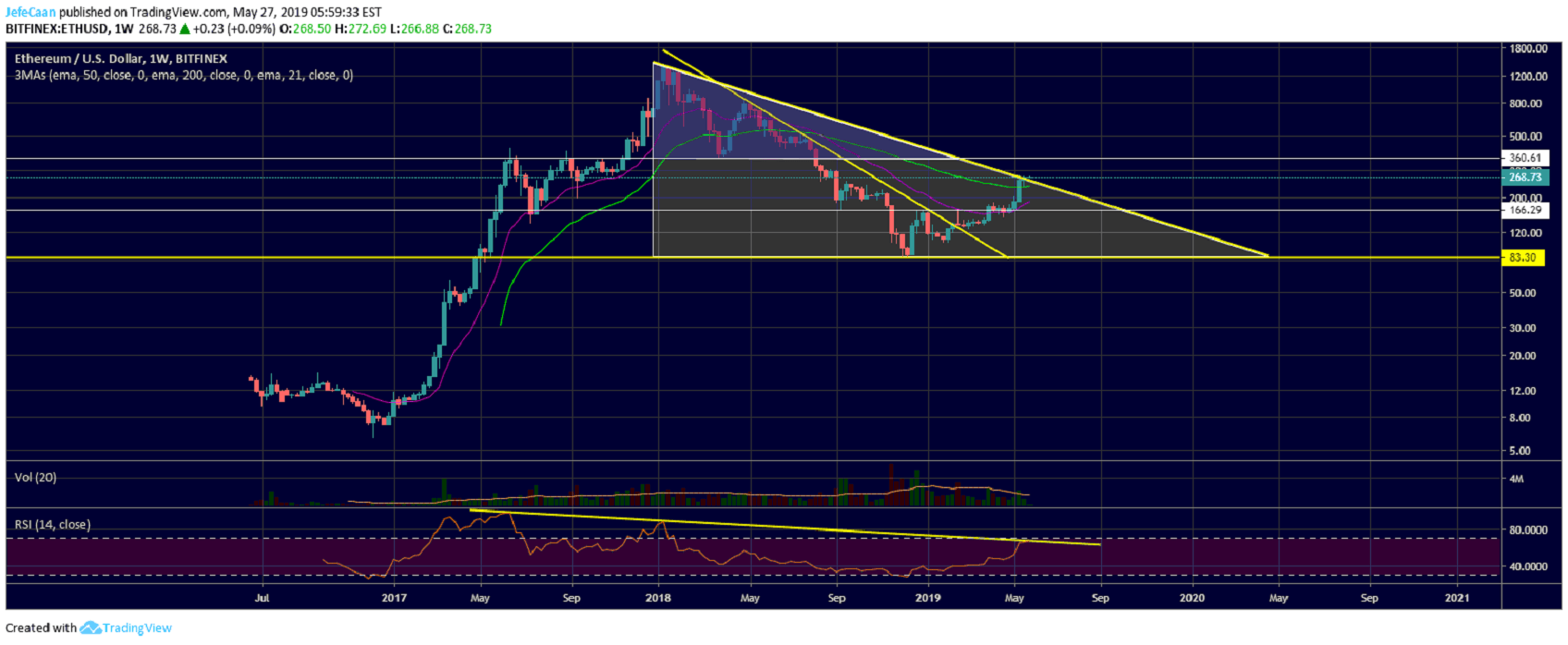 The price of Ethereum (ETH) is in a clear downtrend and the RSI has run into a long term trend line resistance that goes back to May, 2017. While market markets can keep on throwing a bone here and there to retail traders to confuse them short term, it is very hard to change the big picture. This is because changing the big picture comes with grave consequences. A lot of these big players like to confuse the market such that they are misled short term but they get the big picture in hindsight. If they were to confuse them such that they don't get the big picture in hindsight, retail traders would be scared to get back in the market and give these big players their money.

The weekly chart for ETH/USD shows that the price has repeatedly broken below descending triangles. At the beginning of the bear market it broke below a small triangle then it ended up breaking below a larger triangle. Now, it is trading in the largest descending triangle of all. We will eventually see the price break below this triangle but it is not likely to happen now. In fact, we might see ETH/USD come down to $166 but it is likely to go up again before the actual downtrend begins that will see ETH/USD end up in a double digit price when it bottoms.