Bitcoin (BTC) flash crashed to $6,185 as a few big players dumped large amounts of coins on a popular exchange. The price has yet to recover from the crash and it is expected to fall lower from current levels before a reversal is in sight. The big picture is now clearer than ever and as we have mentioned in our previous analyses, the desperate buying frenzy was just a ploy to trap in some buyers so the whales could dump on them at a better price. The rally was institutions driven as some rightly pointed out but as we have seen now that comes with a price. A lot of people were excited about Bitcoin futures on CME and CBOE but they made their fair share of impact on the price.
The above chart for BTC/USD shows that this crash has little to do with people panic selling. In fact, it was a few big players that dumped a large number of Bitcoin (BTC) to hit some stops when more than half of the world was asleep. As the price started to rally in the past few weeks, most investors would have certainly opened long positions on margin with their stops between $7,200 and $6,000. Now, a lot of those stops seem to have been hit with the recent move but it is not done yet. The whales now that when the price of Bitcoin (BTC) shot up through the $5,800-$6,000 resistance zone, a lot people got too confident and thought the bear market was over. This led to most of them opening aggressive longs with their stops around those levels. The whales are not likely to give up without hitting those stops.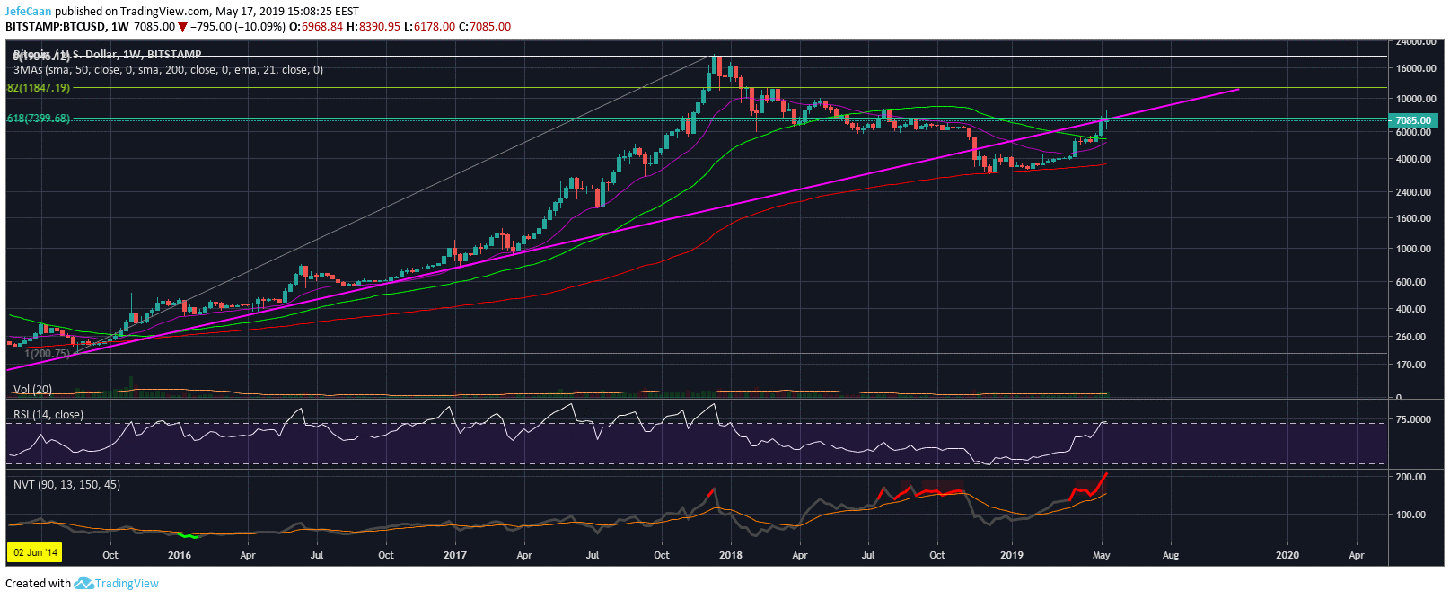 The weekly chart for BTC/USD initially unnerved a lot of people when the price shot up above the 61.8% fib extension level. However, as we can see now, it is back below that level before the end of the week. This is a very strong resistance level and a weekly close below it will confirm a bearish setup that could see BTC/USD decline to $1,800 or lower levels in the months ahead. Any hope of a bullish reversal from current levels is completely gone now as the cat is out of the bag. Smart money investors can see by now what is going on.

The manipulation that led to shorts dropping around 40% in a day while the price of Bitcoin (BTC) remained up as well as the crazy buying spree have all been red flags for smart money. When the price of Bitcoin (BTC) starts declining below the historical trend line support now turned into resistance, we are going to see real pain in the market. All those screaming for a new ATH by the end of the year should now realize that it is going to be years before Bitcoin (BTC) reaches its previous all-time high. It will be very bullish for BTC/USD after recent developments to reach its previous ATH of $20,000 by the end of 2020.