Bitcoin (BTC)'s parabolic rise continues as the Fear and Greed Index reaches an all-time high of 76, characterized as "extreme greed". We do not even have to look at the index to see extreme greed in the market right now. The daily chart for BTC/USD tells the whole story as the price ran into $6,985 and has now retraced significantly from there. The parabola that extends to February, 2019 is now at extreme risk of being broken. If and when the price breaks below it, we will see a swift decline to $5,800. The price might trade there for a while before further downside. The recent rally seems to have unnerved a lot of retail bears as it should have but this growth is not sustainable and we will explain why in this analysis.
First of all, BTC/USD has a very low probability of pumping straight through the previously broken market structure (now strong resistance zone). The price broke below market structure during the 2014-15 cycle and ended up testing it again. On the first retest, it faced a strong rejection and the price had to fall significantly before a retest of that level. Now, even if we are bullish and we assume that the price is not falling to $1,800 or lower levels, it still has to fall below $4,000 before the next big move to the upside. Desperate buying over the past few days has done miracles to the price of Bitcoin (BTC) but let us think for a moment what is going to happen when those dreams are shattered. RSI, Stochastic and NVT indicators on the daily and weekly time frame point to a strong decline in BTC/USD anytime now.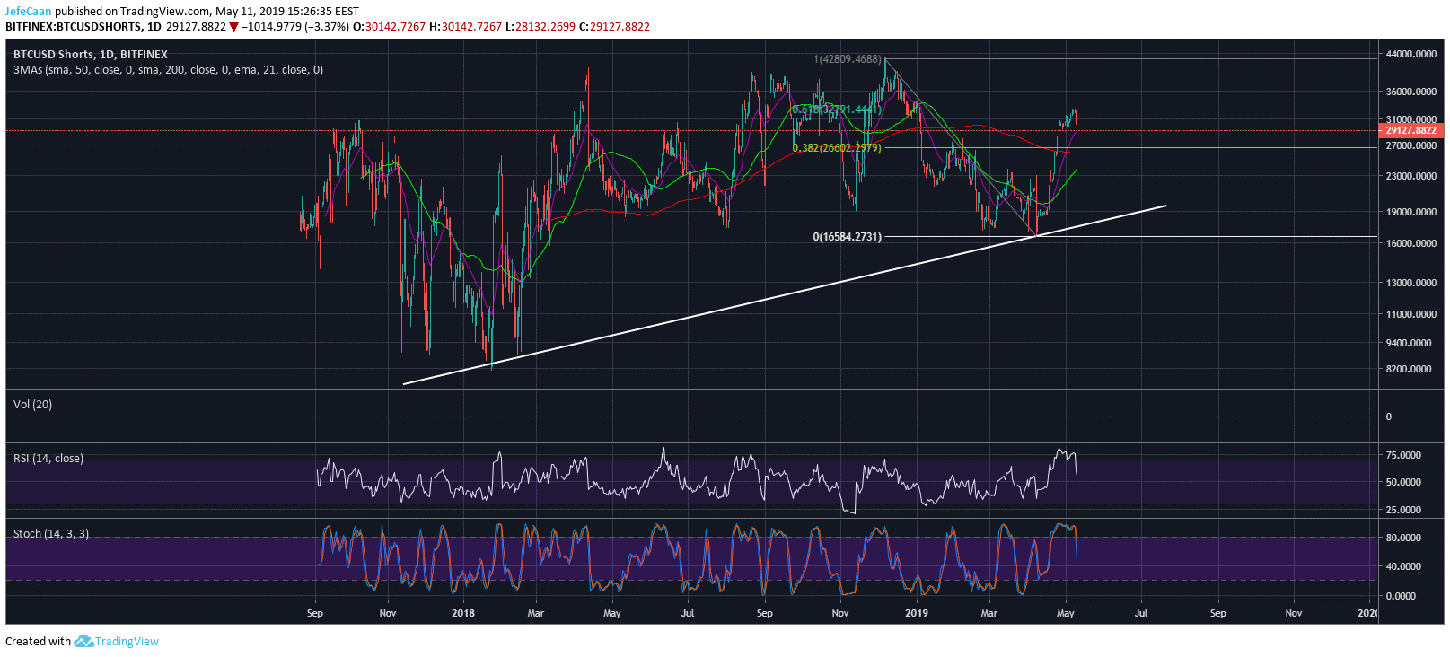 The number of margined shorts seems not heavily affected by the pump in Bitcoin (BTC) but BTCUSDShorts has now retraced to the 21 day EMA and is trying to stay above it. The most likely scenario is that this decline was a consequence of a short squeeze that put most bears out of their positions. The squeeze is even more noticeable on ETHUSDShorts and shows that bulls had the upper hand. However, things are beginning to change. Bitcoin (BTC) has now surpassed expectations of many reasonable bulls who expected a retracement to at least $4,200 before the next rally. Significant profit taking is expected to follow soon which will be followed by panic selling.
This would be a good time to start looking for entries to short Bitcoin (BTC). The price is due for a major decline whether you are bullish or bearish. It is only a question of when and how. Considering that the price shot up through $5,800-$6,000 and almost reached $7,000 all within in less than two weeks, there is a possibility that the current cycle is not going to be much longer than the previous one. We might see the next big fall a lot sooner than expected and the bear market is expected to be over by July.